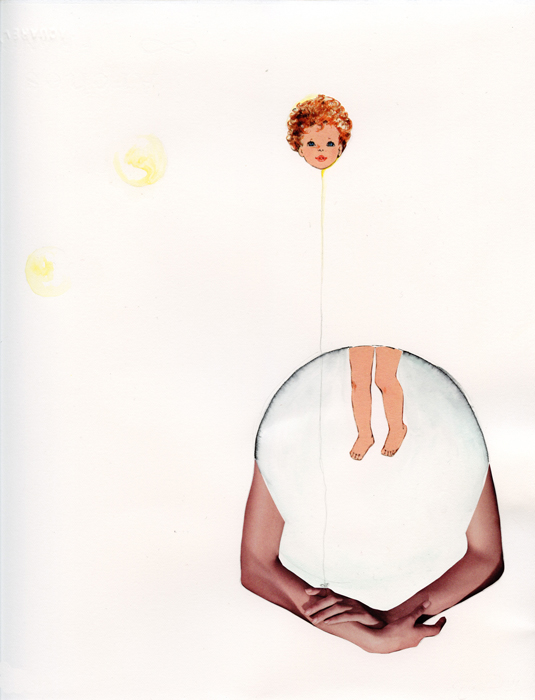 Catherine Mellinger has been putting glue to paper since she can remember. Having been born in the prairies of Saskatchewan to a Alsatian father, Acadian mother, and now living in Toronto, she is convinced that the puzzle that is her history was the founding of her fascination with bringing disparate images into one cohesive whole.
Catherine Mellinger's Artist Portfolio appeared in Issue Ten of Kolaj. Kolaj associate editor Ariane Fairlie had this to say about Mellinger's work:
Catherine Mellinger's orbs are portals, vehicles, and objects in the barren world of her creation. They are her medium of experimentation, spanning from the very real depiction of a man sitting on a moon-like orb (On Watch) to the very surreal depiction of a floating doll head (Birthday). Because of their ambiguity, they're able to fit almost every scenario she puts them in. In this way they feel like memory: barely tangible, offering only one or two pieces of the puzzle.
To see all of Catherine Mellinger's Artist Portfolio, purchase Issue Ten or SUBSCRIBE to never miss an issue.
Image:
Birthday
by Catherine Mellinger
11″x9.5″
magazine, watercolour and ink on paper
2012
Courtesy of the artist