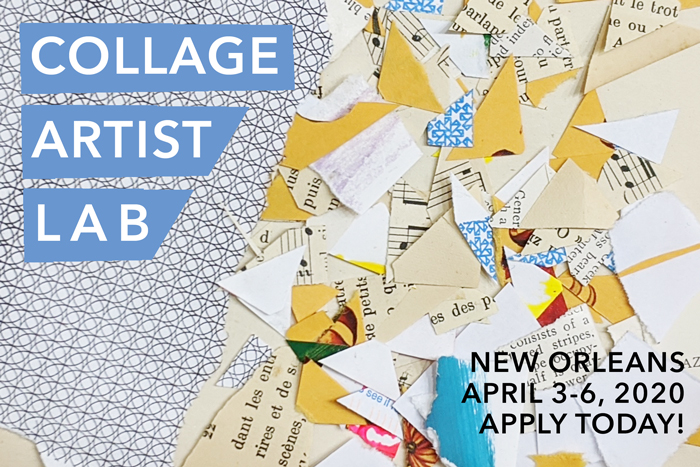 CALL TO ARTISTS
Collage Artist Lab
at Tulane University Special Collections in New Orleans, Louisiana, USA
Friday, 3 April-Monday, 6 April 2020
Deadline: Rolling with no applications accepted after January 5th, 2020.
Collage Artist Lab is a four-day intensive of workshops and discussions designed to foster the integration of history and contemporary art into a collage artist's practice.
The goal of the Collage Artist Lab is to equip artists with tools and strategies for picking up the unfinished work of history and speak to contemporary civic discourse around social, economic, and environmental issues. Through interactive sessions, collections research, and site visits with a historian, artists will explore their process and practice; present a slideshow of their work; receive supportive, critical, curatorial feedback about their ideas; and discuss contemporary issues.
Designed with collage artists in mind, the lab considers how collagists use popular material culture in their work. The Lab will speak to issues of appropriation, copyright, and fair use and explore how the artist's choice and understanding of material shapes the narrative of the artwork.
Artists will complete the Lab with a project proposal for an exhibition or a book and a sample work that will be exhibited during the month of July 2020 in the Special Collections Gallery at Tulane University and will be a feature of Kolaj Fest New Orleans. Kolaj Institute will consider proposals for additional support.
Collage Artist Lab is intended for self-motivated artists, regardless of the stage in their career, who want to develop a practice of working with historic sites or history associations to create and present art that embeds itself in non-traditional spaces and speaks to a general community about contemporary issues.
CURRICULUM
BEFORE THE LAB
Accepted artists will receive a package of information about planning their trip and readings to prepare for the Lab. Artists will be asked to prepare and submit a 5-7 minute slide presentation of their art practice prior to arrival.
DURING THE LAB
Each day will start at 10AM with a gathering of participants and facilitators where we will review and discuss the work for the day. Sessions are scheduled throughout the day with ample time for breaks and exploration. Friday and Monday will take place at Tulane University Special Collections. On Saturday and Sunday, the lab will meet at Antenna Gallery.
Friday will focus on artist research and learning how to use collections. On Saturday & Sunday, the lab will have artist presentations and sessions that focuses on artist development with an emphasis on articulating artist practice and how artists make connections between history and contemporary issues. On Saturday, participants will meet historian Frank Perez for a walking tour of the French Quarter to explore the role of site and place in the context of art and history. The group will visit some of the sites referenced in the Special Collections and hear stories about New Orleans history and the evolving cityscape. Perez will also speak about the LGBT Archives Project of Louisiana. On Monday, the lab will return to Tulane University Special Collections for a discussion on proposal writing and researching specific material requested by the artists. Themes of race, gender, and the environment will thread throughout all the sessions. Each day will end with an informal discussion off site from 7 to 9PM.
AFTER THE LAB
Artists will leave the Lab with a network of peer support; an idea for a project; and the task of turning that idea into a project proposal and a sample work. The project proposal may be for an exhibition, a book, or some other project that will be considered by Kolaj Institute. The proposals and sample work will be exhibited during the month of July 2020 in the Special Collections Gallery at Tulane University and will be a feature of Kolaj Fest New Orleans.
COST
Artists are responsible for their own travel, accommodations, and meals. The cost of Collage Artist Lab is $750, however no artist will be turned away for lack of funds and the organizers will work with artists to build a financial aid package.
HOW TO APPLY
Submit your application HERE.
APPLICATION PROCESS
The submission process will ask you for: Contact information; Artist Bio (50-250 words); Artist Statement (50-300 words); 5-7 images of artwork; a statement of expectations; and ask you some questions about your work and needs.
QUESTIONS
If you have questions, send an email HERE.
Deadline: Rolling with no applications accepted after January 5th, 2020.
Notification: Final notifications no later than January 13th, 2020.
About Kolaj Institute
The mission of Kolaj Institute is to support artists, curators, and writers who seek to study, document, & disseminate ideas that deepen our understanding of collage as a medium, a genre, a community, and a 21st century movement. We operate a number of initiatives meant to bring together community, investigate critical issues, and raise collage's standing in the art world. www.kolajinstitute.org
About Tulane University Special Collections
Tulane University Special Collections manuscript and rare book collections are well suited for interdisciplinary engagement with evidence-based research methods in a variety of subjects related to all aspects of the cultures, communities and histories of New Orleans, Louisiana and the Gulf South region. Their collection strengths include Louisiana's 18-21st century political, social, and economic history, New Orleans jazz, the Carnival, southern foodways, urban planning, preservation and architecture of New Orleans, history of New Orleans civic, religious and social welfare organizations, southern women's and LGBTQ history, history of the book and printing, Southern literature and local print culture and zines, as well as oral histories, visual, recorded sound and ephemeral materials documenting the transnational and multicultural histories of the city and the region. University Archives provides a rich source on Tulane's institutional history as well as faculty and staff papers and photograph collections. We encourage artists to explore the collections at the library's website: https://library.tulane.edu/about/directories/department/special-collections
FACULTY
Wylie Garcia
Wylie Garcia investigates themes of identity and place through process and material-oriented projects. Using cross disciplinary mediums such as textiles, painting, drawing, sound, and performance, Garcia explores issues related to gender, devotion, and emotional spaces. Garcia has a BA from the University of Chicago and an MFA from the Massachusetts College of Art and Design. She is the 2019 winner of a Pollock-Krasner Foundation Grant and a Vermont Arts Council Creation Grant. She also won the 2016 Barbara Smail Fellowship and Award from Burlington City Arts and a 2016 Vermont Arts Council Creation Grant. Her work has been shown in solo and group shows across the U.S. and she has held residencies at the Fine Arts Work Center in Provincetown, Massachusetts and the Central Academy of Fine Arts in Beijing, among others. Garcia's studio is in Burlington, Vermont and she is represented by the Schoolhouse Gallery in Provincetown, Massachusetts. www.wyliegarcia.com
Ric Kasini Kadour
Ric Kasini Kadour is a writer, artist, publisher, and cultural worker. He works across projects to address what he sees as a broken relationship between art and society. Kadour is the Curator of Contemporary Art at Rokeby Museum. He has curated exhibitions at galleries in Louisiana, Ontario, Quebec, and Vermont, including at two galleries he co-owned in Burlington and Montreal. He is the recipient of a 2020 MERZ Funded Residency at Merz Gallery in Sanquhar, Scotland. He is the editor and publisher of Kolaj Magazine, Vermont Art Guide, and Art Map Burlington. His photography, collage, and sculpture have been exhibited across North America and is in private collections in Canada, France, the United States, and the United Kingdom. Kadour holds a BA in Comparative Religious Studies from the University of Vermont. www.rickasinikadour.com
GUEST SPEAKERS
Agnieszka Czeblakow, PhD
Agnieszka Czeblakow, PhD is the Head of Research Services in the Special Collections Division of Howard-Tilton Memorial Library at Tulane University. She holds a BA in History from De Paul University, an MA and PhD in History from Emory University, and a Master of Library and Information Science from the University of Wisconsin-Milwaukee. Before coming to Tulane, Dr. Czeblakow was the Rare Books Librarian in the Special Collections Department at the University of Texas at San Antonio and Collections Manager at Stuart A. Rose Manuscript Archives and Rare Book Library, Emory University. Her most recent honor was as the 2018-2019 recipient of the William T. Buice III Scholarship from the Rare Book School at the University of Virginia. She has presented and published her work at conferences and in journals both in the US and Germany.
Michael Pajón
Based in New Orleans, Michael Pajón crafts elaborate, dense compositions inspired by Catholic reliquaries, antique cabinet cards, carnivalesque board games that trade on complex narratives and still-life-esque vanitas and he does this with a deep understanding of his source material; its functional place in history; and its present-day obsolescence. Pajón provided the cover image and pin design for the 2018 World Collage Day Special Edition and a detail of Bird Brain was on the cover of the exhibition catalog for the 2018 Kolaj Fest New Orleans exhibition, "Revolutionary Paths: Critical Issues in Collage" at Antenna Gallery. Pajón holds a BFA from the School of the Art Institute of Chicago. www.michaelpajon.com
Frank Perez
Frank Perez serves as President of the LGBT+ Archives Project of Louisiana. He is the author of two books: In Exile: The History and Lore Surrounding New Orleans Gay Culture and Its Oldest Gay Bar (with Jeffrey Palmquist) and Treasures of the Vieux Carre: Ten Self-Guided Walking Tours of the French Quarter and the co-editor of the anthology My Gay New Orleans: 28 Personal Reminiscences on LGBT+ Life in New Orleans. He also writes a column on gay New Orleans history for Ambush Magazine. https://www.lgbtarchiveslouisiana.org/
Jill Stoll
Jill Stoll's commitment to art and design has manifested in many creative adventures over the years, such as the time in her 20's when she designed window displays for Neiman Marcus and Bergdorf Goodman. Stoll earned a Master of Fine Art from Cranbrook Academy of Art and since then her teaching career has spanned nearly 20 years in places as diverse as New York, West Texas, Rome, and New Orleans in subjects that range from architectural design, drawing, collage, and darkroom photography. Stoll gathers what is lost and broken, be it (metaphorical) shards, sparks, husks or (physical) family snapshots, printed ephemera, hand held objects. She endeavors to repair and make them whole again in her New Orleans-based studio, where she navigates between control and release in her work. Stoll is a member of the Mystic Krewe of Scissors and Glue. www.jillstoll.com