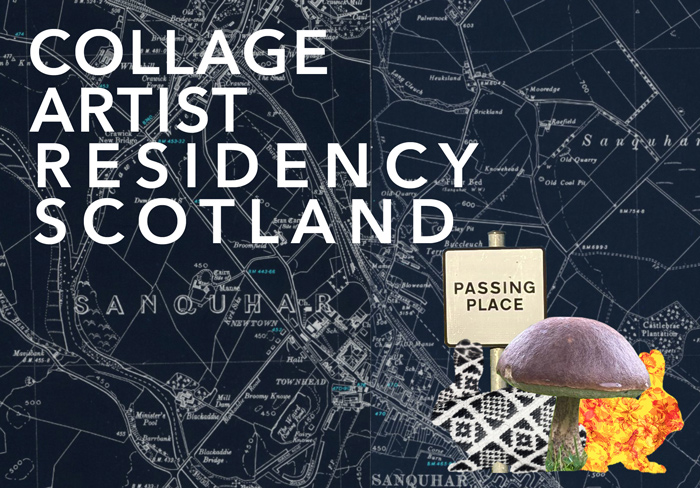 CALL TO ARTISTS
Collage Artist Residency: Scotland-Spring 2023
An in-person residency at MERZ Gallery in Sanquhar, Scotland centered on collage artists who seek to engage with place in their practice in community with other artists. Residents will make artwork for exhibition and a collaborative work.
Early Deadline to Apply: 30 December 2022. The Final Deadline (if space is available) is 29 January 2023. Submissions will be reviewed on a rolling basis until space is filled. Artists are encouraged to apply well before the deadline.
ABOUT THE RESIDENCY
When artists approach a place as an archive, they draw out a deeper, more complex understanding of that place that enriches our understanding of our communities, helps us be better citizens, and empowers us to take better care of our neighbors. Collage Artist Residency: Scotland is a week-long artist residency designed for artists working in collage who seek to engage with place in their practice in community with other artists. Using the rural community of Sanquhar, Scotland as a laboratory, artists will spend a week making artwork; learning about the place, its people, and its history; and discussing how art can capture, share, reflect, comment, and otherwise engage with a sense of place. The goal of the residency is to develop an individual methodology for responding to place in one's art practice and to make a work of art about Sanquhar that speaks to and about the people and land. Our hope is that artists will return to their home communities with fresh eyes and be prepared to see their communities in a unique way.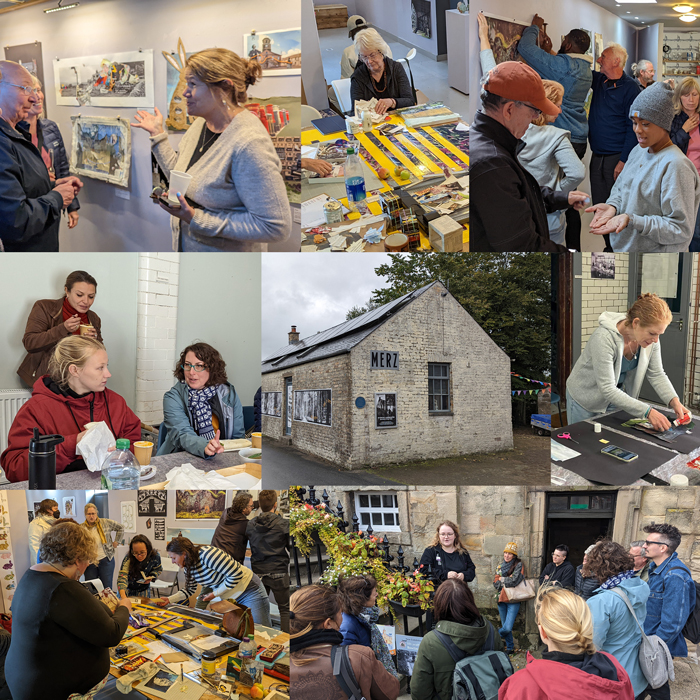 The residency will unfold over the course of a week. Each day the group will meet in the morning for a presentation or workshop. We will hear from guest artists and local historians about Sanquhar and faculty will make presentations about place in art and strategies for incorporating place into one's practice. Designed for collage artists, professional development sessions focus on artist practice: topics include Collage Theory; Sourcing Materials, Copyright, Appropriation; Developing Materials; Collaboration; and Collage in Presentation.
In the afternoons, artists may choose to make art or take up an afternoon activity such as a walk to the River Nith and castle or a visit to the Tolbooth Museum or Saint Bride's church or an afternoon trip via rail to Dumfries or Glasgow. Artists will have the opportunity to work one-on-one with faculty. In the evenings, we will convene at the Nithsdale Pub to informally share the experience of our days.
During the residency, residents will make a series of collages which will be shown in exhibition at MERZ for World Collage Day 2023 and at Kolaj Fest New Orleans 2023. Artists will also participate in a collaborative project during the Residency. After the residency, artists will be invited to submit 3-5 collages and a statement for inclusion in a book of collage about Sanquhar that will be published by Kolaj Institute in 2024.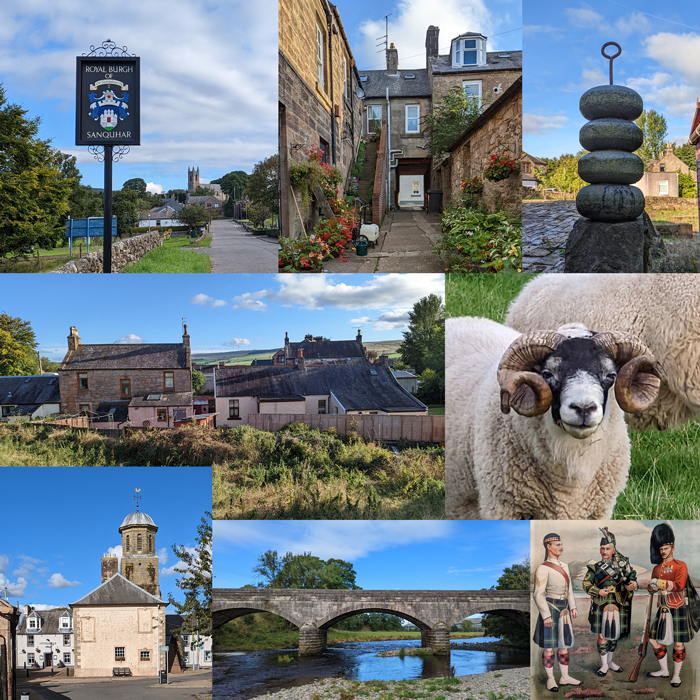 About Sanquhar, Scotland
Sanquhar is a rural Scottish community with a rich agricultural and manufacturing heritage. Located on the River Nith, the area has been an important crossroads going back to Neolithic times and is the site of several prehistoric British forts and a Roman outpost. A 15th-century castle ruin overlooks the town. Mary, Queen of Scots came to Sanquhar in May 1568 after her defeat at the battle of Langside. In the 17th century, Sanquhar was the site of unrest during the Covenanting period when Scottish Presbyterians fought to maintain the Church of Scotland. Agriculture, coal mining, and wool production and related industries such as knitting and carpet making flourished in the 18th century. The town hosts the world's oldest working post office (established in 1712) and the world's oldest curling society (formed in 1774). The Church of St. Bride's sanctuary was dedicated to a lost, then found World War I soldier. The village of Crawick on the edge of town had once been known as a haven for witches. The Tolbooth Museum was designed by the influential 18th century Scottish architect William Adam.
Sites of Interest: Tolbooth Museum, Sanquhar Castle, Crawick Multiverse, Old Town Hall, River Nith, Saint Bride's Church, Sanquhar Declarations Monument, and A' the Airts (home to Sanquhar Knitting Patterns).
WHO IS THIS FOR?
Collage Artist Residency: Scotland is an in-person residency at MERZ Gallery in Sanquhar, Scotland centered on collage artists who want to develop their artist practice. Residencies are intended for self-motivated artists, regardless of the stage in their career, who want to develop their practice by exploring a topic or working method and collaborating with others to produce a final product and who want to develop a practice of working with historic sites or history associations to create and present art that embeds itself in non-traditional spaces and speaks to a general community about contemporary issues.
Residencies are open to any artist over the age of 21 from anywhere in the world. We look for artists who have a developed sense of practice (even if it is an emerging one) and those who have a strong connection to a community. People of color, indigenous people, and members of queer communities are encouraged to apply.
COST
The cost of the residency is $975 USD (£800). This includes accommodations for six nights at MERZ and one meal per day. Artists are responsible for their own travel to and from Sanquhar, additional artist materials, and additional meals. No artist will be turned away for lack of funds and the organizers will work with artists to build a financial aid package.
HOW TO APPLY
Submit your application HERE.
RESIDENCY LOGISTICS
Thursday, 6 April to Wednesday, 12 April 2023
Friday, 14 April to Thursday, 20 April 2023
Saturday 22 April to Friday, 28 April 2023
Artists may arrive anytime after 1PM the day before the start of the residency and must depart by Noon on the last day. Artists are expected to attend all scheduled sessions and be active participants in the community. We may use online tools such as Zoom, Slack, and Google Docs to communicate and share information prior to and after the Residency. Technical support is available as needed. Artists are responsible for their travel to and from Sanquhar. Accommodations and one meal per day are included as part of the Residency fee.
APPLICATION PROCESS
The submission process asks applicants for:
• Contact information
• Artist or Writer Bio (50-250 words)
• Statement of Artist or Writer Practice (50-300 words)
• 5-7 images of artwork or samples of writing
• Statement of expectations
• Asks questions about your work and needs
QUESTIONS
If you have questions, send an email.
PARTNERS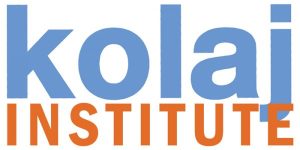 About Kolaj Institute
The mission of Kolaj Institute is to support artists, curators, and writers who seek to study, document, & disseminate ideas that deepen our understanding of collage as a medium, a genre, a community, and a 21st century movement. We operate a number of initiatives meant to bring together community, investigate critical issues, and raise collage's standing in the art world. www.kolajinstitute.org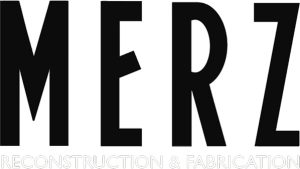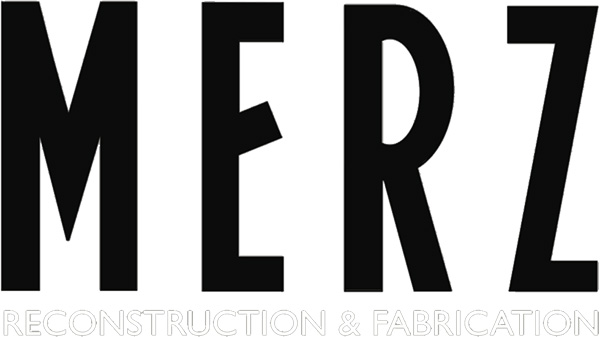 About MERZ Gallery
Located in the former lemonade factory in Sanquhar, Scotland, MERZ is the project of artist and filmmaker David Rushton, who is developing once derelict and neglected sites into art spaces. In addition to MERZ, he has turned a former abattoir into ZIPStudio for local and visiting artists and the Museum of Model Art. Also on site are the art-houses dedicated to Kurt Schwitters and Hannah Höch for short stays (with kitchen, shower and toilet), a second small studio with accommodation (Tadpole), a pop up cinema/further exhibition or studio space (No 5), and an unheated studio and sculpture green in addition to the work-shed and yard around the MERZ gallery and Bothy. MERZ is the permanent home to the Schwitters' Army Collection of Collage Art. MERZ also sponsors a Gallery Residency Program supported by the National Lottery through Creative Scotland. www.merz.gallery