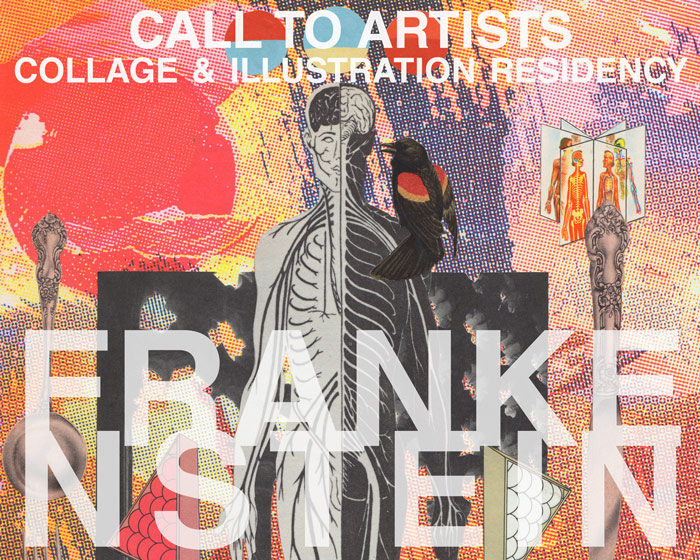 CALL TO ARTISTS
Collage & Illustration Residency – Frankenstein
A four-week, virtual/online residency with Kolaj Institute in August 2023
Deadline to apply: Sunday, June 25, 2023
During the Collage & Illustration Residency – Frankenstein, artists will work to visually interpret Mary Shelley's 1818 proto-science fiction novel, Frankenstein; or, The Modern Prometheus. As part of Kolaj Institute's ongoing Collage & Illustration project, this virtual residency aims to explore the themes of creation, identity, and the boundaries of human imagination through the captivating mediums of collage and illustration. Kolaj Institute will publish Frankenstein; or, The Modern Prometheus using the illustrations made during the residency as a way of bringing this important, historical book and the themes it raises to 21st century readers. A selection of artwork will be exhibited at Kolaj Institute in New Orleans. 
This residency seeks to bring together a diverse group of artists who are passionate about exploring the intersections of art, literature, and the human experience. Participants will delve into the rich narrative and visual potential of Mary Shelley's classic novel and create thought-provoking artworks that reflect the essence of Frankenstein in contemporary contexts.
Frankenstein tells the story of a young scientist who becomes obsessed with uncovering the secret to creating life. However, he soon realizes that his aspiration of "playing God" comes with severe repercussions. Throughout the story, the author delves into various human flaws such as grief, pride, an insatiable thirst for knowledge, secrecy, and shame. The protagonist, Victor Frankenstein, must confront the aftermath of bringing unnatural life into the world, leading to tragic events that jeopardize everything he values.
During this project-driven virtual residency, artists will collaboratively produce a series of collages that illustrate the book. As a group, artists will analyze the story, discuss themes, uncover symbols, ask questions, and visually interpret the text for a 21st century audience. The residency will span four weeks, with a deadline for the finished illustrations scheduled a month after the residency ends, offering artists ample time to immerse themselves in their creative process and develop their ideas.
Christopher Kurts and Nancy Bernardo will lead the residency, facilitating the collaboration and discussion of Shelley's book. Bernardo will speak about collage as illustration and how collage artists can engage with the marketplace for illustration. E. Francis Kohler will talk about the history of adaptations of Frankenstein and how the many permutations of the monster is itself a collage. These artists and educators will be available to offer guidance, feedback, and support throughout the residency, fostering a collaborative and nurturing atmosphere.
Working digitally will be integral to the collaborative process but will not be a prerequisite for acceptance into the residency. We will speak about strategies for adapting your analog process to working digitally as well as what free and available resources exist. We also ask that artists who are already capable of using digital tools for collage support the artists who are learning new skills during the residency. For artists who plan to work with a hybrid analog/digital process, access to a scanner is invaluable.
WHO IS THIS FOR?
This call is open to collage artists and illustrators of all backgrounds, nationalities, and levels of experience. We encourage emerging artists, as well as established practitioners, to apply. Applicants must demonstrate a strong commitment to their artistic practice, as well as a genuine interest in exploring the themes and ideas present in Frankenstein.
COST
The cost of the residency is $500 per artist; however, no artist will be turned away for lack of funds and the organizers will work with artists to build a financial aid package.
HOW TO APPLY
Submit your application HERE.
RESIDENCY LOGISTICS
Dates: 4-30 August 2023
SESSION DATES
Sunday, 6 August, 1-2PM EDT
Wednesday, 9 August, 4-6PM EDT
Wednesday, 16 August, 4-6PM EDT
Wednesday, 23 August, 4-6PM EDT
Wednesday, 30 August, 4-6PM EDT
The residency will begin with an invitation to join the Slack workspace on Friday, 4 August, followed by a one hour, online Meet & Greet on Sunday, 6 August, 1-2PM EDT.
The Introduction and Orientation session will take place on Wednesday, 9 August, 4-6PM EDT.
Two sessions with guest speakers are scheduled for Wednesday, 16 August, and Wednesday, 23 August from 4-6PM EDT.
The final session will take place on Wednesday, 30 August, 4-6PM EDT. The final deadline to complete the illustrations will be Sunday, 1 October.
Artists are expected to attend all scheduled sessions and complete assignments. The group will collaboratively produce a series of collage illustrations. By participating in the residency, artists grant Kolaj Institute, Kolaj Magazine, and Maison Kasini permission to publish the images in book form and in the promotion of the project and book. Any original work made during the residency remains the property of the individual artists with all rights retained.
APPLICATION PROCESS
The submission process asks applicants for:
• Contact information
• Artist Bio (50-250 words)
• Statement of Artist Practice (50-300 words)
• 5-7 images of artwork
QUESTIONS
If you have questions, send an email.
---
FACULTY
Nancy Bernardo
Nancy Bernardo currently lives in Rochester, New York and has been a practicing graphic designer for 22 years. She received her MFA from The School of the Art Institute of Chicago and has been an educator for 14 years. Bernardo's work has been commissioned for book cover designs such as: Checking In/Checking Out (NO Books, 2010), New Orleans Review Art + Literary Magazine (2009-2014), Deconstructing Brad Pitt (Bloomsbury Press, 2011 and discussed in Kolaj #11) and History of Design: Beyond the Canon (Bloomsbury Press, 2018). Bernardo has been recognized and awarded honors through Graphis Design Annual, Print Regional Design Awards, Design Observer 50 Books 50 Covers, HOW In-House Design Award, HOW Best of International Design and STA 100. Her work has also been exhibited in Rochester, New Orleans, Seattle, Chicago, New York City and in the United Kingdom.
Christopher Kurts
Christopher Kurts is a storyteller and artist in New Orleans, Louisiana. He is the Coordinator for Kolaj Institute, where he has organized artist labs, residencies, workshops and forums which have often led to exhibitions and publications. In this role, Kurts acted as the Art Director for Kolaj Institute's Oh, Money! Money! by Eleanor H. Porter, illustrated and interpreted by contemporary collage artists. His own work recently appeared in the exhibition, "Empty Columns are a Place to Dream" which debuted in August 2021 during the 53rd Annual Birr Vintage Week & Arts Festival in Birr, County Offaly, Ireland. In January 2022, Kolaj Institute published a book about the project and the exhibition traveled to the Knoxville Museum of Art in Knoxville, Tennessee. Kurts is also the co-founder and lead organizer for The Mystic Krewe of Scissors and Glue, a group of creatives in New Orleans who meet monthly to collage, converse and foster community. Along with the Krewe, Kurts helped organize "Unfamiliar Vegetables", a group exhibition for Kolaj Fest New Orleans in July 2019, which was later published as a book.
E. Francis Kohler
E. Francis Kohler was born and raised in Sacramento, California. He moved to San Francisco in 1985 to study sculpture and film at the San Francisco Art Institute. After graduating in 1989 with a BFA, he moved to Los Angeles, but soon returned to the Bay Area. He spent the next few years working odd jobs to support himself while pursuing his art career. He made short films, contributed to X-RAY Magazine, and curated group exhibitions. In 1993, he began volunteering at Creativity Explored, an organization that provides art classes for people with disabilities. He quickly became a full-time instructor and facilitator there, and has held various positions at the organization since then. He has also curated numerous exhibitions for CE, and conducted workshops for the public. Francis is a founding member of the C.D.L. (Collage & Diorama League) and The Kut-uPs (a San Francisco-based collage group). He continues to live in San Francisco, where he contributes to FREAKY magazine and creates collages, drawings, dioramas, and zines.