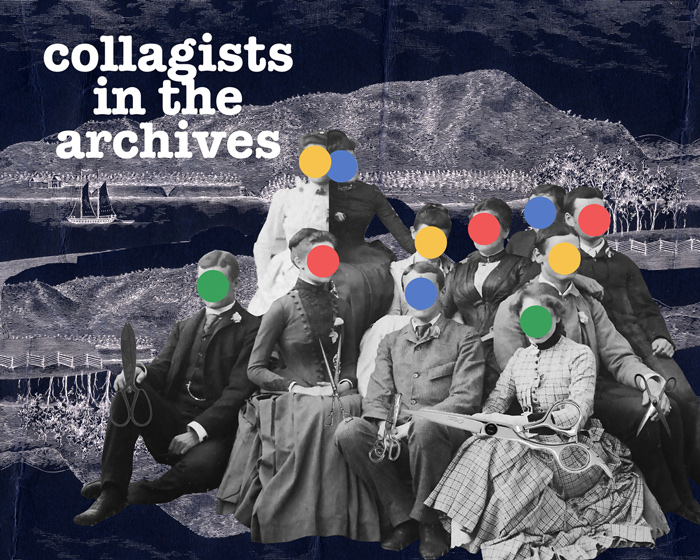 CALL TO ARTISTS
Collagists in the Archives Residency
Virtual residency centered on the Stewart-Swift Research Center at the Henry Sheldon Museum of Vermont History in Middlebury, Vermont, USA.
Deadline to Apply: Sunday, 17 April 2022
The materials collage artists use for the artwork can play a critical role in the work's meaning and how it makes its way into the world. Historical archives, when one understands how to use them, can be fruitful grounds. In this virtual Residency, collage artists will learn how to work with an archive to build a project that speaks to themes of community and history. Centered around the Stewart-Swift Research Center at the Henry Sheldon Museum in Middlebury, Vermont, participating artists will explore their collections and develop tools they can use to work with archives in their home communities.
In five meetings held during the month of May, participating artists will make an artwork that will be considered for an exhibition at the Henry Sheldon Museum in the Fall of 2022 and included in a book to be published by Kolaj Institute. That exhibition will be a collection of twenty collage prints all of which interprets the museum's archive material, on the occasion of its 50th anniversary for a 21st century international audience. In this project, collage artists will use materials in the Stewart-Swift Research Center collections and the histories they hold to interrogate the question, What makes a community?
The goal of the Residency is to equip artists with the tools to work with historical archives, to work with archivists, and build projects that connect with diverse audiences. The Residency, conducted by Kolaj Institute, is a four-week program designed to train artists with an established practice who wish to develop projects with historical archives. In five virtual meetings over four weeks and through ongoing, online discussion, we will explore the idea of archives and how they can be used to create critical context for collage artwork.
The Residency will look at collage practice from a theoretical point of view and invite artists to examine their approach to making artwork. We will consider how collage is defined and how the medium functions as contemporary art. Against this foundation, the workshop will consider the role of source materials and how they shape artwork and the potential ways in which the artwork is seen. Collage artists will search the Stewart-Swift Research Center archive for examples of community caring and use those materials to make a collage that express how a community cares about its people. Artists will complete the residency equipped with skills and strategies they can apply to archives and historical societies in their own communities and a capacity for developing projects that speak to contemporary audiences.
The residency is led by Ric Kasini Kadour, editor of Kolaj Magazine, who, as a 2021 recipient of a Curatorial Fellowship from The Andy Warhol Foundation for the Visual Arts, spent the past year investigating the intersection of art and history. Reflecting on their own artist practice, participants will learn how to work with archives and historic materials. Eva Garcelon-Hart, Stewart-Swift Research Center Archivist, and Taylor Rossini, Henry Sheldon Museum Collections Associate will speak about artist research and help artists identify materials and the stories they hold. Kolaj Institute Coordinator Christopher Kurts will speak about adapting one's artist practice and how-to incorporate various strategies for working with historical materials. Kadour will work with artists to use history to build a context for their artwork and ways of designing a project with viewers in mind.
During the residency, artists will make a collage and write a brief statement about the material used and what the collage says about community, the material in the archive and its history. The resulting artwork will be considered for an exhibition at the Henry Sheldon Museum in Middlebury, Vermont and for inclusion in a folio of prints. An exhibition of the folio will take place at the Henry Sheldon Museum September 2nd, 2022 to January 7, 2023. The images and texts will be published in a book by Kolaj Institute that will be released in September 2022.
For more information about the larger project, Artists in the Archives, visit this post HERE.
WHO IS THIS FOR?
Collage Artist Residencies are intended for self-motivated artists, regardless of the stage in their career, who want to develop their practice by exploring a topic or working method and collaborating with others to produce a final product and who want to develop a practice of working with historic sites or history associations to create and present art that embeds itself in non-traditional spaces and speaks to a general community about contemporary issues.
Residencies are open to any artist over the age of 21 from anywhere in the world. We look for artists who have a developed sense of practice (even if it is an emerging one) and those who have a strong connection to a community. People of color, indigenous people, and members of queer communities are encouraged to apply.
COST
The cost of the residency is $500 per artist; however, no artist will be turned away for lack of funds and the organizers will work with artists to build a financial aid package.
HOW TO APPLY
Submit your application HERE.
RESIDENCY LOGISTICS
Dates: May 2022
GROUP SESSION DATES
Saturday, May 7th, 3-5PM EDT
Tuesday, May 10th, 5-6PM EDT
Sunday, May 15th, 3-5PM EDT
Tuesday, May 17th, 5-6PM EDT
Sunday, May 22nd, 3-5PM EDT
ONE-ON-ONE SESSIONS
Individual artists will have a one hour session with the archivists and curators, to be scheduled from May 11th to May 21st.

An invitation to join Slack will be sent to artists, followed by an informal Meet and Greet and Slack Tutorial prior to the first session on May 7th.

Artists are expected to attend all scheduled sessions and complete assignments. The group will individually and collectively produce a series of poems and collages. By participation in the residency, artists grant Kolaj Institute, Kolaj Magazine, and Maison Kasini permission to publish the text and images in book form and in the promotion of the project and book. Any original work made during the residency remains the property of the individual artists with all rights retained.
APPLICATION PROCESS
The submission process asks applicants for:
• Contact information
• Artist or Writer Bio (50-250 words)
• Statement of Artist or Writer Practice (50-300 words)
• 3-5 images of artwork or samples of writing
• Statement of expectations
• Asks questions about your work and needs
QUESTIONS
If you have questions, send an email.