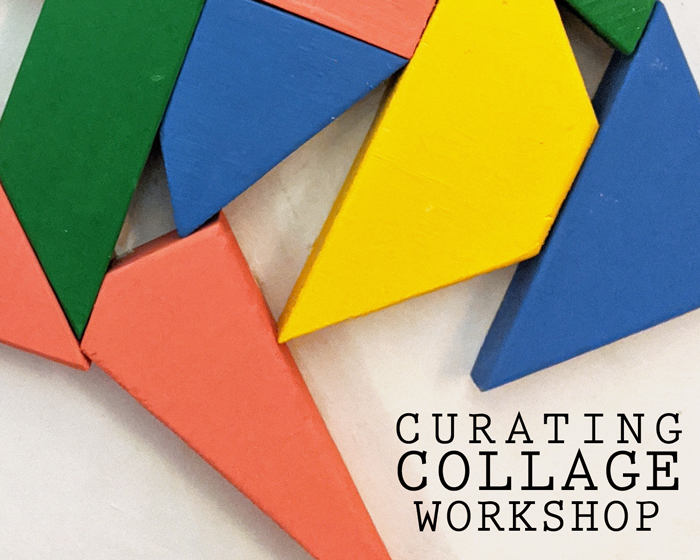 CALL TO ARTISTS
Curating Collage Workshop
A four week, virtual/online workshop in October-November 2020 with the University of Vermont's Fleming Museum of Art
Deadline: 11 October 2020
Curating is a vital part of art's function: a curator creates a bridge between artwork and audience. For artists, this process can be confusing and mysterious. The goal of the Curating Collage Workshop is to equip artists with the tools to curate their own work, to work with curators, and build exhibitions that connect with diverse audiences.
The Curating Collage Workshop is a four-week program designed to train artists as curators. In six virtual meetings over four weeks and through ongoing, online discussion, we will explore the fundamentals of curating, how to create critical context for collage, and various strategies for presenting collage to an audience. Topics will include art writing; gallery and museum issues; documenting artist practice; and working with art professionals.
The Curating Collage Workshop will focus on the role of the exhibition: How do we exhibit collage? What is needed from collage to function in a commercial gallery, art center, or museum? How do we build exhibitions that go beyond the "Cut and Paste" group show model that is prevalent today? What does it mean to be artist-centric, medium-centric, or viewer-centric in the presentation of collage in exhibition? And the workshop will explore ideas around Curation: What is a curator and what is their role? How do we introduce collage to viewers? How do we build an audience for collage and generate enthusiasm and a sense of value for the work? How do we take collage where it needs to go to reach the viewers it is intended to reach?
Participants will curate a collage from the collection of the University of Vermont's Fleming Museum of Art. Texts may be used by the Museum and will be adapted for publication in Kolaj Magazine. Artists in the workshop will curate each other's work and produce a statement of practice, biography, and critical context for a body of work. This material will be developed into a proposal for an exhibition or book. Proposals will be considered by Kolaj Institute. Artists will leave the workshop with a collection of texts that document and provide critical context for their work.
WHO IS THIS FOR?
The Curating Collage Workshop is for artists with an established practice and a body of work they would like to bring to an audience through exhibition or publication.
COST
The cost of Curating Collage Workshop is $350 USD, however no artist will be turned away for lack of funds and the organizers will work with artists to build a financial aid package. The Curating Collage Workshop is limited to 10 artists.
HOW TO APPLY
Submit your application HERE.
APPLICATION PROCESS
The submission process will ask you for: Contact information; Artist Bio (50-250 words); Artist Statement (50-300 words); 5-7 images of artwork; a statement of expectations; and ask you some questions about your work and needs.
QUESTIONS
If you have questions, send an email HERE.
Deadline: 11 October 2020
Final Notification no later than 15 October 2020
---
ORGANIZERS
ABOUT KOLAJ INSTITUTE
The mission of Kolaj Institute is to support artists, curators, and writers who seek to study, document, & disseminate ideas that deepen our understanding of collage as a medium, a genre, a community, and a 21st century movement. We operate a number of initiatives meant to bring together community, investigate critical issues, and raise collage's standing in the art world. WEBSITE
ABOUT KOLAJ MAGAZINE
Kolaj Magazine is a quarterly, printed, art magazine reviewing and surveying contemporary collage with an international perspective. We are interested in collage as a medium, a genre, a community, and a 21st century art movement. WEBSITE
ABOUT THE FLEMING MUSEUM OF ART
The Fleming Museum is located on the campus of the University of Vermont in Burlington, one of the nation's oldest universities, chartered in 1791. When the Museum opened in 1931, it was hailed as "a practical place of learning–a vibrant, ongoing educational institution for both children and adults." Today, the Museum houses Vermont's most comprehensive collection of art and anthropological artifacts. It presents innovative exhibitions of contemporary and historic art from around the world, complemented by year-round programming for all ages. WEBSITE
---
FACULTY
Ric Kasini Kadour
Ric Kasini Kadour is a writer, artist, publisher, and cultural worker. Working with the Vermont Arts Council, Kadour curated four exhibits: "Connection: The Art of Coming Together" (2017) and Vermont Artists to Watch 2018, 2019 and 2020. In 2017, he curated "The Art of Winter" at S.P.A.C.E. Gallery in Burlington, Vermont. In 2018, Kadour curated "Revolutionary Paths: Critical Issues in Collage" at Antenna Gallery in New Orleans, which bought together collage artists whose work represents the potential for deeper inquiry and further curatorial exploration of the medium; followed in 2019 by "Cultural Deconstructions: Critical Issues in Collage" at LeMieux Galleries in New Orleans, which furthered the conversation. Since 2018, he has produced Kolaj Fest New Orleans, a multi-day festival and symposium about contemporary collage and its role in art, culture, and society. As Curator of Contemporary Art at Rokeby Museum in Ferrisburgh, Vermont in 2019 and 2020, he curated three exhibitions, "Rokeby Through the Lens" (May 19-June 16, 2019), "Structures" (August 24-October 27, 2019), and "Mending Fences: New Works by Carol MacDonald" (July 12-October 25, 2020). He also curated "Contemporary American Regionalism: Vermont Perspectives" (August 17-October 20, 2019) and "Where the Sun Casts No Shadow: Postcards from the Creative Crossroads of Quito, Ecuador" (November 1-30, 2019) in the Wilson Museum & Galleries at the Southern Vermont Arts Center.
Kadour is the editor and publisher of Kolaj Magazine and Vermont Art Guide. He has written for a number of galleries and his writing has appeared in Hyperallergic, OEI, Vermont Magazine, Seven Days, Seattle Weekly, Art New England (where he was the former Vermont editor) and many others. Kadour maintains an active art practice and his photography, collage, and sculpture have been exhibited in and are part of private collections in Australia, Europe and North America. In January-February 2020, he was artist-in-residence at MERZ Gallery in Sanquhar, Scotland. He holds a BA in Comparative Religion from the University of Vermont. Kadour splits his time between Montreal and New Orleans. WEBSITE
Andrea Rosen
Andrea Rosen specializes in curating for academic art museums, involving students and faculty in the curatorial process at all stages of exhibition planning. She has curated and co-curated exhibitions on a wide range of subjects, including recent shows on historical and contemporary miniatures, Victorian fashion, the cartoonist Alison Bechdel, Afro-Atlantic sacred art, and Surrealist photography. Rosen, the curator of the Fleming Museum of Art at the University of Vermont, holds a Masters in Art History and Museum Studies from Tufts University, with a focus on art since 1960, and Bachelors in Studio Art from Smith College. She is the founder and organizer of the Vermont Curators Group, a venue for collaboration among curators from diverse institutions across the state. WEBSITE