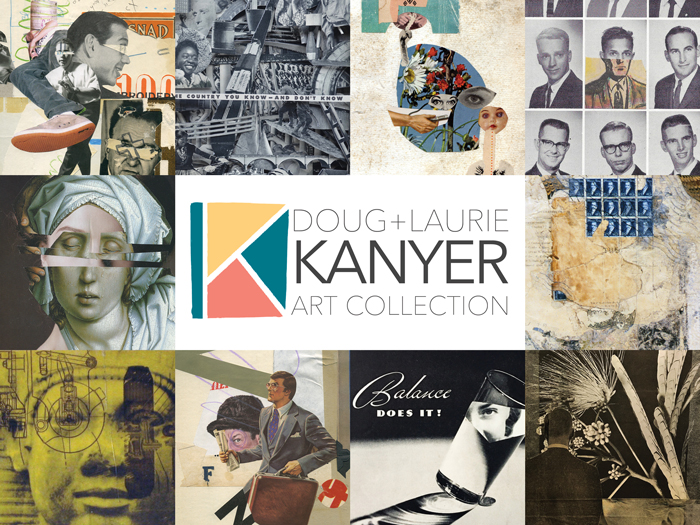 CALL TO ARTISTS
Doug & Laurie Kanyer Art Collection Purchase Award at Kolaj Fest New Orleans
Doug and Laurie Kanyer, in their desire to support artists and advance a deeper understanding of collage, are working with Kolaj Magazine to build a collection of collage art. At Kolaj Fest New Orleans, they invite registered participants to submit a work of art for consideration. A number of works will be selected and purchased. To be considered, complete an application before July 7th, 2019.
About the Doug & Laurie Kanyer Art Collection
The mission of the Doug & Laurie Kanyer Art Collection is to support artists while creating a record of artists working in collage. The collection is a tool for curators, researchers, and artists who wish to deepen their understanding of collage as a medium, genre, and community. Acquisitions are made on an ongoing basis, in response to public calls to artists and through private inquiry. The collection will be published and available online and public presentations will be made through various exhibitions. The official announcement of the collection will be made in Fall 2019 and its first public exhibition will take place at Kolaj Fest New Orleans in July 2020.
Important Considerations
Should work be selected, artists will be paid the stated price for the work and be responsible for shipping the work via padded, insured box to an address provided. The cost of shipping is the responsibility of the artist. It is not necessary to frame the work; however, if the work is already framed, please note so in the application. Artists whose work is purchased will be asked to provide documentation and to grant the Collection permission to reproduce images of the work online and in print for the purpose of documenting the collection. Artists must also agree to permit the work to be loaned and exhibited at the discretion of the Collection. Other than these permissions, artist retains all rights to the image. The Collection seeks an ongoing, cooperative, and mutually beneficial relationship with the artists in the collection. The Kolaj Fest New Orleans Purchase Award decision will be made by a committee of three artists working with Doug and Laurie Kanyer. Artists will be notified in September 2019.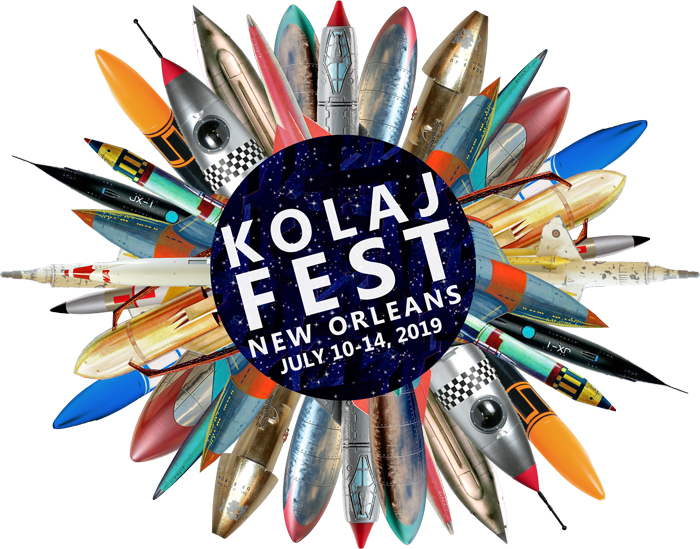 About Kolaj Fest New Orleans
Kolaj Fest New Orleans is a multi-day festival and symposium about contemporary collage and its role in art, culture, and society, July 10-14, 2019. Visit the website to learn more, see an overview of the program, and register to attend. Kolaj Fest New Orleans would not be possible without the support of Press Street, Ogden Museum of Southern Art, LeMieux Galleries, Mystic Krewe of Scissors and Glue, Antenna Gallery, Kolaj Magazine and Kasini House. Kolaj Fest New Orleans is made possible through a generous gift from Laurie and Doug Kanyer. WEBSITE
Images (by row, left to right):
Details of collage works by:
Row 1: Zach Collins and Aaron Beebe, Ben DiNino, Fred Free, Cheryl Chudyk;
Row 2: Carol White, Todd Bartel;
Row 3: Allan Bealy, Zach Collins and Aaron Beebe, Laurie Kanyer, Meikel Church.