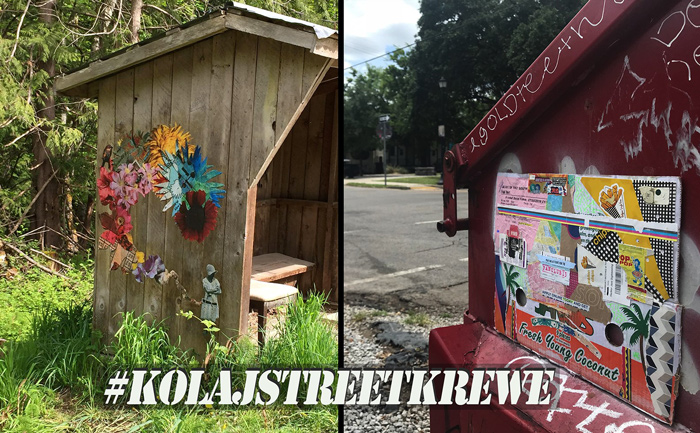 CALL TO ARTISTS
The Kolaj Street Krewe invite you to Take Art to the Streets!
Deadline: 1 September 2020
During "Public Space, Street Art, and Collage: Kolaj Street Krewe"at Kolaj LIVE Online, panelists FANCLUB13 and Rosie Schinners and the other artists in the audience discussed using the medium of collage in public art. They challenged the artists present to find their own way of introducing art into the streets during the month of August.
Use the hashtag #KolajStreetKrewe in social media and share what effect this has had on your work and/or your process.
The Kolaj Street Krewe seeks documentation of such acts for inclusion in an upcoming publication. If you would like your street art to be considered for a Kolaj Street Krewe publication opportunity, please make sure to capture high-resolution, well-exposed photographs of your work on the streets. FANCLUB13 and Rosie will be looking through all the images with the #KolajStreetKrewe hashtag and inviting the best examples for publication at the beginning of September. Not every submission will be published, so be sure to document your efforts as instructed.
Alternatively, you can send entries by EMAIL.
Deadline: 1 September 2020