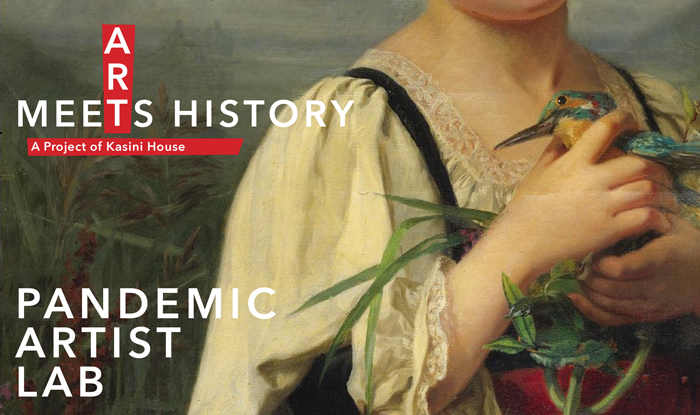 CALL TO ARTISTS
Pandemic Artist Lab
A four week, virtual/online lab in June 2020 with Tulane University Special Collections
Deadline: 24 May 2020
Kasini House's Art Meets History Initiative and Kolaj Institute announce the Call to Artists for the Pandemic Artist Lab, four weeks of workshops and discussions designed to foster the integration of history and contemporary art into an artist's practice and to develop artwork that speaks to the effect of COVID-19 on society.
How we understand history takes shape as we live it. COVID-19 and the measures taken to control the pandemic have caused a historic rupture in civilization, the pause of economies, and personal hardships that range from mild inconvenience to financial devastation and death. The dominant visual imagery of the pandemic has been empty streets, closed businesses, press conferences, face masks, and scientific renderings of the coronavirus. These images do not tell the full story of the pandemic: isolation, resilience, system failure, vulnerability, community response and care, joy in the face of crisis.
The goal of the Artist Lab is to equip artists with tools and strategies for picking up the unfinished work of history and speak to contemporary civic discourse around social, economic, and environmental issues. Through interactive online sessions, collections research, and one-on-one visits with historians, archivists, and curators, artists will explore their process and practice; present a slideshow of their work; receive supportive, critical, curatorial feedback about their ideas; and discuss strategies for making art that speaks to the contemporary moment.
DETAILS
Visit Kasini House's website for the complete Call to Artists, including information about faculty, guest speakers, cost and how to apply: HERE.