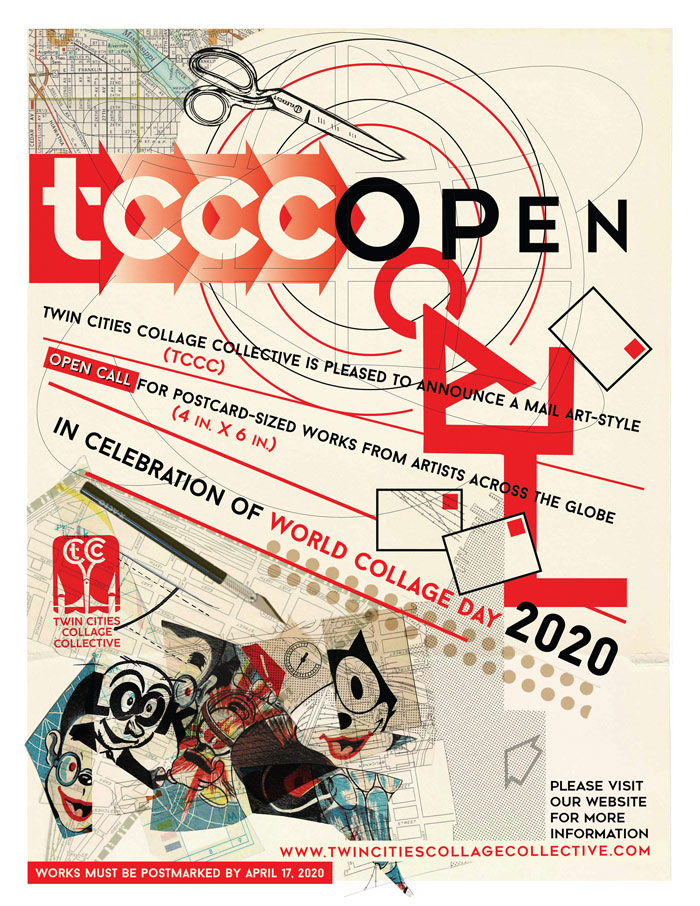 CALL TO ARTISTS
Twin Cities Collage Collective World Collage Day 2020
Postmark Deadline: 17 April 2020
Twin Cities Collage Collective announces a mail art-style open call for postcard-sized works from artists across the globe in celebration of World Collage Day, 9 May 2020. Works should be 4″x6″/10 cm x 15.25 cm and oriented horizontally/in landscape format.

Submissions received will be exhibited as part of an art show celebrating World Collage Day at Boneshaker Books in Minneapolis, Minnesota, USA. The show will hang throughout May and June 2020.
There is no fee for entry and work will not be returned. Twin Cities Collage Collective will preserve the work received for enjoyment, learning and inspiration in the local community. The intent is to keep the works in archival photo albums to protect the submissions, but allow them to be easily viewed. This is the reason for the orientation and for keeping the artwork flat. Additionally, Twin Cities Collage Collective will share the work received online after the show's completion, creating an online archive for all to enjoy.

Specifications:
Work should be flat: no three-dimensional aspects
Dimensions: 4″x6″/10 cm x 15.25 cm, landscape-style
No fee for entry
Maximum 4 submissions per artist
No artwork will be returned. It will be exhibited in person and online by Twin Cities Collage Collective in addition to being preserved as an archive
Works may be mailed in an envelope or as a postcard
Postmark Deadline: 17 April 2020
Mail submissions to:
Twin Cities Collage Collective
℅ Boneshaker Books
2002 23rd Ave South
Minneapolis, MN 55404
USA
For more information and to ask questions, please visit the Twin Cities Collage Collective's website HERE.