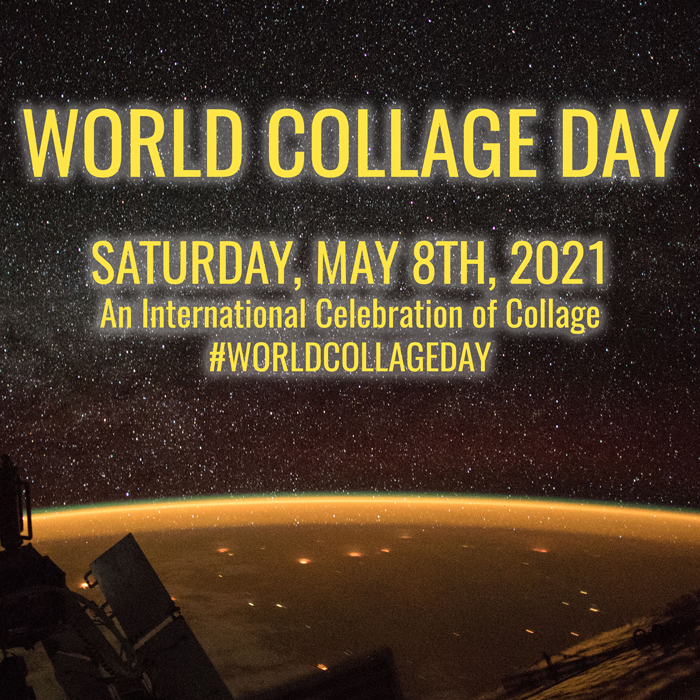 COLLAGE EVENT
World Collage Day is May 8, 2021
World Collage Day is an annual, international celebration of collage on the Second Saturday of May. Initiated by Kolaj Magazine in 2018, we invited artists and art venues to hold events on that day to celebrate collage. World Collage Day is about artists connecting across borders against a global context of entrenchment and separation. The day is also about an art medium that excels at bringing different things together to create new forms and new ways of thinking. Ric Kasini Kadour, the editor of Kolaj Magazine, writes, "We created World Collage Day because we wanted to honor this community of artists and to remind the world what a spirit of cooperation, mutual support, and creativity can look like." The next World Collage Day is May 8th, 2021.
For those interested in joining in the spirit of World Collage Day, we offer a number of opportunities to join in the celebration:
Submit a Cut-Out Page to the Special Edition
In honor of World Collage Day, Kolaj Magazine will issue a Special Edition of the magazine that features Cut-Out Pages and articles about the collage community. A Cut-Out Page is a selection of fragments that one can use to make a collage. The feature reflects artists' styles and approaches to collage making and shows how artists select and organize fragments. People use the Cut-Out Pages to make collage. For instructions on how to make and submit a Cut-Out Page, visit the Call to Artists. The deadline is January 31, 2021 to be considered for the World Collage Day 2021 Special Edition.
Apply to become the World Collage Day Poster Artist
Each year, Kolaj Magazine works with a collage artist to make a poster and other marketing collateral for the annual event. This year, we want to hear from artists who are interested in being considered. The 2021 World Collage Day Poster Artist will receive a $500 stipend and work with Kolaj staff to develop a series of elements and backgrounds that will be adapted to various marketing collateral. The work will be completed by the end of February. To apply, send an email to info@kolajmagazine.com with 1) the link to your listing in the Kolaj Magazine Artist Directory; 2) a sentence or two about the themes or concepts that you'd like to work with; 3) any experience you have working with marketing teams. The deadline to apply is January 31, 2021.
Organize an Event or Project
One of the many remarkable things about collage is its ability to extend across borders and to involve people regardless of skill level. Professional artists at the top of their game sit side by side with members of the general public who are picking up scissors for the first time. This is unique in an art world that often trades on hierarchy and status. The collage community is generous and kind and welcoming. It is one of our greatest strengths. On World Collage Day 2021, let's show the world how we do that.
World Collage Day 2021 takes place during a time when much of the world continues to deal with the COVID-19 pandemic. We encourage everyone thinking about a World Collage Day event or project to take responsibility for educating themselves about the needs of their community. We encourage you to follow guidelines set out by health officials and be mindful that these may evolve and change over time.
If in-person gatherings are safe and possible in your community in May 2021, we invite artists, art centres, museums, galleries, schools, and communities to celebrate World Collage Day by hosting events and projects that bring communities together. Ideas include collage making meet-ups, docent-led tours of collage in a museum or gallery, activities for kids, slideshows or talks that appreciate collage's role in contemporary art and art history, exhibitions of collage, and more. We invite people to come together around collage in their own communities and to connect to the world digitally using the hashtag #WorldCollageDay. When planning in-person events, consider who that may pivot to virtual events if circumstances in the community change.
If it looks unlikely that in-person gatherings in your community will be possible, consider a project that manifests the spirit of World Collage Day in a safe and responsible way. This may take the shape of a Window Exhibition, sharing Collage Starter Packs for your neighbors, or organizing an online Collage Happy Hour.
Now is the time to plan and whatever you decide to do, we want to hear about it. To get inspired, check out past events and projects on the History page of the World Collage Day website or join the Kolaj LIVE Online event, How-To World Collage Day 2021 on Saturday, February 20, 2021, 2PM EST (1900 UTC). 
Whatever you decide to do, we want to hear about it. Give the project a name. Write 3-5 sentences about your project and make or find 1-2 images that represent what you are doing. (Note: We don't mean posters. These should be images of artwork.)  Use this form to share texts and images with us. The deadline to submit events is April 15, 2021.
We will announce your event on the WORLD COLLAGE DAY WEBSITE and through our social media.