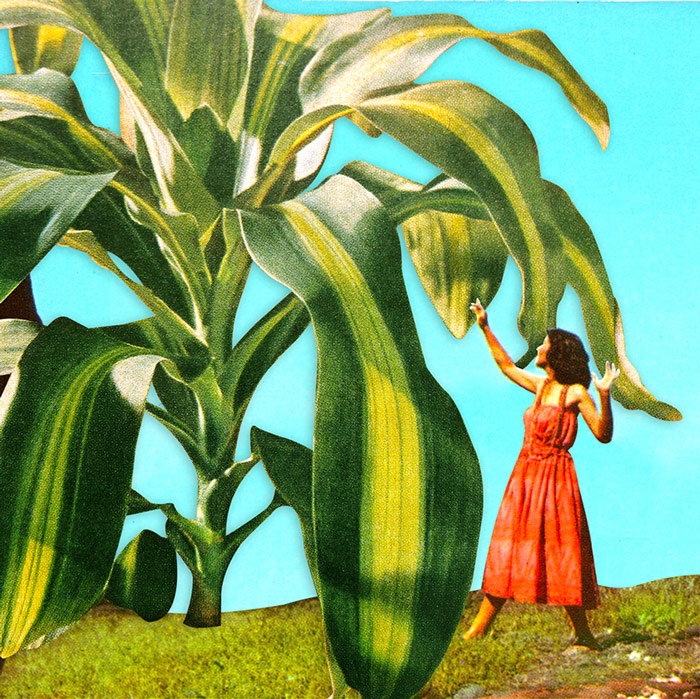 COLLAGE EXHIBITION & CALL TO ARTISTS
Todo Loco III
at La Casa Verde in Barranquilla, Colombia
1-30 April 2020
Artists Emma Anna and Fernando García Vásquez run the independent creative space La Casa Verde in the Colombian Caribbean city of Barranquilla.
Until 13 March they'd been planning the third edition of their annual collage spectacular "Todo Loco". Previous editions of the exhibition have showcased works from artists across Colombia as well as Europe, the US and Australia. The brief for the exhibition is very broad in terms of collage media: the only consideration for proposals is that they must somehow link to an interpretation of the themes of "The Fool" or "Craziness".
Although things in Colombia are still relatively calm regarding COVID-19 at the moment, there is still uncertainty over what the next few weeks are going to bring. Most events are being cancelled or postponed. The Colombian Ministry of Culture has just announced that its staff will move to a work-from-home model for the next two months.
Rather than cancel "Todo Loco" entirely, Emma and Fernando have decided to shift things in a new direction. Instead of a physical exhibition at La Casa Verde, "Todo Loco" will now be popping up on the internet via Instagram. La Casa Verde now invites artists from all over the globe to contribute to the exhibition by creating works along the original thematic lines, then publishing them on Instagram and attaching the hashtag #todoloco3. Contributions can be in any form, such as analog, digital, or animation.
Emma and Fernando are hopeful that the new format exhibition in 2020 will capture the global zeitgeist and help artists to process some of the associated emotions and concerns, experiences and insights of these next few weeks.
The original Todo Loco exhibition was due to open on April Fools' Day and run alongside a program of collage activities, workshops and artists talks. The revised format of the exhibition will officially commence on 1 April and be extended until the end of the month. The project's Instagram account @todoloco_3 will be maintained throughout this time and will provide insights into the work of over 30 collage artists from Colombia, with special attention on the work of local, Barranquilla-based practitioners.
(text adapted from the gallery's press materials)
---
INFORMATION
La Casa Verde
Carrera 59, 64-90
Barranquilla 080002, Colombia
+57 301 678 3220
Hours:
Contact the venue for current hours