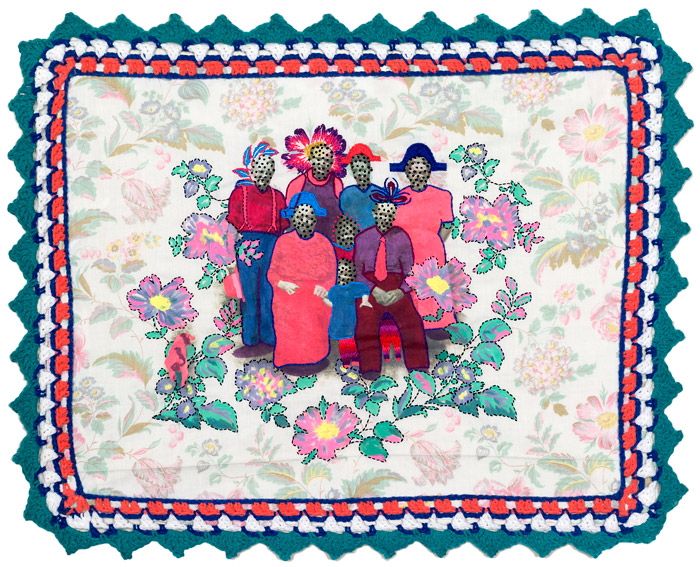 COLLAGE ON VIEW
Hale Ekinci
at One River School of Art & Design in Chicago, Illinois, USA
11 January-22 February 2019
Hale Ekinci says about her work:
Pictorial histories, gender politics, and ritualistic traditions from my Turkish upbringing form the conceptual foundation of my work. Visually, they resemble my main influence: indigenous Middle Eastern crafts. Similar to the way these colourful pattern-based textiles employ esoteric symbolism, I explore my heritage, my status as an immigrant, and the rich history of "women's work" through non-linear narrative videos and mixed media paintings embellished with craft. Historically, textiles and photos are used for recording information and telling stories. So, to tell the story of my hybrid folklore, I create pictorial scenes framed with crochet edgings like headscarves–a prominent, female, religiopolitical symbol. These start with transferring collaged photos of collectives and families from my dual life onto paper and fabric surfaces. Symbolic patterns referenced from my textile influences are layered over the translucent pictures using acrylic paint, embroidery, and inkjet impressions that mimic the complexity of identity. Applying techniques of collage to the moving image, my animated videos explore immigrant identity as seen from both Turkish and Western perspectives while reflecting on the universal bizarreness of traditions and stereotypes.
Hale Ekinci is a Chicago-based Turkish interdisciplinary artist and Associate Professor of Art at North Central College. She spent childhood and much of her young adult years in Turkey, the homeland that she brings in and out of focus throughout her works. She completed her MFA in Interdisciplinary Arts and Media at Columbia College Chicago. Focusing on pictorial histories, gender politics, and folk traditions, her works vary from non-linear narrative videos and mixed media paintings that are juxtaposed with craft to fiber installation. Her recent projects touch on social issues, cultural stereotypes, and political unrest. Despite the sometimes dismal nature of these controversial issues, her works are often playful as she uses vibrant colors, patterns, and hopeful moments.
(adapted from the artist's press materials)
---
INFORMATION
One River School of Art + Design
4625 North Lincoln Avenue
Chicago, Illinois 60625 USA
(773) 219-2232
Hours:
Monday-Tuesday, 9AM-8PM
Wednesday-Thursday, 9AM-6PM
Saturday, 9AM-5PM
Images: (top to bottom)
untitled (farmers) by Hale Ekinci
untitled (sisters) by Hale Ekinci
Courtesy of the artist