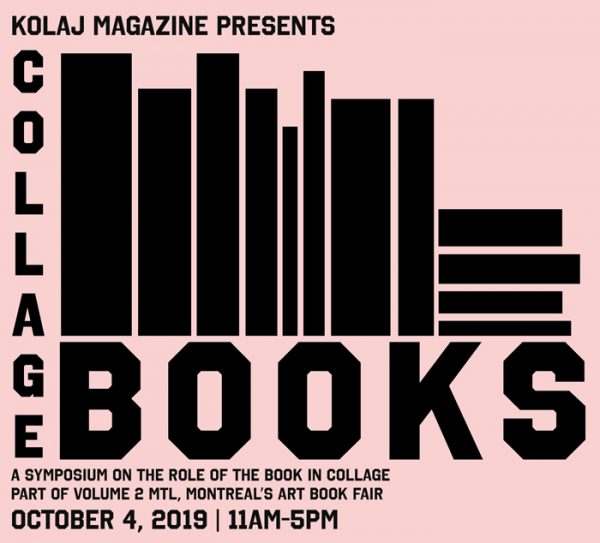 CALL TO ARTISTS
COLLAGE::BOOKS Symposium
DEADLINE: August 31st, 2019
Kolaj Magazine is partnering with ARCMTL to produce a full day symposium on the subject of collage and the book on October 4th, 2019 in Montreal. The symposium will be a part of VOLUME 2 MTL: Art and the Book, Montreal's annual conference and fair devoted to art publishing and artists' books. VOLUME 2 MTL presents works and programming in both English and French, including artists and publishers from all over Canada, the US and elsewhere.
PROSPECTUS
Consider this: The book, not the gallery, may be the best place to experience collage. This sentiment has broad implications for how collage artists work and how their work is received by an art world whose orientation is decidedly fixed on the gallery wall. Can the book provide the functions that the exhibition has historically provided to artists? Unlike an exhibition where original work is on display, a book depends on reproduction for its distribution. Will the public accept a book as an experience of artwork or even as an object of art in and of itself? And if we accept the book as being on par with the exhibition, how does that affect how we think of the history of art publishing that has come before? These are the questions we will explore at the COLLAGE::BOOK Symposium, a day-long meeting of artists and art professionals interested in the book as art practice, art work, or as a vehicle for diffusing and sharing ideas about art. Kolaj Magazine seeks collage artists who make books as part of their broader practice to present their book-centered projects as part of the symposium. In addition to making a brief presentation, book projects will be profiled in a special publication that will accompany the symposium.
For this symposium, we will take a broad view of collage books and include trade editions, art criticism, coffee table books, 'zines, artist books, catalogues, literary endeavours that feature collage. Emphasis will be placed on art books, which we define as those titles that privilege the object and concept of the book over the content, narrative, or function. That said, we are open to works that challenge that definition of an art book.
Accepted presenters will be expected to register, attend, and participate in the symposium.
---
About Kolaj Magazine
Kolaj Magazine is a quarterly, printed magazine about contemporary collage. We are interested in how collage is made, how collage is exhibited, and how collage is collected. We are interested in the role collage plays in contemporary visual culture. This full colour, internationally-oriented art magazine is published in Montreal, Quebec by Maison Kasini. www.kolajmagazine.com
About VOLUME 2 MTL
VOLUME 2 MTL: Art and the Book is Montreal's annual conference and fair devoted to art publishing and artists' books. VOLUME 2 MTL presents works and programming in both English and French, including artists and publishers from all over Canada, the US and elsewhere. volumemtl.art
Want to exhibit at the fair? VOLUME 2 MTL: ART AND THE BOOK, the second edition of this annual gathering around art publishing and artists' books returns to Montreal this October 1 – 6, including an art book fair on October 5 and 6. The application form for exhibitors is now online at https://volumemtl.art/en/register Deadline: August 27, 2019
About ARCMTL
ARCMTL is a non-profit organization that both promotes and preserves the work of independent artists. It has hosted the huge Expozine small press fair annually since 2002, and has been a co-organizer of the Montreal Printed Arts Festival and the Grande Print Art Fair since 2016. It also has operated the Distroboto network of art-vending machines since 2001 and launched VOLUME MTL in 2018. www.arcmtl.org