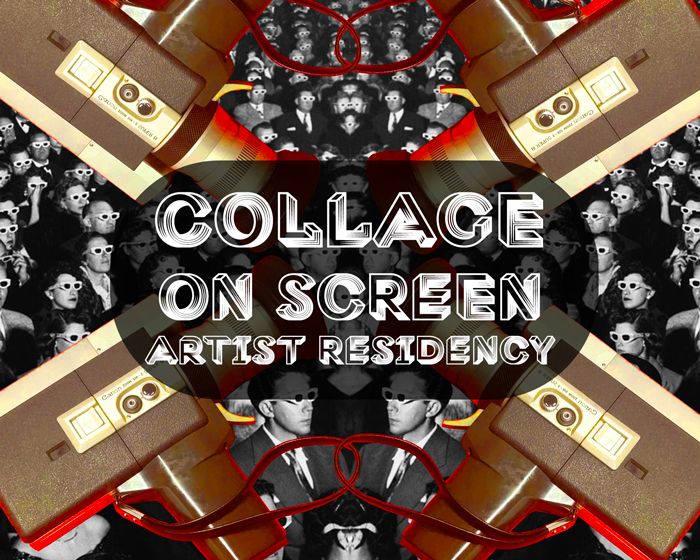 CALL TO ARTISTS
Collage on Screen Artist Residency
A five-week, virtual/online residency with Kolaj Institute in August 2023
Deadline: Wednesday, 26 July 2023
Collage in Motion is a project of Kolaj Institute that explores collage and the moving image, a broad, loosely defined category that includes animations, film cut-ups, collage film, stop-motion, animated GIFs, documentaries about collage artists, and other forms of media in which collage–as medium or genre–is present. We see our role as not one of defining "collage in motion" but as one of asking what "collage in motion" can be. The project manifests as articles in Kolaj Magazine, an online directory, workshops, residencies, and screenings. Artists with practice of Collage in Motion are encouraged to submit to the online directory.
Collage on Screen Artist Residency is a five-week program designed to support artists who want to develop a practice that includes motion in their artmaking. In five virtual meetings over five weeks and through ongoing, online discussion, we will explore the history of collage on screen and the various ways that collage makes its way to the screen and how collage artists operate in the space of moving images and sound. Unlike two-dimensional art, collage on screen is temporal art, meaning it moves through time. Because of this, viewers experience Collage on Screen not as a linear series of images but as an immersive experience. This residency asks, How do we, as collage artists, make artwork that speaks to that?
Designed for collage artists, professional development sessions focus on artist practice, how to develop a story; and how to develop moving images and sound to tell that story. Artists will hear from Chris Robinson, artistic director of the Ottawa International Animation Festival and author of Earmarked for Collision: A Highly Biased Tour of Collage Animation, who will talk about collage and animation, its history, practice, and diffusion.
Residents will make a 30 second film that will be considered for Collage on Screen at Kolaj Fest New Orleans, 12-16 June 2024. If selected, the film will be included in Kolaj Institute's traveling screening program. Artists may also choose to make longer works which will also be considered.
WHO IS THIS FOR?
This residency seeks to bring together a diverse group of artists who are passionate about exploring the intersections of collage and film and want to develop their art practice to include this medium. We welcome all skill levels, however, those new to this medium should be prepared to develop the technical skills needed to complete the residency. This may include video editing, sound editing, digital image editing. Faculty will provide some technical support before the residency in the form of a clinic. During the residency, artists will develop new skills by learning from one another and sharing knowledge. Artists will add artistic craft to their practice, new tools for their toolbox, and an understanding of how to wield those tools effectively, even if the tools themselves are still being developed.
COST
The cost of the residency is $600 per artist; however, no artist will be turned away for lack of funds and the organizers will work with artists to build a financial aid package.
Artists will use their own technology and depending on their approach and may need to purchase appropriate software or use free software that is available.
HOW TO APPLY
Submit your application HERE.
RESIDENCY LOGISTICS
Dates: 5 August-7 September 2023
SESSION DATES
Saturday, 5 August, Noon-1PM (Meet & Greet) and 1-4PM EDT (Optional Technical Clinic)
Thursday, 10 August, 4-6PM EDT
Thursday, 17 August, 4-6PM EDT
Thursday, 24 August, 4-6PM EDT (Guest Speaker Chris Robinson)
Thursday, 31 August, 4-6PM EDT Informal check-in
Thursday, 7 September, 4-6PM EDT
The residency will begin with an invitation to join the Slack workspace on Thursday 3 August, followed by a one hour, online Meet & Greet on Saturday, 5 August, Noon-1PM EDT, immediately followed by an optional technical clinic from 1-4PM EDT.
The Introduction and Orientation session will take place on Thursday, 10 August, 4-6PM EDT.
The final session will take place on Thursday, 7 September, 4-6PM EDT. The final deadline to submit a short film project is Thursday, 5 October 2023, with the option to submit a longer film no later than 30 November 2023.
Artists are expected to attend all scheduled sessions and complete assignments. By participating in the residency, artists grant Kolaj Institute, Kolaj Magazine, and Maison Kasini permission to screen the short film publicly, publish the still images in print form and in the promotion of the project. Any original work made during the residency remains the property of the individual artists with all rights retained.
APPLICATION PROCESS
The submission process asks applicants for:
• Contact information
• Artist Bio (50-250 words)
• Statement of Artist Practice (50-300 words)
• 5-7 examples of artwork (still or moving images or links to other films)
QUESTIONS
If you have questions, send an email.
---
GUEST SPEAKER
Chris Robinson
Chris Robinson is a Canadian writer and author. He is also the Artistic Director of the Ottawa International Animation Festival (OIAF) and is a well-known figure in the animated film world and was recently given the 2020 award for Outstanding Contribution to Animation Studies by the World Festival of Animation Film-Animafest Zagreb. In 2022, Robinson received the Prix René-Jodoin from Les Sommets du cinéma d'animation and the Cinémathèque québécoise for his contributions to Canadian Animation.
Robinson has been called "one of the stylistically most original and most provocative experts in the history of animation. He made a name for himself with a unique and eclectic magazine column "Animation Pimp", which became a book of the same name (the column was later renamed into "Cheer and Loathing in Animation").
Mastering different methods and styles in critical and scholarly approaches, Robinson covers a broad range of Canadian and global subject matters in his books Estonian Animation: Between Genius and Utter Illiteracy, Unsung Heroes of Animation, Canadian Animation: Looking for a Place to Happen, Ballad of a Thin Man: In Search of Ryan Larkin, Animators Unearthed, Japanese Animation: Time out of Mind and Mad Eyed Misfits: Writings on Indie Animation.
Robinson's most recent animation writing includes Earmarked for Collision, the first ever history of collage animation. He is currently writing Dreaming a Way (of) Life, a book about the legendary collage filmmaker, Lewis Klahr.
In addition to his writing on animation, Robinson also wrote the Award-winning animated short, Lipsett Diaries (2010) directed by Theodore Ushev. He recently completed the illustrated novel My Balls are Killing Me with artist Andreas Hykade and wrote the script for Idling, a live action feature directed by Theodore Ushev.
---
FACULTY
Robbie Morgan
Robbie Morgan is an adjunct professor of narrative film at Tulane University. He holds an MFA in Film and Theatre Arts with an emphasis in Film Production from The University of New Orleans and a BS in Entertainment Industry with an emphasis in Audio Production from the University of Southern Mississippi. Morgan is interested in the power of visual storytelling and how film can move audiences. He also extensively researches film history and theory. He has taught film in a variety of settings, from school-aged children to university students. He believes anyone with motivation can learn to make a film and use this medium to express ideas. He won awards for Best Picture and Best Editing at the 2021 UNO Film Fest. His research interests include instructional design and pedagogy; Queer film theory; Kuleshov and Gestalt psychology and their role in movies; and applications of practical effects on modern productions. Robbie Morgan lives and works in New Orleans.
Nancy Bernardo
Nancy Bernardo currently lives in Rochester, New York and has been a practicing graphic designer for 22 years. She received her MFA from The School of the Art Institute of Chicago and has been an educator for 14 years. Bernardo's work has been commissioned for book cover designs such as: Checking In/Checking Out (NO Books, 2010), New Orleans Review Art + Literary Magazine (2009-2014), Deconstructing Brad Pitt (Bloomsbury Press, 2011 and discussed in Kolaj #11) and History of Design: Beyond the Canon (Bloomsbury Press, 2018). Bernardo has been recognized and awarded honors through Graphis Design Annual, Print Regional Design Awards, Design Observer 50 Books 50 Covers, HOW In-House Design Award, HOW Best of International Design and STA 100. Her work has also been exhibited in Rochester, New Orleans, Seattle, Chicago, New York City and in the United Kingdom.
Ric Kasini Kadour
Ric Kasini Kadour, a 2021 Andy Warhol Foundation for the Arts Curatorial Fellow, is a writer, artist, publisher, and cultural worker. Working with the Vermont Arts Council, Kadour curated four exhibits: "Connection: The Art of Coming Together" (2017) and Vermont Artists to Watch 2018, 2019 and 2020. In 2017, he curated "The Art of Winter" at S.P.A.C.E. Gallery in Burlington, Vermont. In 2018, Kadour curated "Revolutionary Paths: Critical Issues in Collage" at Antenna Gallery in New Orleans, which bought together collage artists whose work represents the potential for deeper inquiry and further curatorial exploration of the medium; followed in 2019 by "Cultural Deconstructions: Critical Issues in Collage" at LeMieux Galleries in New Orleans, which furthered the conversation; and "Amuse Bouche", also at LeMieux Galleries in 2023. Since 2018, he has produced Kolaj Fest New Orleans, a multi-day festival & symposium about contemporary collage and its role in art, culture, and society. As Curator of Contemporary Art at Rokeby Museum in Ferrisburgh, Vermont in 2019 and 2020, he curated three exhibitions, "Rokeby Through the Lens" (May 19-June 16, 2019), "Structures" (August 24-October 27, 2019), and "Mending Fences: New Works by Carol MacDonald" (July 12-October 25, 2020). He also curated "Contemporary American Regionalism: Vermont Perspectives" (August 17-October 20, 2019); "Where the Sun Casts No Shadow: Postcards from the Creative Crossroads of Quito, Ecuador" (November 1-30, 2019); and "Many Americas" (August 20-November 27, 2022) in the Wilson Museum & Galleries at the Southern Vermont Arts Center. "The Money $how", co-curated with Frank Juarez, was presented at the AIR Space Gallery at Saint Kate-The Arts Hotel in Milwaukee, Wisconsin (April 10-September 12, 2021). For Birr Vintage Week & Arts Festival in Birr, County Offaly, Ireland (August 13-20, 2021), he curated "Empty Columns Are a Place to Dream", which traveled to the Knoxville Museum of Art in January-February 2022. At 516 ARTS in Albuquerque, New Mexico, Kadour co-curated with Alicia Inez Guzmàn two exhibitions: "Many Worlds Are Born" (February 19-May 14, 2022) and "Technologies of the Spirit" (June 11-September 3, 2022). In 2023 at the Knoxville Museum of Art, Kadour curated "Where the Sun Casts No Shadow: Postcards from the Creative Crossroads of Quito, Ecuador" (January 9-February 16, 2023) and "Mystical Landscape: Secrets of the Vale" (March 17-May 28, 2023), which will travel to A' the Airts in Sanquhar, Scotland in September 2023. His short film, The Covenant of Schwitters' Army, debuted at Collage on Screen during Kolaj Fest New Orleans 2023. Kadour is the editor and publisher of Kolaj Magazine. He has written for a number of galleries and his writing has appeared in Hyperallergic, OEI, Vermont Magazine, Seven Days, Seattle Weekly, Art New England (where he was the former Vermont editor) and many others. Kadour maintains an active art practice and his photography, collage, and sculpture have been exhibited in and are part of private collections in Australia, Europe and North America. In January-February 2020, he was artist-in-residence at MERZ Gallery in Sanquhar, Scotland. He holds a BA in Comparative Religion from the University of Vermont. Kadour splits his time between Montreal and New Orleans. www.rickasinikadour.com