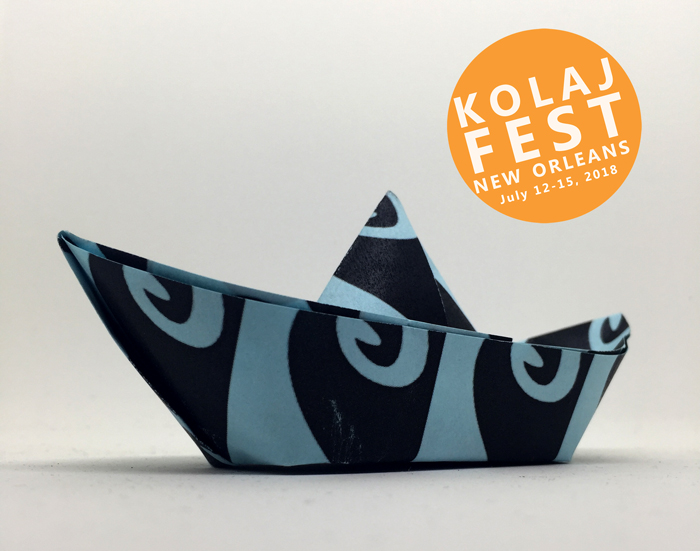 CALL TO ARTISTS
Seaside Fleet (New Orleans)
DEADLINE: Friday, June 15, 2018
Collage artists are invited to participate in a special project taking place at Kolaj Fest New Orleans.
Kolaj Fest New Orleans is a multi-day festival and symposium about contemporary collage and its role in art, culture, and society, July 12-15, 2018. Visit the website to learn more, see an overview of the program, and register to attend.
JRC is a collagist and transmedia storyteller from Burbank, California. JRC uses subtle interventions on space to alert the viewer to pay attention to a larger story that may be unfolding. He debuted "The Seaside Fleet" on May 4th at the 2018 Santa Fe Springs Art Festival in Santa Fe Springs, California. At that event, JRC installed the project in the various rooms and grounds of The Clarke Estate, a six-acre 1920's mansion and gardens. JRC will adapt "The Seaside Fleet" at Kolaj Fest New Orleans.
"The Seaside Fleet (New Orleans) is a citywide installation made from 1000+ hand folded paper boats," said JRC. "It travels and changes dimensions as pieces of the fleet are added and subtracted. A collaborative project, artists and viewers will be invited to add their boats to the fleet as it makes its way through New Orleans, and around the world. Special 'anchor points' will be stationed in venues hosting Kolaj Fest New Orleans."
JRC invites any collage artist to contribute to this project by sending an digital, printable image that can be used to create a boat. The images will be printed and during Kolaj Fest New Orleans, participants will make boats out of them to add to "The Seaside Fleet." These boats will, in turn, be shared with the community of New Orleans and some will make their way home with participants, carrying the spirit of Kolaj Fest New Orleans back with them.
Learn more about The Seaside Fleet (New Orleans) at Kolaj Fest New Orleans HERE.
How to participate:
Email the following to seasidefleet@kolajmagazine.com
1) One 9″x6″ (23x15cm), 300dpi, jpg image of your submission.
2) Your name, mailing address, and website.
DEADLINE: Friday, June 15th, 2018