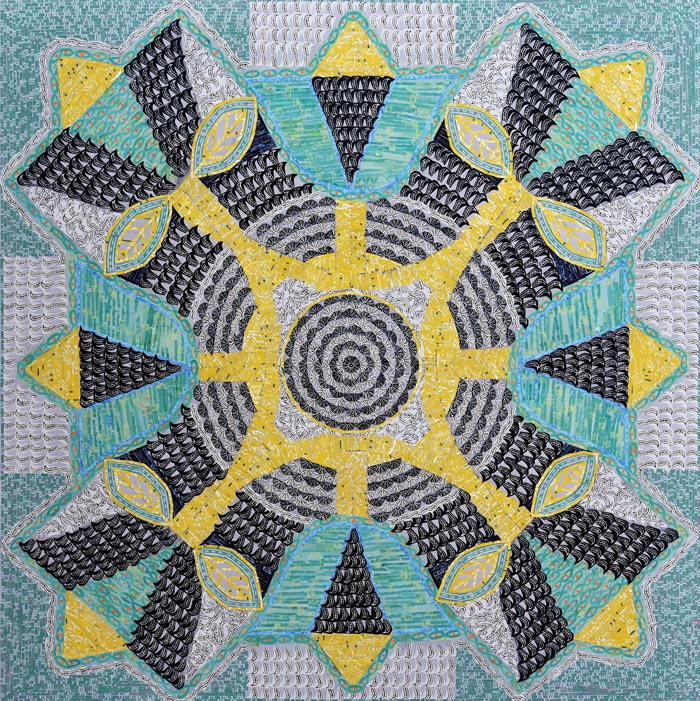 COLLAGE ON VIEW
Art to be seen, Galleries to visit
during Kolaj Fest New Orleans
Kolaj Fest New Orleans is a multi-day festival and symposium about contemporary collage and its role in art, culture, and society, July 10-14, 2019. Visit the website to learn more, see an overview of the program, and register to attend.
The primary exhibition of Kolaj Fest New Orleans is "Cultural Deconstructions: Critical Issues in Collage" at LeMieux Galleries (see information HERE). Like any vibrant, contemporary art scene, New Orleans is full of remarkable galleries showing collage.
On Saturday, July 13th, Ric Kasini Kadour will lead Kolaj Fest New Orleans registrants on a tour of several galleries in Arts District New Orleans, finishing at LeMieux Galleries, which will lead in to the symposium session, "Curatorial Issues in Collage" from 1 to 3:30PM.
Here is our list of places we recommend checking out:
Arthur Roger Gallery
432 Julia Street
www.arthurrogergallery.com
Arthur Roger Gallery presents an impressive selection of collage work by the gallery's artists, 7/9-7/22/19. Among the artists on view, Louisiana artist Troy Dugas cuts or shreds product labels and then intricately arranges them on paper, canvas or wood to form meticulous mandala-like compositions as well as evolved works incorporating paint in synthesized large-scale portrait and still life assemblages. Open Tuesday-Saturday, 10AM-5PM. (image top: Eight Tulip Arrangement by Troy Dugas (60″x60″; acrylic on rice paper mounted on canvas; 2018)
Stella Jones Gallery
in the Place St. Charles
201 St. Charles Avenue, Suite 132
www.stellajonesgallery.com
Established in 1996, Stella Jones Gallery provides a venue for artists of the African diaspora to exhibit superior works of art. During Kolaj Fest New Orleans, the gallery highlights Huffman, Texas artist Delita Martin, who uses acrylic, charcoal, decorative paper, fabric, hand-stitching, and liquid gold leaf "to tell the story of women that have often been marginalized, offering a different perspective of the lives of Black women." Martin holds a BFA in drawing from Texas Southern University and a MFA in printmaking from Purdue University. She works as a full-time artist in her studio, Black Box Press.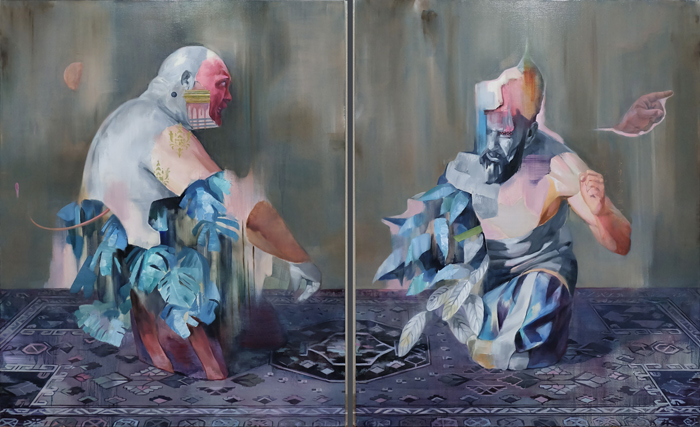 Jonathan Ferrara Gallery
400A Julia Street
www.jonathanferraragallery.com
Jonathan Ferrara Gallery presents forward-thinking national and international, emerging and established artists who have a sense of purpose, mission, and message. Through 7/15/19: "Kyorai (去来): Coming and Going". Japanese artist Akihiko Sugiura's show title, "Kyorai", roughly translates to "coming and going", "recurrence" or somewhere between past and future. Typically, this Japanese saying is used for the "coming and going" of feelings, memories, views, or perspectives. Sugiura invites viewers to experience the mindset of floating between their memories and views/hopes/fears about their future through his art works. The works reject the conventional understanding of painting by asking the viewer to question their self-existence. Open Monday-Saturday, 10AM-5PM (image: The Game (diptych) by Akihiko Sugiura (63.7″x102.6″; oil on canvas; 2019)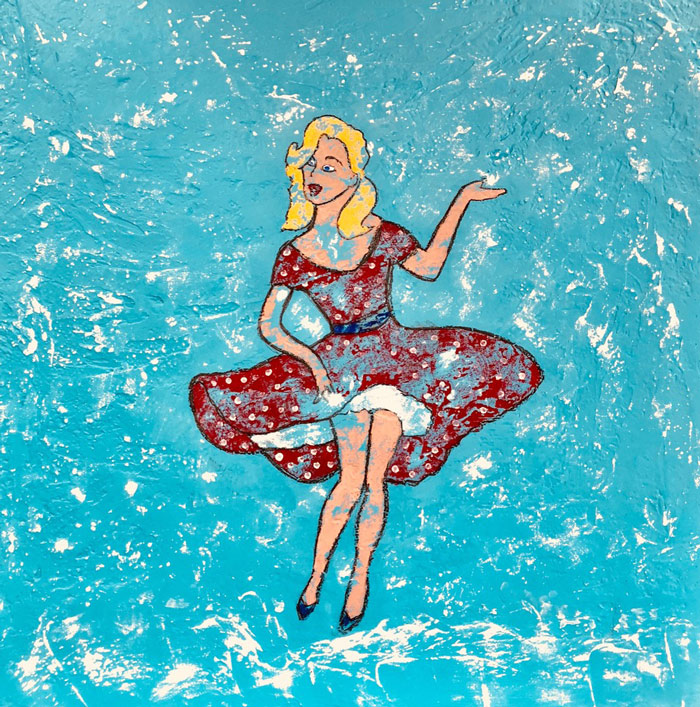 Octavia Art Gallery
454 Julia Street
www.octaviaartgallery.com
The "Summer Show" at Octavia Art Gallery in July includes collage by New Orleans artist James Henderson, whose work explores the concept of memory and the idea of "home" as an emotional space, rather than a physical one. Utilizing found imagery and text as a starting point, he collages and layers his mixed media paintings to create a rich background onto which he often adds the silhouette of a figure, an icon of a house, or colorful drawings of children or shapes. Open Tuesday-Saturday, 10AM-6PM. (image: Living Her Best Life by James Henderson (48″x48″; mixed media; 2019))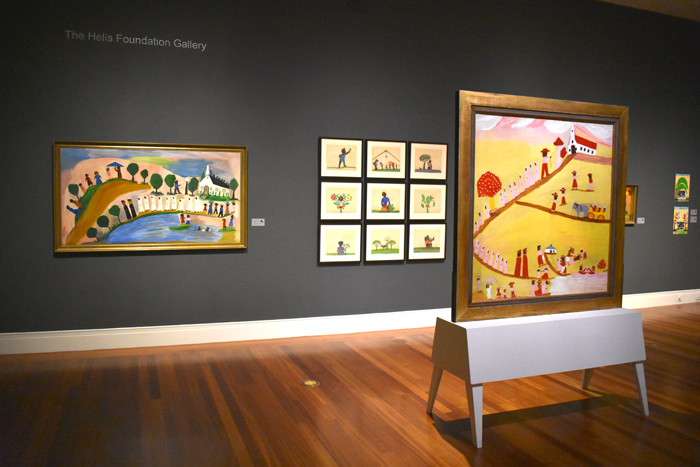 Ogden Museum of Southern Art
925 Camp Street
www.ogdenmuseum.org
Through 7/14/19: "Vernacular Voices" brings together works by self-taught, outsider and visionary artists from the American South, all born between 1886 and 1952. The art on display is drawn from life itself and is tied to the culture in which it was created. Collage included in the exhibition features work by artists such as Minnie Evans (1892-1987) and Sister Gertrude Morgan (1900-1980). The Benny Andrews Gallery also features collage work. Open daily, 10AM-5PM (until 8PM on Thursday). Show your name badge at the museum's ticket desk to receive free admission during Kolaj Fest New Orleans. Open daily 10AM-5PM (until 8PM on Thursday). (image: "Vernacular Voices" installation view)

Papier Plume
842 Royal Street
www.papierplume.com
San Francisco-based artist Julie Blankenship creates mixed media works with nineteenth century photographs, "responding to the ways in which, throughout the industrial revolution, these mediums began to be employed in the construction of identity." Blankenship uses found, black and white photographs, called cartes de visite and cabinet cards, to make 4″x6″ collages. All alterations are done by hand on a very small scale, using ink, dust, and glue, then reproduced digitally to create 8″x10" portfolio prints and 30″x40″ archival photographic prints. Open daily, 10AM-6PM. Meet the artist on Wednesday, July 10th, 3-5PM and Thursday, July 11th, 5-7PM. (image: Untitled (head on plinth) (6.5″x4.25″; hand-altered mixed media collage: ink, glue and dust on found nineteenth-century photographs; 2018)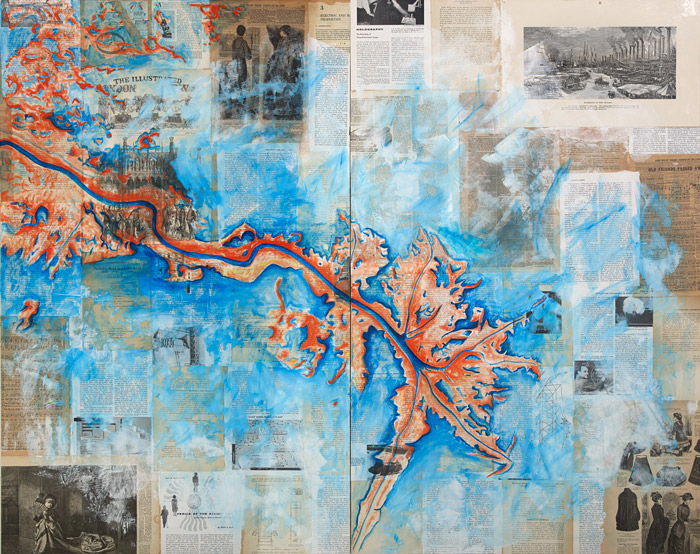 New Orleans Art Center
3330 St. Claude Avenue
www.theneworleansartcenter.com
The New Orleans Art Center's goal is to help local artists support themselves in a sustainable method. 7/9-7/31/2019, "Summer Symphony" is an eclectic feast of paintings, sculpture, photography, and mixed media, with collage by Daniel Granero (surreal works on paper), Mash Buhtaydusss [collaborative art duo Barbie L'Hoste & Brandt Vicknair] (satirical journeys made from photography and collage), Britney Penouilh (themes of science, nature, history and culture), and Summer White (layers of beautiful and thoughtful intrigue). Reception: Saturday, July 13, 6-10PM. Open daily, Noon-6PM. (image: Entropy, the Arrow of Time by Britney Penouilh)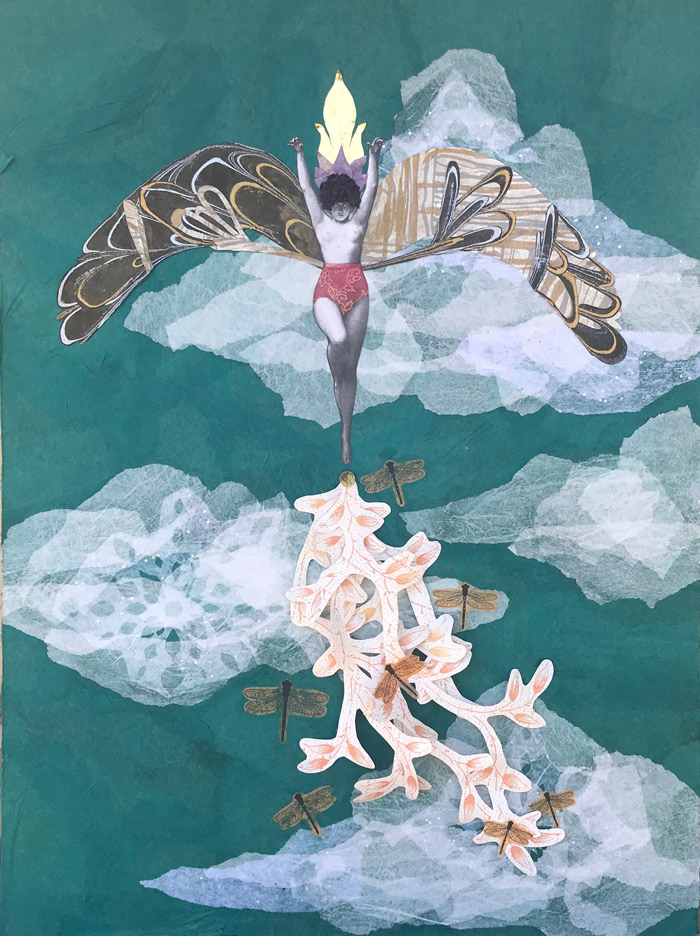 Art Klub
1941 Arts Street
www.artklub.org
Florida artist Emily Stone, whom some of you may have met at Kolaj Fest New Orleans 2018, is doing a paper arts residency at Art Klub. In her "Femme Fatale Freed" series, Stone removes "femmes fatales" from paintings made between the late 18th and early 19th centuries and uses collage to dress them in royal attire and place them in dreamlike backgrounds. In doing this, Stone gave these femmes fatales new life in an empowering world filled with possibility. Opening reception during Collage Party, Thursday, July 11th, 6-9PM. (image: Moth Girl by Emily Stone)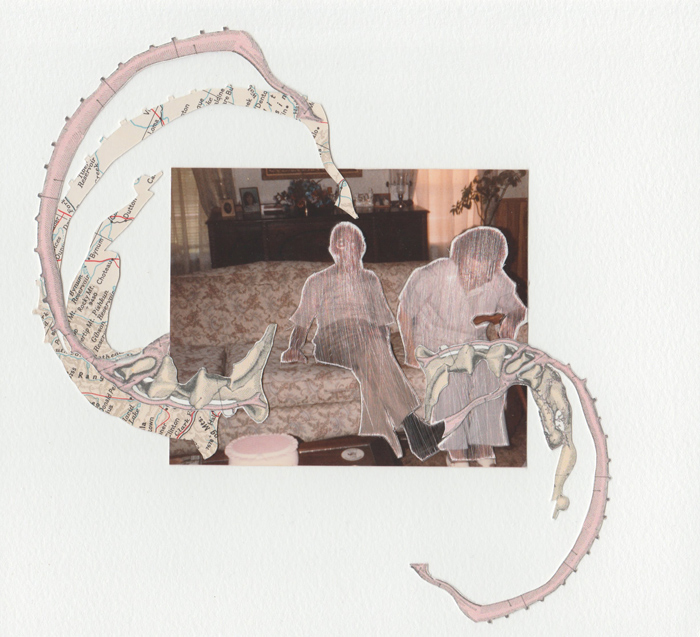 BrickRed Gallery
3614 St. Claude Avenue
www.brickredgallery.com
BrickRed presents exhibitions of interdisciplinary work by artists of all mediums and career levels. 7/13-8/10/2019, two collage exhibitions: In "Lost and Found", New Orleans artist Jill Stoll uses found snapshots of women who are lost to history and creates an ephemeral atmosphere where implied space and form are rendered in cut-and-paste collage. A tribute to what is worn and abandoned, images are fragmented with pattern and reassembled. "En route" by New Orleans artist Amy Newell, who says, "I am seduced by a worked, worn surface and drawn to matter with a high survival factor. Appropriated imagery from a variety of sources often finds its way into my visual vocabulary. Layering found and hand printed material, I juxtapose shapes and images in a shallow picture plane." Open Saturday-Sunday, Noon-5PM and by appointment. (image: en route (cake/cushion no. 1) by Amy Newell (7.5″x8.25″; collage))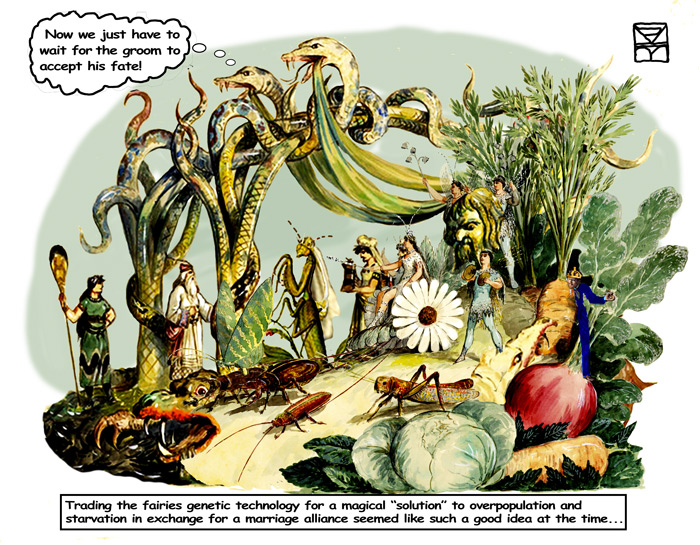 Artisan Bar & Café
2514 St. Claude Avenue
www.artisanbarcafe.com
In July, the Mystic Krewe of Scissors & Glue presents "Unfamiliar Vegetables", featuring work submitted by registered Kolaj Fest New Orleans participants with additional work being added during Kolaj Fest New Orleans. Taking a page from Danielle Krysa's book Collage, artists were invited to create a collage around Creole artist Carlotta Bonnecaze's float design for the 1892 Krewe of Proteus parade, "A Dream of a Vegetable Kingdom". After Kolaj Fest New Orleans, the collages will be scanned and turned into a book published by Maison Kasini, the publishers of Kolaj Magazine. Open daily, 11AM-11PM (kitchen) and 11AM-'til (bar). (image: Unintended Consequences by Mary Behm-Steinberg)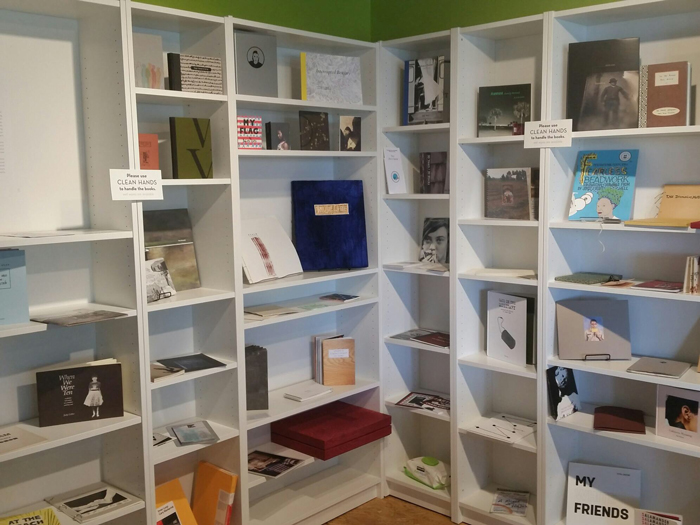 Paper Machine
6330 St. Claude Avenue, New Orleans 70117
www.papermachine.works/artist-book-collection
The Artist Book Collection at Paper Machine houses a rich resource of artists' books for the city of New Orleans and surrounding areas. Envisioned as a teaching collection, ABC@PM collects artists' books in all media, editioned and one-of-a-kind, on all variety of subject matter. Interdisciplinary by nature, artists' books move through the crossroads of visual art, literary art, graphic design, printmaking, bookbinding, papermaking, and publishing. ABC@PM is particularly interested in books in which the structure and actions of reading are integral to the content and ideas within. Open Monday-Friday, 9AM-4PM, and by appointment. On Sunday, 7/14/19, 2-3PM, after Kolaj Fest New Orleans, Hope Amico will give a tour of the facility.
About Kolaj Fest New Orleans
Kolaj Fest New Orleans is a multi-day festival and symposium about contemporary collage and its role in art, culture, and society, July 10-14, 2019. Visit the website to learn more, see an overview of the program, and register to attend. Kolaj Fest New Orleans would not be possible without the support of Press Street, Ogden Museum of Southern Art, LeMieux Galleries, Mystic Krewe of Scissors and Glue, Antenna Gallery, Kolaj Magazine and Kasini House. Kolaj Fest New Orleans is made possible through a generous gift from Laurie and Doug Kanyer. WEBSITE