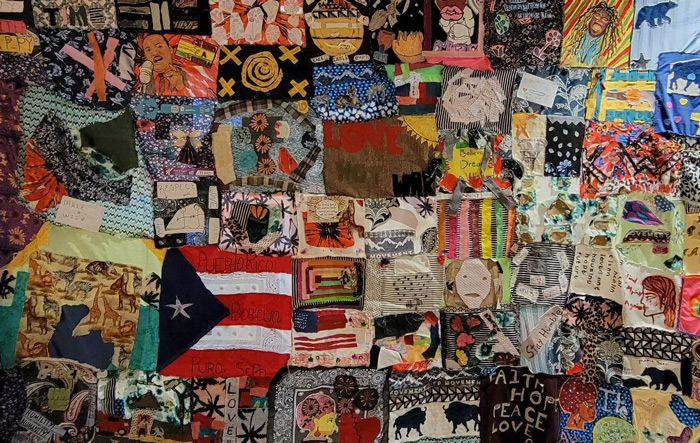 COLLAGE SYMPOSIUM AT KOLAJ FEST NEW ORLEANS 2023
Exploring and Healing Place
with mike durkin, Monica Church, Bettina Homann, and Ann Keeling
Kolaj Fest New Orleans is a multi-day festival and symposium about contemporary collage and its role in art, culture, and society, 7-11 June 2023. Visit the website to learn more, see an overview of the program, and register to attend.
How do collage artists engage with a place as an explorer and healer? How does the artwork we make activate memory and history? On this panel, four artists share their art practices and speak about how their work engages with place.
From Philadelphia, Pennsylvania, mike durkin writes, "The root of my work is 'Place' focused. How we occupy space and the place we are currently guiding the way I construct my practice. The environment, the neighborhood, the residents, how they pass time and work, and what stigmas/connotations are in existence all contribute to the body of my work. Understanding our roots to where we were born, where we live now, and where we hope to live. My work explores the micro and macro versions of place." durkin's The Mending Quilt project was born out of the need to repair communities and people "The Mending Quilt is a collaborative art project exploring the idea of repairing communities through artistic practice and textile-based collage work." In Philadelphia, the artist guided over sixty participants in a collaboration to make a collage-style quilt. The artist will speak about the impact of the project in a community experiencing houselessness, addiction, and food insecurity. He will also speak about a collaborative collage-style quilt project made at a women's shelter; using reclaimed fabric as material; and the relationship between art-making, art-therapy, quilting, collage, story-telling, and community building. durkin writes, "A whole person and neighborhood-centered inclusionary experience that welcomes, dissolves stigma, understands barriers, and builds bridges. I seek to understand how neighborhoods work and the individuals that occupy them, what is happening on a day-to-day level, and be sensitive to current stigmas or associations."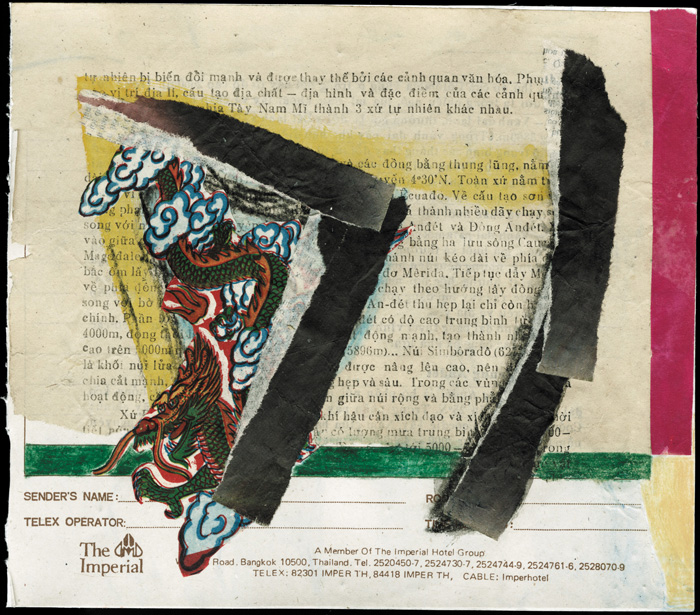 Monica Church lives in Poughkeepsie, New York, but in 1992 the artist was living in Hanoi, Vietnam on a research visa. She writes, "At that time, Vietnam was sanctioned by the United States government and US citizens could not travel there. While in the country, I made a series of over thirty collages in my sketchbook called, From the Streets of Hanoi. Post-war Vietnam was poor, so finding paper to work with was difficult. There was no litter and the dirt streets were literally swept clean. Eventually, I found Hang Ma Street (Paper Street) in the Old Quarter which sold some of the only paper readily available—Joss Papers. Joss papers–or ghost money–is burned to venerate ancestors. In 1992, I didn't understand the cultural implications of using these papers in my own works. Naively, they were a solution to a paper source. Joss papers were made of handmade paper and printed by hand–extremely beautiful and thin, perfect for collage. Using them as source material directly connected what I was making to where I was living. This began my practice of making collage based on materials found in situ while traveling. I also used my receipts, toilet paper, plastic bags, lottery tickets, pages from old soviet books and watercolors. I continue to make collages when I travel that are made from litter & papers collected, and have works representing over fifteen countries and many US cities." On this panel, Church will present the collages she made in Vietnam and lead a conversation about how litter and found material inform artwork. She writes, "Litter picked up from the streets, like cigarette packs, matchbooks, and lottery tickets become collages that reflect specific locales. Do found materials metamorphosize when combined with locally made papers through the process of making a collage? In my practice, I've found abstract collages sourced from city streets profoundly reflect a sense of place without using representational imagery."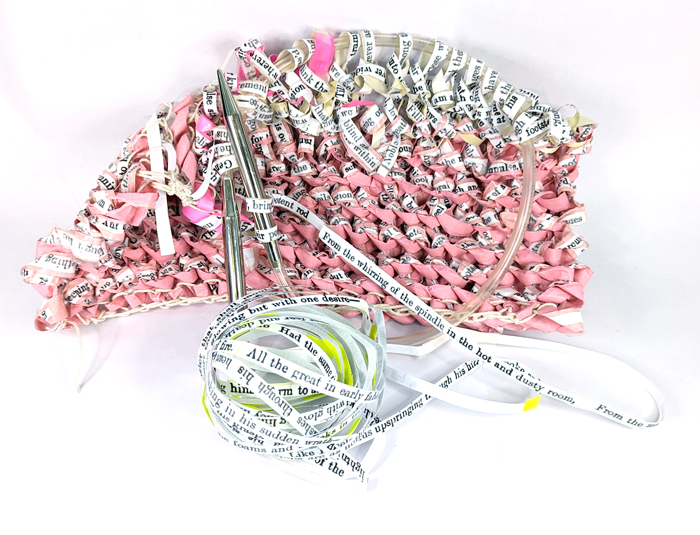 Bettina Homann from Berlin, Germany and Ann Keeling from Morro Bay, California recently attended Kolaj Institute's Passing Place Collage Artist Residency in Scotland where they explored the Town of Sanquhar and made art in response to what they found. Both artists used literature as a vehicle to develop a deeper understanding of place. In Die Strickerei, Homann knits the lines of railwayman and poet Alexander Anderson's Song of Labor into a sculptural collage that speaks to the uncredited and unfinished labor of the region. Keeling's series of collages responded to the Sanquhar Post Office, the ghost in the castle, and the town's war memorial. Her collage, Ode to Black Joan, responds to Robert Burns' poetry writing in the region and her own experience of returning to the lands of her ancestors. The artists will speak about their experience during the residency and how visiting a place informed their art process.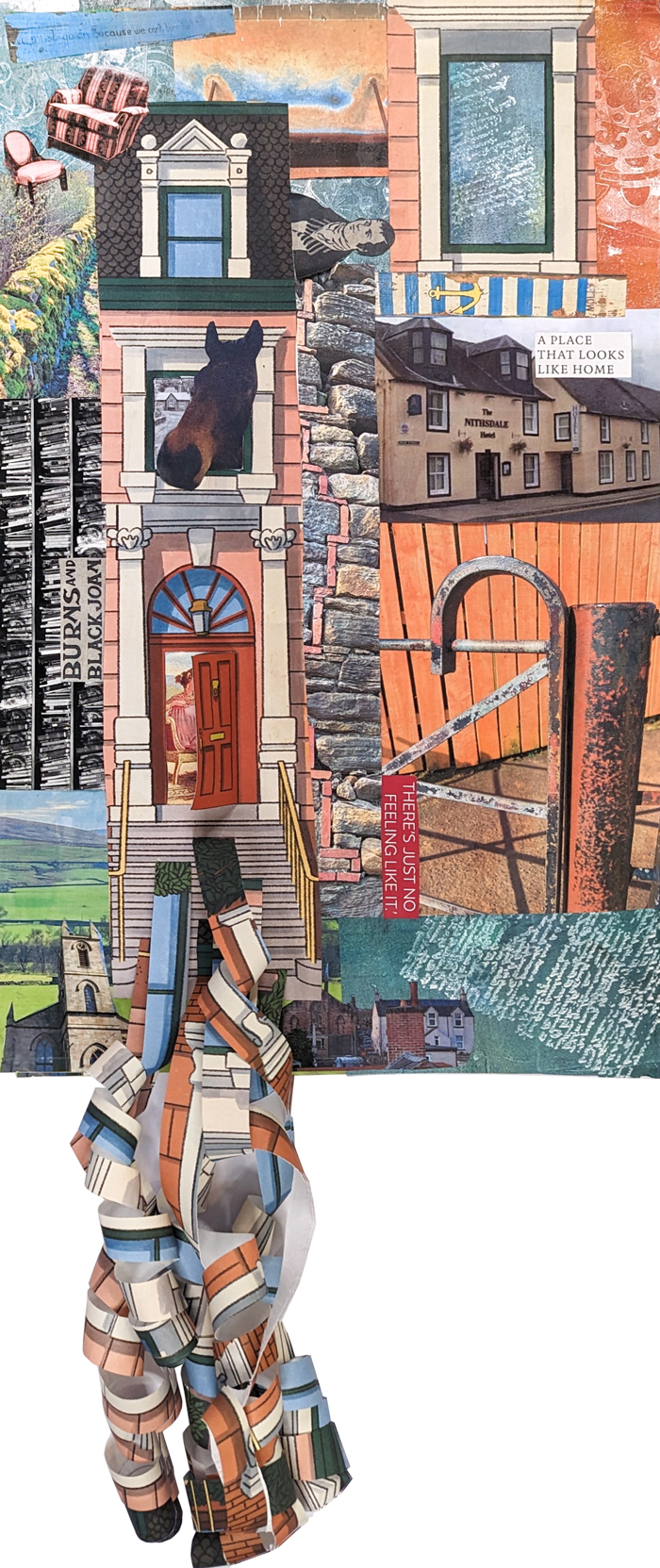 About Kolaj Fest New Orleans
Kolaj Fest New Orleans is a multi-day festival and symposium about contemporary collage and its role in art, culture, and society, 7-11 June 2023. Visit the website to learn more, see an overview of the program, and register to attend. Kolaj Fest New Orleans would not be possible without the support of the members of Kolaj Institute's Golden Glue and Silver Scissors Societies, Kolaj Magazine and Kasini House. WEBSITE