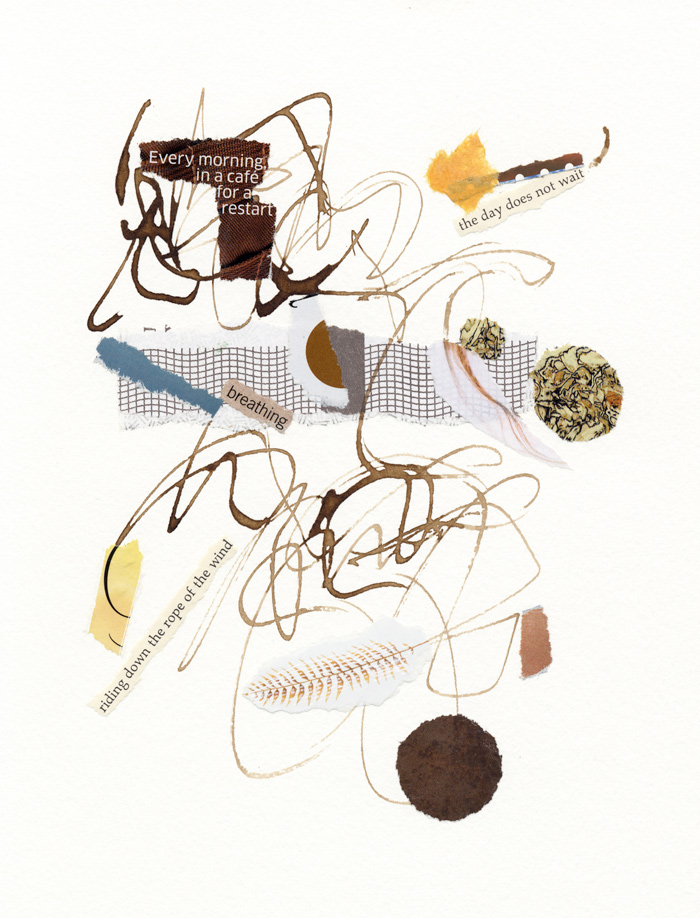 SYMPOSIUM AT KOLAJ FEST NEW ORLEANS 2023
Comme d'habitude: Ways of Making, Ways of Being
with Janice McDonald, Scott Finch, MJ Connors Davison, and Bonniediva Shorr
Kolaj Fest New Orleans is a multi-day festival and symposium about contemporary collage and its role in art, culture, and society, 7-11 June 2023. Visit the website to learn more, see an overview of the program, and register to attend.
Artists practice is wonderfully idiosyncratic, unique to the individual. In this session, we will hear from four artists about the collage they make and how they share it with the world. 
Janice McDonald makes elegant, abstract collages from repurposed papers and packaging. She is "an indefatigable collector of obscure and overlooked materials, ripping elements of color and texture from their original context to re-purpose in her work." She writes, "Ripped from their origins and any context, salvaged pieces of color and texture have an inherent strength, imbued with potential. Elements are considered, selected, placed in relationship with other components, and eventually combined into collage or assembled compositions. The transformation from fragmentary to whole evolves over time as critical connections are made." For nearly five years, the Denver, Colorado-based artist has maintained a daily collage practice. She also has a practice of collage poetry that was informed by her experience in Kolaj Institute's Poetry & Collage Residency in March 2022.
After vacillating between meticulous hard edge poppy paintings (too stiff and impersonal) and improvisational automatic drawing (too flimsy and unstructured) for a long time, it recently occurred to Scott Finch to simply drop the drawings onto cereal boxes. "I think the results are fun, honest, strange, and very human." writes the Baton Rouge, Louisiana artist. "For the past twenty years, collage has been pushing its way deeper and deeper into my work. In the early days I would cull through my drawings for recurring subject matter that may be important and then gather photographs of that imagery to juxtapose and overlap in an effort to make meaning out of visual dreaming. Over time, however, the process has flipped completely. Now I no longer study my automatic drawings for subject matter. Instead, I see those loose, free, uncensored sketches as object matter, raw material, that I can cut and paste without concern for interpretation."
"I primarily compose two categories of collage: portraits or environments," writes MJ Connors Davison. "For the former, I inevitably reveal some aspect of myself that is often surprising, yet connects me to a greater truth about characteristics alive in all of us. My family of origin and identity as a woman within American culture are frequent, veiled subjects. In the latter, fantasy spaces where the indoors and outdoors interplay are explored. Elements of architecture give frameworks to garden realms that either support a portrait, or are themselves the feature." In the Portland, Oregon artist's work, a Golden Mean framework and intuition, torn edges and precisely cut fragments, and ancient and contemporary cultural references play together in dynamic compositions. "My goal as an artist is to invite each viewer or participant into the role of co-creator, experiencing new stories, viewpoints, and insights."
Bonniediva Shorr (known as simply "Bonniediva") started sending Mail Art back in 2004, and now sends hundreds of her pieces all over the world. "I belong to the International Union of Mail Artists (IUOMA) and love teaching other artists how to share their art worldwide." She writes, "I use vintage materials, mostly women's magazines from the 1930s-1970s, and found materials. There is something wonderful about old paper…the thin, fairy-light texture of it melts into my collages. I also love vintage postcards, and I alter them with images and quotes. My work, mostly using vintage and antique materials, is colorful and whimsical, as well as humorous and satirical." The artist was born and raised in New Orleans, but now lives and works in Chicago.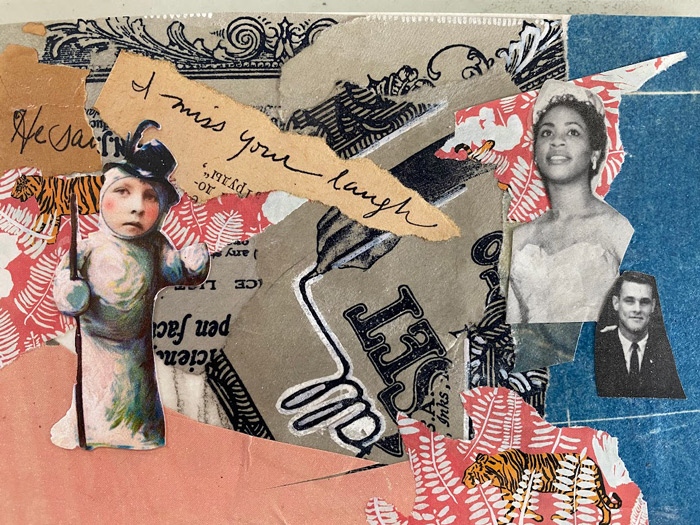 COLLAGE PROJECT
Mail Art
Mail art is the practice of sending small works through the postal service. The practice came out of the Fluxus movements of the 1960s and was refined by Ray Johnson's New York Correspondence School. Today Mail Art is a global art movement. Collage plays a major role in it. Inspired by Bonniediva Shorr's practice of mail art, at Kolaj Fest New Orleans we will set up a Post Office where artists are invited to submit their mailing address or drop off pieces of mail art to send to other people. A month after Kolaj Fest, Kolaj Institute will mail these works. If you receive a work of mail art, we encourage you to post it to Instagram with the tag #kolajfestmailart. If you want to learn about Mail Art, spend an hour making some with Bonniediva Shorr in the Collage Making Space at The Domino (date and time to be announced).
About Kolaj Fest New Orleans
Kolaj Fest New Orleans is a multi-day festival and symposium about contemporary collage and its role in art, culture, and society, 7-11 June 2023. Visit the website to learn more, see an overview of the program, and register to attend. Kolaj Fest New Orleans would not be possible without the support of the members of Kolaj Institute's Golden Glue and Silver Scissors Societies, Kolaj Magazine and Kasini House. WEBSITE