"Full colour and minimalist design make this one a pleasure to flip through. Kolaj dedicates itself to—you guessed it—the art form of collage. There's something delightful here: the artistic process famously dependent on cutting up old magazines and newspapers now has a magazine of its own."
Kolaj Magazine is a quarterly, printed magazine about contemporary collage. We are interested in how collage is made, how collage is exhibited, and how collage is collected. We are interested in the role collage plays in contemporary visual culture. We provide quality exposure for contemporary collage art. Kolaj Magazine is printed in New Orleans, Louisiana, USA by Paper Machine for Maison Kasini in Montreal, Quebec, Canada.
Annual Subscription: Four Issues
Details: 10″x8″ | perfect bound | full-colour
ISSN 1927-6893 | Published by Maison Kasini
Single Issue Price: $15.00 USD & CAD
[note: Subscribe today and you will start with Kolaj #38.]
PURCHASE ANNUAL SUBSCRIPTION, SINGLE ISSUES, BACK ISSUES:
Canadian Subscribers go HERE ($50 CAD + GST/HST/PST)
U.S. & International Subscribers go HERE (U.S. is $49 USD; International is $70 USD)
Would you prefer to order by mail and pay by check?
Send an EMAIL and we will send you instructions. Use the subject line, "Subscribe to Kolaj by mail and pay by check".
---
Interested in Back Issues?
Visit the Kolaj Magazine online shop to purchase back issues.

Kolaj Magazine Year One Collector's Pack
Issues 1-4
Details: 10″x8″ | saddle stitched |
ISSN 1927-6893 | Published by Maison Kasini
Price: $50 + shipping
Canadian Purchasers go HERE
U.S. and International Purchasers go HERE

Kolaj Magazine Year Two Collector's Pack
Issues 5-8
Details: 10″x8″ | saddle stitched |
ISSN 1927-6893 | Published by Maison Kasini
Price: $50 + shipping
Canadian Purchasers go HERE
U.S. & International Purchasers go HERE

Kolaj Magazine Year Three Collector's Pack
Issues 9-12
Details: 10″x8″ | saddle stitched |
ISSN 1927-6893 | Published by Maison Kasini
Price: $50 + shipping
Canadian Purchasers go HERE
U.S. & International Purchasers go HERE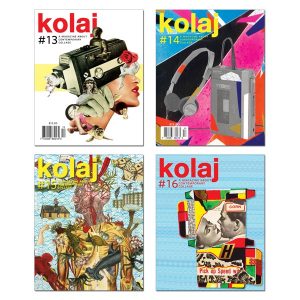 Kolaj Magazine Year Four Collector's Pack
Issues 13-16
Details: 10″x8″ | saddle stitched |
ISSN 1927-6893 | Published by Maison Kasini
Price: $50 + shipping
Canadian Purchasers go HERE
U.S. & International Purchasers go HERE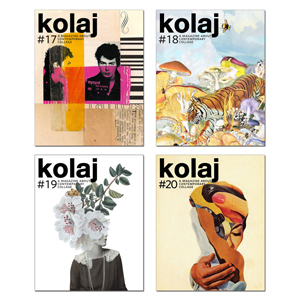 Kolaj Magazine Year Five Collector's Pack
Issues 17-20
Details: 10″x8″ | saddle stitched |
ISSN 1927-6893 | Published by Maison Kasini
Price: $50 + shipping
Canadian Purchasers go HERE
U.S. & International Purchasers go HERE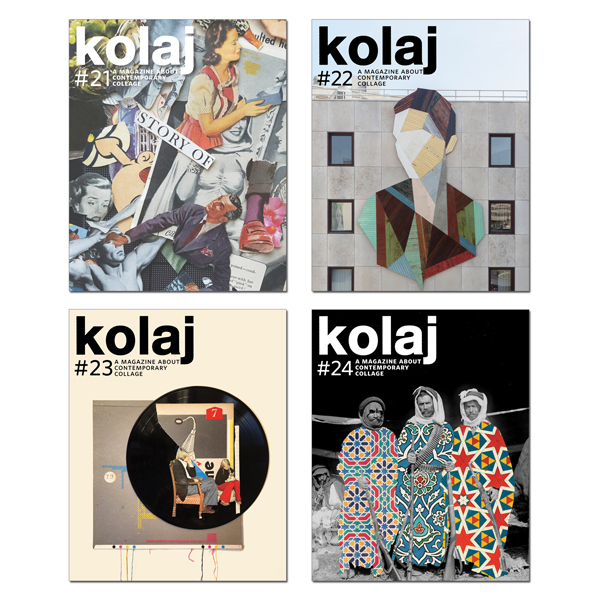 Kolaj Magazine Year Six Collector's Pack
Issues 21-24
Details: 10″x8″ | saddle stitched |
ISSN 1927-6893 | Published by Maison Kasini
Price: $50 + shipping
Canadian Purchasers go HERE
U.S. & International Purchasers go HERE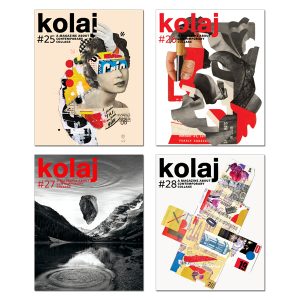 Kolaj Magazine Year Seven Collectors Pack
Issues 25-28
Details: 10″x8″ | saddle stitched |
ISSN 1927-6893 | Published by Maison Kasini
Price: $50 + shipping
Canadian Purchasers go HERE
U.S. & International Purchasers go HERE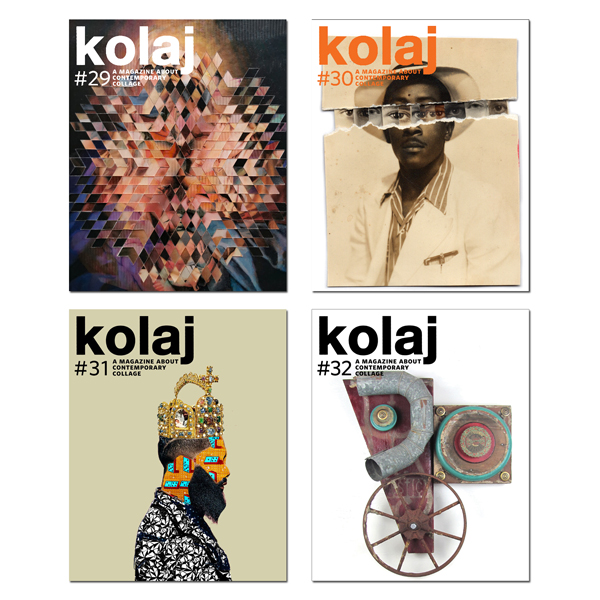 Kolaj Magazine Year Eight Collectors Pack
Issues 29-32
Details: 10″x8″ | saddle stitched |
ISSN 1927-6893 | Published by Maison Kasini
Price: $50 + shipping
Canadian Purchasers go HERE
U.S. & International Purchasers go HERE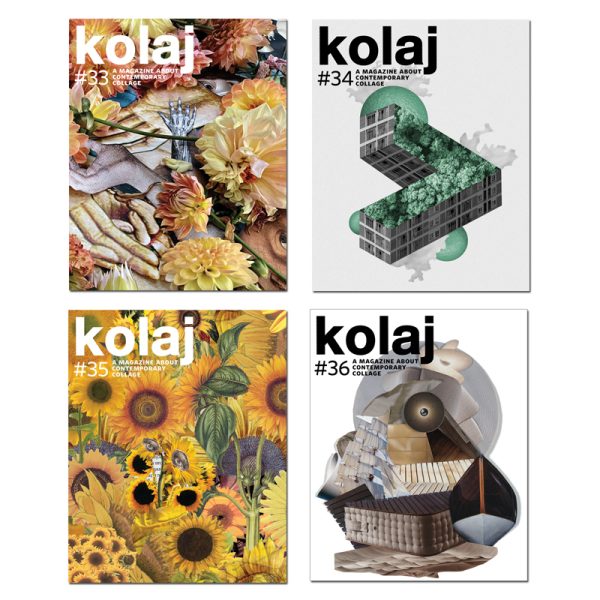 Kolaj Magazine Year Nine Collectors Pack
Issues 33-36
Details: 10″x8″ | saddle stitched |
ISSN 1927-6893 | Published by Maison Kasini
Price: $50 + shipping
Canadian Purchasers go HERE
U.S. & International Purchasers go HERE