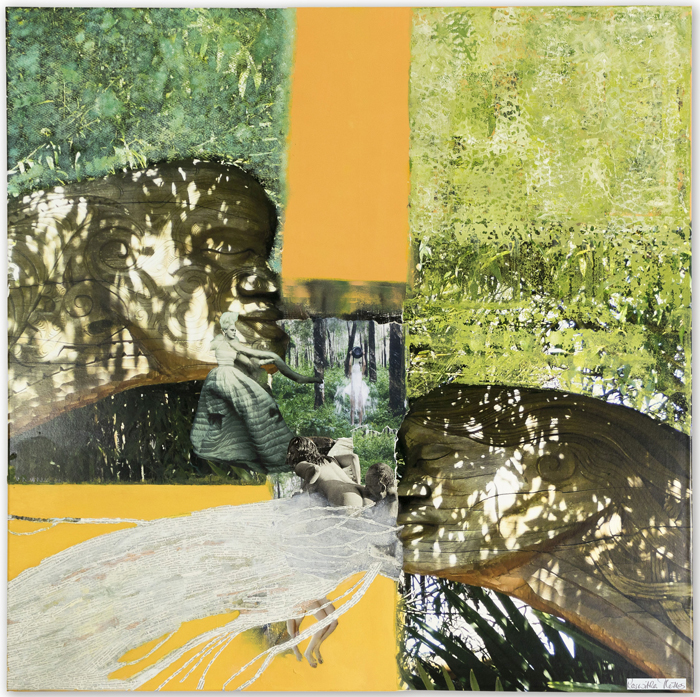 AT KOLAJ FEST
Collage Making with Roswitha Mueller
Always attracted to visual communication, Bavarian collage artist Roswitha Mueller was looking for a career change after many years as a carpenter, social worker and working in other jobs. After taking several courses in acrylic painting and printmaking techniques, she began making collage. Her friends encouraged her to go further, so she quit her job and dove deep into the world of handmade collage. "Collage work connects with a childlike joy of cutting, composing, and sticking," writes Mueller.
There is nothing childlike about her collage, however. Mueller manifests a large-scale, complex composition by placing a variety of scenes on the canvas and then intervening on them. She works with newspapers and magazines as well as her own pictures that she enlarges onto posters and then rips and cuts. Often, she embellishes her collage with simple print techniques and acrylic.
"Collage making is an art practice open to everyone. One can benefit from the huge world of images and create new ones by following their own intentions. It's perfect for someone impatient like me. I would like to encourage others to start with collage as a way to overcome their insecurities about their artistic talents."
At Kolaj Fest New Orleans, Mueller will present her collage practice as part of a panel on narrative and scale. She will also host a session in the collage making space. "I would love to meet a variety of other collage artists and learn about how they work, how they present their work, sell and cooperate with each other." Mueller will host an informal session of collage making where the discussion will focus on how artists present and sell their work and form collaborations with others.
She is excited to attend Kolaj Fest New Orleans. "Usually I work in my studio or at home by myself and I guess at the festival I would gather and hopefully present colors, thoughts, ideas and impressions like Leo Lionni's Frederick the Mouse". She plans to take what she learns back to Schwabach, Bavaria, Germany. "I live in a small city in Germany and collage art is not popular here," writes Mueller. "So I see myself coming back with a bunch of ideas and impulses for my own work and collaborations with other people."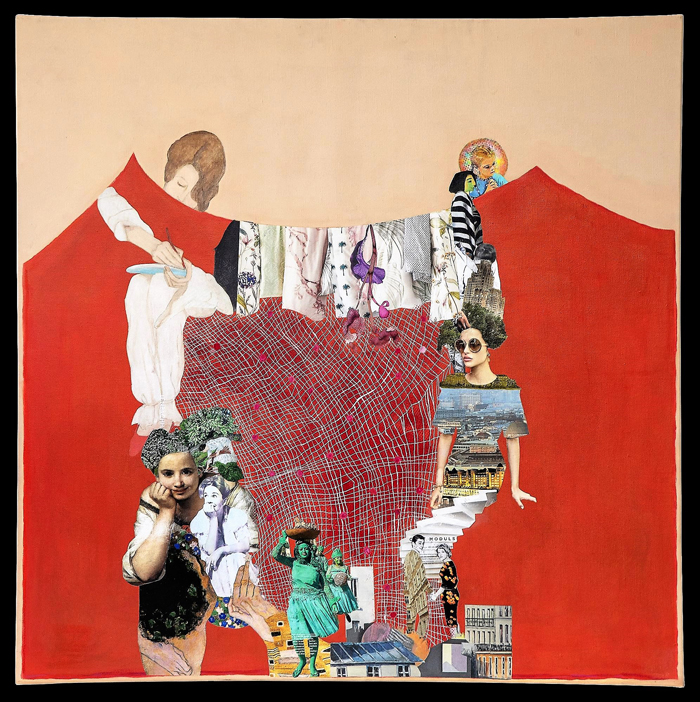 About Kolaj Fest New Orleans
Kolaj Fest New Orleans is a multi-day festival and symposium about contemporary collage and its role in art, culture, and society, July 10-14, 2019. Visit the website to learn more, see an overview of the program, and register to attend. Kolaj Fest New Orleans would not be possible without the support of Press Street, Ogden Museum of Southern Art, LeMieux Galleries, Mystic Krewe of Scissors and Glue, Antenna Gallery, Kolaj Magazine and Kasini House. Kolaj Fest New Orleans is made possible through a generous gift from Laurie and Doug Kanyer. WEBSITE

About Roswitha Mueller
Roswitha Mueller has shown her work in community spaces–hospitals, cafes, and offices—in Nuremberg, Munich, Regensberg, and in Schwabach. After taking several courses in acrylic painting and printmaking techniques, she began making collage. She occasionally offers collage workshops and continues to be inspired by other collagists. She lives and works in Schwabach, Bavaria, Germany. See more of Roswitha Mueller's collage on her website.
Images (top to bottom):
Calm Is a Power
by Roswitha Mueller
39.4″x39.4″
collage on canvas
2017
Living in Circles
by Roswitha Mueller
39.4″x39.4″
collage on canvas
2018-2019