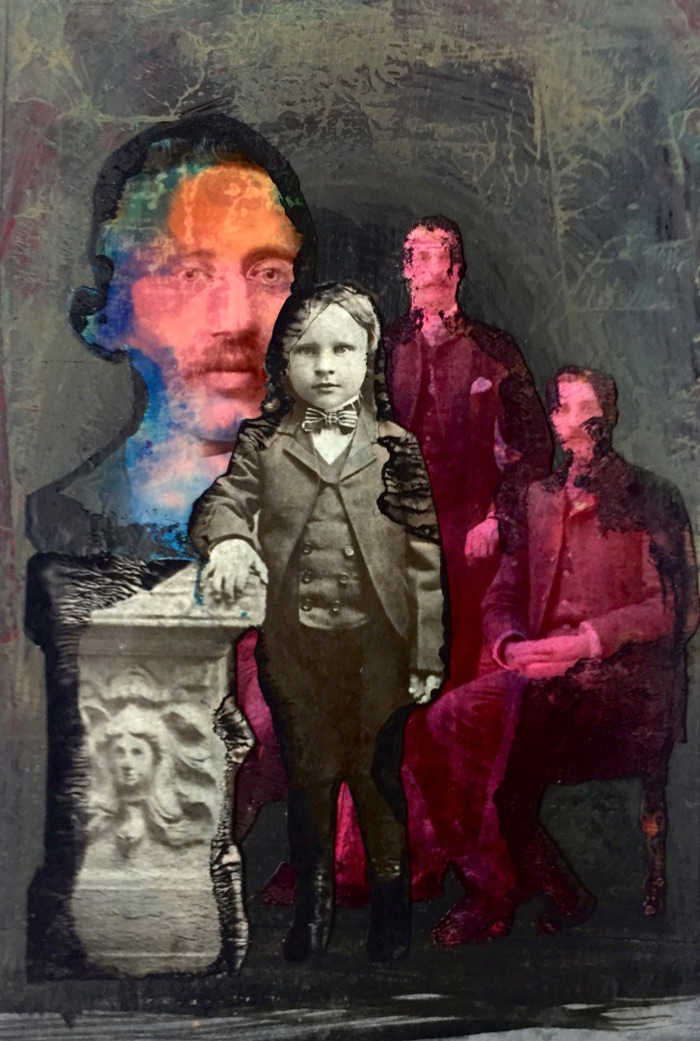 COLLAGE ON VIEW
Julie Blankenship
at Papier Plume in New Orleans, Louisiana, USA
10-14 July 2019
"I create mixed media works with these nineteenth century photographs, responding to the ways in which, throughout the industrial revolution, these mediums began to be employed in the construction of identity," explains San Francisco artist Julie Blankenship. "Standards of living improved for some, but income disparity increased at the same time. The United States, an agricultural economy fueled by slave labor, underwent a painful transformation, reinventing itself as a consumer culture in an increasingly industrialized environment." Blankenship uses found, black and white photographs, called cartes de visite and cabinet cards, to make 4″x6″ collages. All alterations are done by hand on a very small scale, using ink, dust, and glue, then reproduced digitally to create 8″x10" portfolio prints and 30″x40″ archival photographic prints.
Originally, these photographs encouraged a feeling of connection to distant people, places and times. "I interrupt these (now unknown) narratives—recycling and altering the photographs to create new meanings, responding to both the content of the materials, and to the physical objects themselves by working the surfaces with collage and painting techniques — drawing with ink, tearing, cutting, layering, scratching, burnishing, and creating borders of dark ink that draw attention to the edges of fragments. I deconstruct and reassemble flotsam and jetsam from the industrial revolution into works whose beauty arises out of a process that nearly destroys the materials, alluding to metamorphoses, dark histories and gothic struggles."
At Kolaj Fest New Orleans, an exhibition about Blankenship's collage will be on view at Papier Plume in the French Quarter.
About Kolaj Fest New Orleans
Kolaj Fest New Orleans is a multi-day festival and symposium about contemporary collage and its role in art, culture, and society, July 10-14, 2019. Visit the website to learn more, see an overview of the program, and register to attend. Kolaj Fest New Orleans would not be possible without the support of Press Street, Ogden Museum of Southern Art, LeMieux Galleries, Mystic Krewe of Scissors and Glue, Antenna Gallery, Kolaj Magazine and Kasini House. Kolaj Fest New Orleans is made possible through a generous gift from Laurie and Doug Kanyer. WEBSITE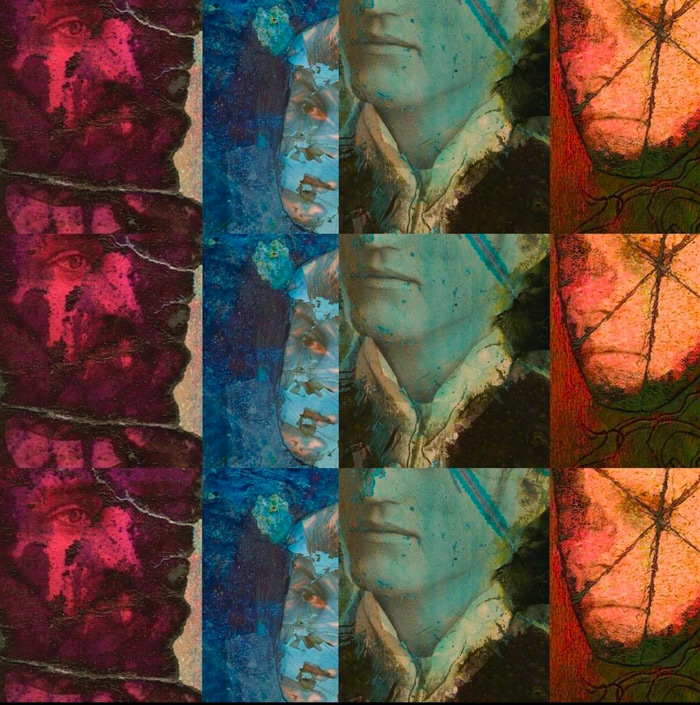 About Julie Blankenship
Instagram @privateyessf
Julie Blankenship lives and works in San Francisco, California. She was born in La Jolla, California and grew up in a military family that moved frequently. She lived in Spain for several years, where she fell in love with the paintings of Velasquez and Goya. Blankenship holds an MFA in painting and photography from the San Francisco Art Institute (SFAI). She studied with Bruce Conner, Linda Connor and Inez Storer, among other artists and teachers. Later, she taught photography, interdisciplinary art, and collaboration at SFAI and San Francisco State University. While serving as Executive Director of Visual Aid, an organization supporting the creative work of artists with AIDS, she founded Visual Aid Gallery and the Jerome Caja Terrible Beauty Award. She curated numerous exhibitions at Visual Aid Gallery, City Hall and other Bay Area venues.
About Papier Plume
Papier Plume, open in the French Quarter since 2007, specializes in high quality writing instruments, including quills, glass dipping pens, and fountain pens; specialty inks; handmade stationery, wax and seals; journals and planners; knives; and more. They are open daily from 10AM to 6PM at 842 Royal Street, corner Dumaine.
---
INFORMATION
Papier Plume
842 Royal Street
New Orleans, Louisiana 70130
(504) 988-7265
Hours:
Daily, 10AM-6PM
Images (top to bottom):
untitled (head on plinth) by Julie Blankenship
6.5″x4.25
hand-altered mixed media collage: ink, glue and dust on found nineteenth-century photographs
2018
Volcanic Winter by Julie Blankenship
hand-altered mixed media collage: ink, glue and dust on found nineteenth-century photographs, rephotographed and printed as digital print wallpaper, installation for "Frankenstein 2018", book art exhibition at Kirby Gallery, Liverpool, England, 2018-2019