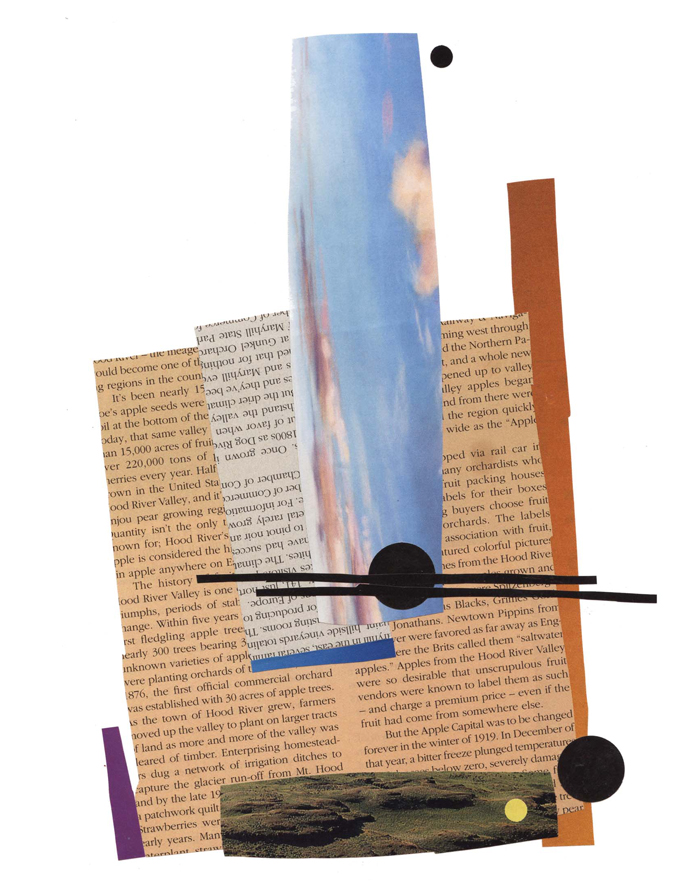 AT KOLAJ FEST NEW ORLEANS
The Waters Bring Creativity and Continuation Collage to Kolaj Fest
Paul and Kathryn Kramer Waters have collaborated creatively since they met in a sculpture class at the Portland Art Museum in 1985. The couple explains their art practice this way: "We have always delighted in the line 'Back then we wore what we had on' from Neil Young's song, Falling From Above, probably because it sums up what one of the things we love about making art and, in particular, making collage. You can create art from just about anything. The five-year-old magazines in the waiting room at the doctor's office. The Rorschach-like spaghetti-spotted napkins on the floor at the local restaurant. The barf-bags on airplanes—only the clean ones—we're not that avant-garde, yet. When we're out hiking, we've even been known to use bark and leaves. The point is that the possibility of art is all around us. You don't have to buy a thing. Everything you need is here for you to use if you stop your day-to-day routine long enough to notice it."
At Kolaj Fest New Orleans, the Waters will lead a workshop in the Collage Making Space. An exercise in creative collaboration, Continuation Collage is a form of collaboration where two artists work on collages at the same time, passing them back and forth multiple times, continuing to develop both compositions. During the session, they will talk about wide-ranging ideas on creativity and collaboration, including: The Adjacent Possible, The Myth of the Lone Genius, Lateral Thinking and how the concept "Yes, and…" (from Improvisational Theater) underlies all successful collaborative work. "Understanding, from first-hand experience, that people can listen better when their hands are moving, we'll fold these ideas into our conversation during the experience of creating Continuation Collages," wrote the Waters.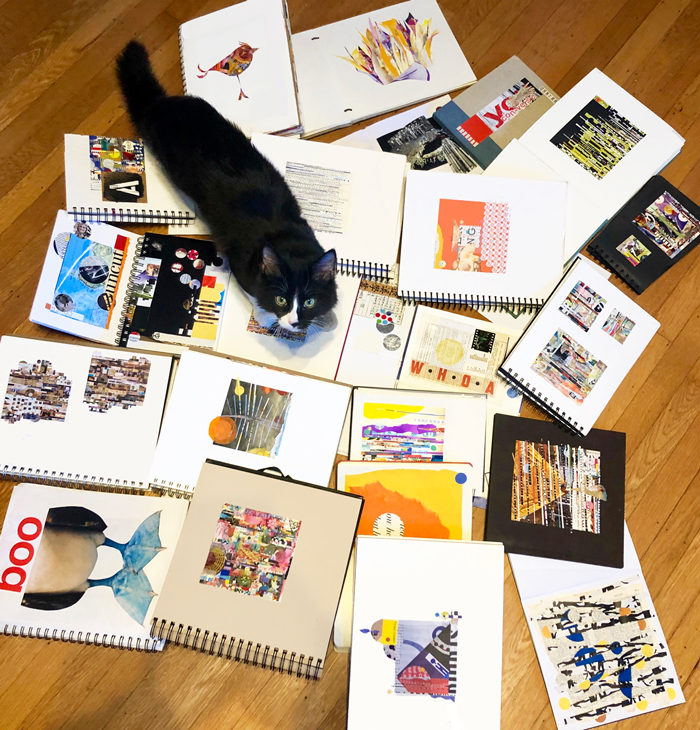 About Kolaj Fest New Orleans
Kolaj Fest New Orleans is a multi-day festival and symposium about contemporary collage and its role in art, culture, and society, July 10-14, 2019. Visit the website to learn more, see an overview of the program, and register to attend. Kolaj Fest New Orleans would not be possible without the support of Press Street, Ogden Museum of Southern Art, LeMieux Galleries, Mystic Krewe of Scissors and Glue, Antenna Gallery, Kolaj Magazine and Kasini House. Kolaj Fest New Orleans is made possible through a generous gift from Laurie and Doug Kanyer. WEBSITE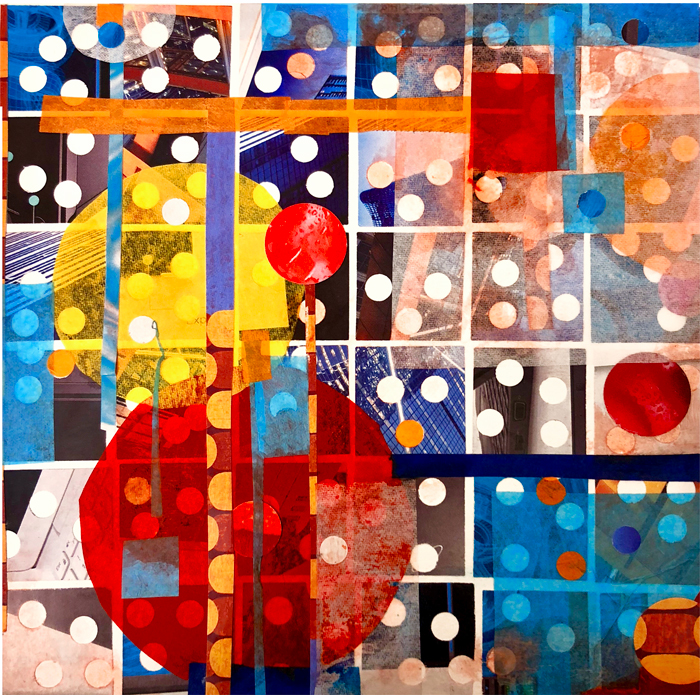 The following narrative written by Paul and Kathryn Kramer Waters illustrates what they hope for participants of Kolaj Fest.
Imagine this:
Kolaj Fest first-timer George bursts into the collage making space and flops red-faced into the seat next to Phoebe.
Phoebe recognizes George as the guy at the last panel discussion who told everybody that by day he writes open-source accounting software, but his real passion is collage. George realizes that Phoebe is the artist who presented her incredible collages made from teabags and matchsticks.
At the front of the room, a silver-haired woman and a man with a beard stand in front of a huge pile of colored paper, scraps of fabric, ribbon, photos. The man looks around and smiles.
"Everybody ready to collaborate?" he says. Pausing just long enough for no one to answer, the man launches into an animated discussion of something he calls Continuation Collage. As he talks, his wife holds up a series of colorful compositions.
"Now it's your turn. Everybody choose a partner, grab a couple of boards, photos, colored paper or whatever magazines feel right to you."
George grins at Phoebe, "Howdy, Partner."
The silver-haired woman holds up a paperback dictionary and says, "We like to pick a word from the dictionary to use as the conceptual basis for your collages. She shuts her eyes, puts her finger on a page, then opens her eyes and looks down at the word. "This ought to give you some structure," she says. "Today's word is: Myth."
"Just great," Phoebe says sarcastically. "Yeah. Epic!" George adds. Phoebe hands George a 10" x 10" board. "National Geographic will be perfect for this."
Phoebe says, "You can start it however you want. I'm starting this one with Vogue. Fashion is a myth. I'll use some of these old black and white photos as counterpoint."
They start cutting, tearing and placing papers loosely on their boards as Kathryn and Paul banter about a few improvisational techniques. "Make sure to leave openings in the composition. You're both going to need them. You can make little slits for pieces to fit into later or leave elements partially unglued so your partner can slide something underneath."
Phoebe glances at the large, eerie, black and white photo of a forest that George is gluing in the center of his board and hopes can soften it with strips of white tissue."
Paul and Kathryn's bantering continues, "Remember, these are sketches and it's about the process more than the product." "Keep it loose and spontaneous." Use your quick compositional brains." "We'll announce the time to pass your collage to your partners shortly."
Paul and Kathryn adjust the length of time between the partner hand-offs for people working at different speeds. After three exchanges, a few indicate that they are happy with their compositions and are stopping, while others add more detail.
After four exchanges, Phoebe sits back and grins, "These are good," she says. "I like the way the snippets of colorful fashion contrast with the nature photos."
"Don't sound so surprised," George says, "I knew they'd turn out."
About Kolaj Fest New Orleans
Kolaj Fest New Orleans is a multi-day festival and symposium about contemporary collage and its role in art, culture, and society, July 10-14, 2019. Visit the website to learn more, see an overview of the program, and register to attend. Kolaj Fest New Orleans would not be possible without the support of Press Street, Ogden Museum of Southern Art, LeMieux Galleries, Mystic Krewe of Scissors and Glue, Antenna Gallery, Kolaj Magazine and Kasini House. Kolaj Fest New Orleans is made possible through a generous gift from Laurie and Doug Kanyer. WEBSITE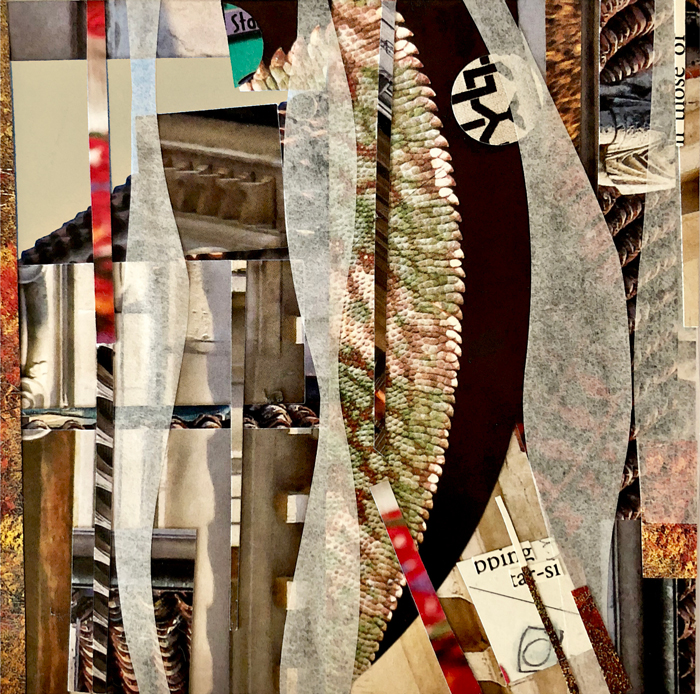 Images (top to bottom):
Blue Sky Mouse (daily collage sketch)
by Paul Kramer Waters
11″x8.25″; paper cuts from the 2003 Columbia Gorge Guidebook; 2018
daily collage sketchbooks
by Paul and Kathryn Kramer Waters
dimensions variable; anything and everything (along with their collaborating cat, Jack) 2017-2019
Eclipse (daily collage sketch)
by Kathryn Kramer Waters
8″x8″; tissue paper and magazine cut-outs; 2018
Urban Growth (daily collage sketch)
by Kathryn Kramer Waters
8″x8″; magazine cut-outs; 2018