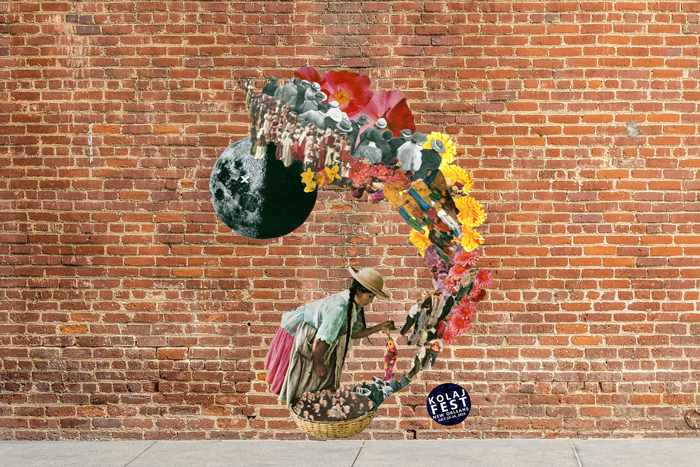 AT KOLAJ FEST
Guerilla Art Group Gets Organized at Kolaj Fest New Orleans
From its building-sized murals to pavement stencils, New Orleans has an inspiring street art scene. "Last year while walking and biking around the streets of New Orleans during Kolaj Fest, I came across some fantastic collage-based street art," writes British Columbia collage artist Rosie Schinners. "Considering the city seems to really embrace art and creativity in public spaces, I thought this year would be an amazing opportunity to explore collage outside the gallery once again, but through a street art approach."
New Orleans impressed on Laurie O'Brien the value of taking art directly to the people. "My time in New Orleans last summer at the Kolaj Fest was life-transformative for me," writes Laurie O'Brien. "Since the last year, I have become interested in site-specific collage installations."
As a long-time photographic artist, FANCLUB13 was always capturing little abstract urban scenes. Around North America and Europe, he has has used trash and found objects to hand-cut and make collage which then he leaves out on the street for people to find..
At Kolaj Fest New Orleans, Schinners, O'Brien, and FANCLUB13 will work with others interested in joining in to form the Kolaj Fest New Orleans Street Krewe. The trio will host an organizing session in the Collage Making Space on Thursday of Kolaj Fest. Each will share their experience of doing guerilla art activities in their own communities and lead a discussion about the ethics of street art and strategies for organizing. They will also share a plan for guerrilla art project during Kolaj Fest that will reveal itself through Instagram posts using the hashtag #kolajfest.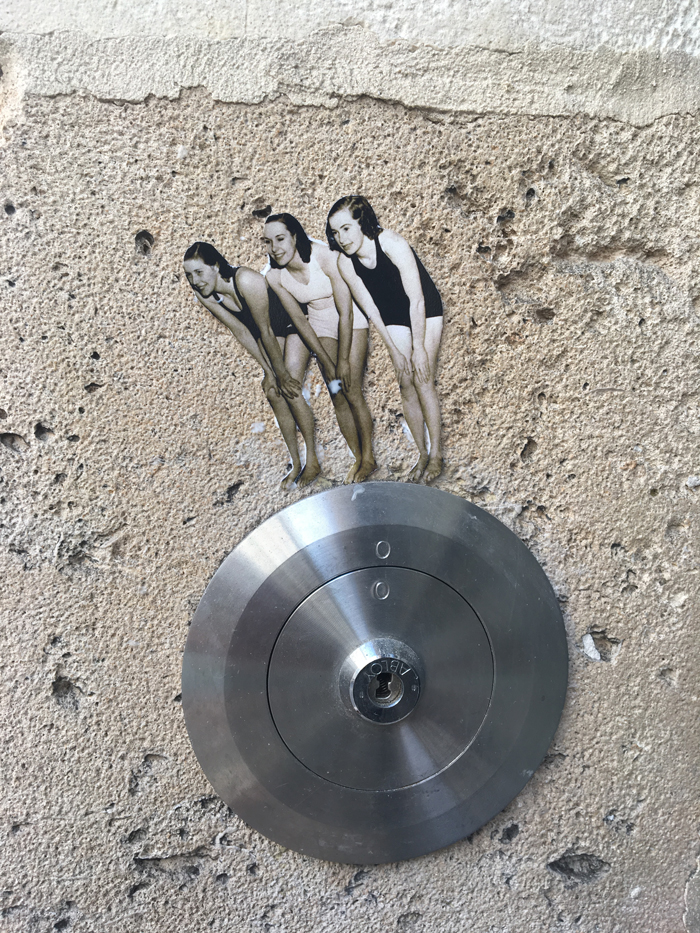 While O'Brien is focused on a coordinating role of the project, Schinners and FANCLUB13 will be engaged in some individual projects of their own.

FANCLUB13's "The Trashy Streets of New Orleans" continues his practice of turning garbage into art. "I find my work to be an archaeology of sorts. I'm constantly picking up and analyzing the remnants left behind by other people and re-assembling them to make new relationships."
Schinners (image top) will be executing "The Brujas Visit The Swamp" in the form of large-scale, collage, wheat-paste installations. Brujería is a uniquely Puerto Rican brand of witchcraft that, like its Afro-Latin cousins voodoo, santeria, and umbanda, blends religiosity, ritual acts and objects, and community service with a spiritual lingua franca to impact the health and well-being of its practitioners. "I want to celebrate and invoke the magic of the festival itself outside of the traditional gallery model and offer a nod to the tradition of hoodoo and brujeria within New Orleans," writes Schinners.
About Kolaj Fest New Orleans
Kolaj Fest New Orleans is a multi-day festival and symposium about contemporary collage and its role in art, culture, and society, July 10-14, 2019. Visit the website to learn more, see an overview of the program, and register to attend. Kolaj Fest New Orleans would not be possible without the support of Press Street, Ogden Museum of Southern Art, LeMieux Galleries, Mystic Krewe of Scissors and Glue, Antenna Gallery, Kolaj Magazine and Kasini House. Kolaj Fest New Orleans is made possible through a generous gift from Laurie and Doug Kanyer. WEBSITE