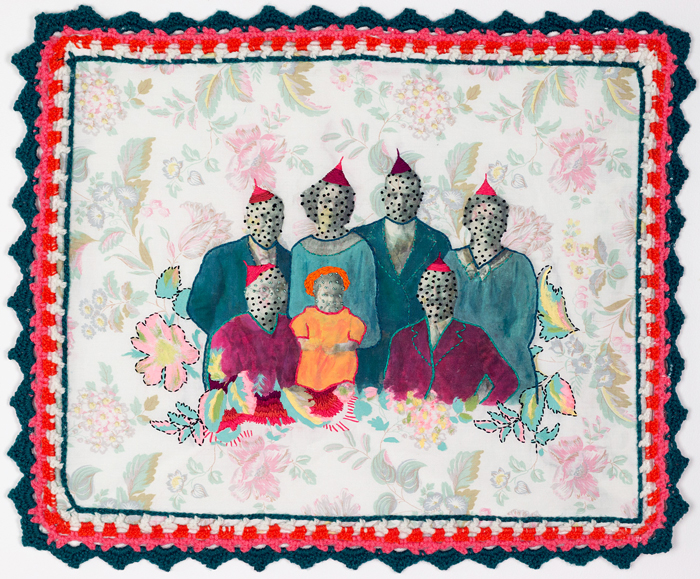 AT KOLAJ FEST NEW ORLEANS
With Vibrant Colors Hale Ekinci Asks Serious Questions
Hale Ekinci's visual vocabulary includes pictorial histories, gender politics, and traditions from her Turkish upbringing. Ekinci uses collage to explore her heritage, her alien status living in the US, and the rich history of "women's work" through non-linear narrative videos and mixed media paintings that are juxtaposed with craft. Her recent projects touch on social issues, cultural traditions, and political unrest. Despite the sometimes dismal nature of these controversial issues, her works are often playful as she uses vibrant colors, patterns, and hopeful moments.
At Kolaj Fest New Orleans, Ekinci is "excited to see others work, processes, and concepts in a supportive environment." She is looking forward to "learning different techniques and artistic processes, seeing inspirational portfolios, meeting exciting artists, exchanging ideas and potentially initiating collaborations." Ekinci will present her work in a session titled, "Collage Artists Tackle Contemporary Issues". In this session, we will hear from a range of artists who use collage as they make art that speaks to the environment and climate change; contemporary politics and economics; and identity and culture. What role can collage play in communicating complex 21st century issues to our communities?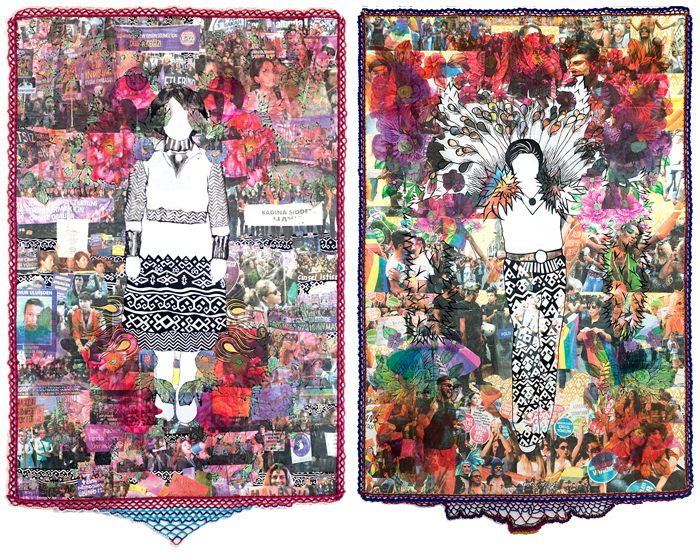 Ekinci writes about her work, "As a foreigner, I'm fascinated by language, especially idioms, systems of communication, and approaching the indigenous visual patterns as a form of typography. I transfer collaged photos of collectives and families onto paper and fabric surfaces; figures painted atop the works act as focal points. Framed with crochet edgings, these pictorial scenes are presented like tapestries and headscarves, telling my sometimes-cryptic personal folklore of mixed language, politics, and spectacle. Applying techniques of collage to the moving image, my multi-layered, animated videos explore immigrant identity as seen from both Turkish and foreign perspectives. Using a combination of field video, green screen, still images, and drawings, I craft non-linear narratives where relations, identity conventions, rituals, and women's issues result in tense scenes that reflect the universal bizarreness of traditions and stereotypes."
Kolaj Fest New Orleans is a multi-day festival and symposium about contemporary collage and its role in art, culture, and society, July 12-15, 2018. Visit the website to learn more, see an overview of the program, and register to attend.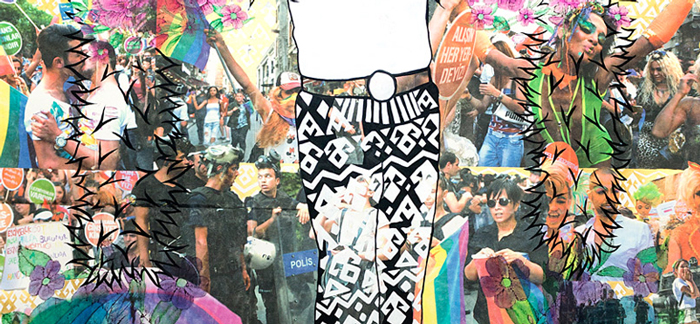 About Hale Ekinci
Hale Ekinci is a Chicago-based Turkish interdisciplinary artist and an Associate Professor of Art at North Central College, teaching a variety of courses in the Digital Art field. She spent childhood and much of her young adult years in Turkey, the homeland that she brings in and out of focus throughout her works. She holds an MFA in Interdisciplinary Arts and Media from Columbia College Chicago. Focusing on pictorial histories, identity, gender politics, and folk traditions, her works vary from non-linear narrative videos and mixed media paintings that are juxtaposed with craft to fiber installation. Learn more about Ekinci's work at haleekinci.org.
Images (top to bottom):
Untitled American Family by Hale Ekinci
(20″x25″; solvent photo transfer, embroidery, crochet, acrylic on bedsheet; 2018)
centre left
Monument for Feisty Women of My Country by Hale Ekinci
(75″x50″; solvent transfer, acrylic, crochet on paper; 2017)
centre right
Don-me-yiz by Hale Ekinci
(75″x50″; solvent transfer, acrylic, crochet on paper: 2017)
Don-me-yiz (detail) by Hale Ekinci
(75″x50″; solvent transfer, acrylic, crochet on paper: 2017)