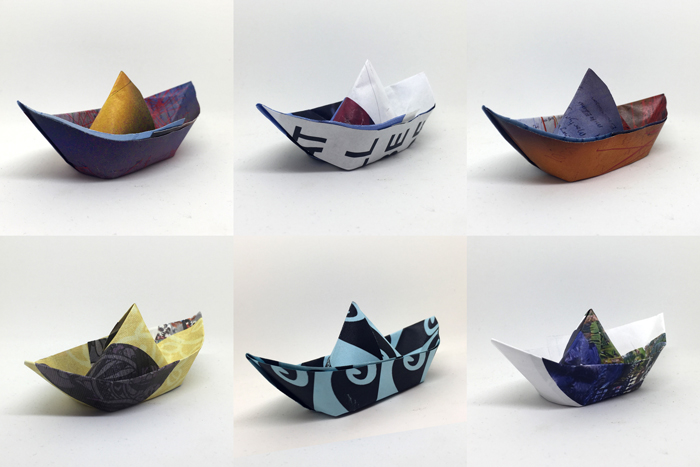 AT KOLAJ FEST NEW ORLEANS
JRC's Festival Wide Installation Project
From the grand steamboat Natchez on the Mississippi River to the sailboats on Lake Pontchartrain; from the shrimp boats dropping a catch at Eddie Pinto's Marina to the kayaks and paddle boats that cruise around Bayou St. John, boats are a part of life in New Orleans. A festival-wide installation by California-based artist JRC will use the imagery of boats to tell the story of Kolaj Fest New Orleans.
"The Seaside Fleet (New Orleans) is a citywide installation made from 1000+ hand folded paper boats," said JRC. "It travels and changes dimensions as pieces of the fleet are added and subtracted. A collaborative project, artists and viewers will be invited to add their boats to the fleet as it makes its way through New Orleans, and around the world. Special 'anchor points' will be stationed in venues hosting Kolaj Fest New Orleans."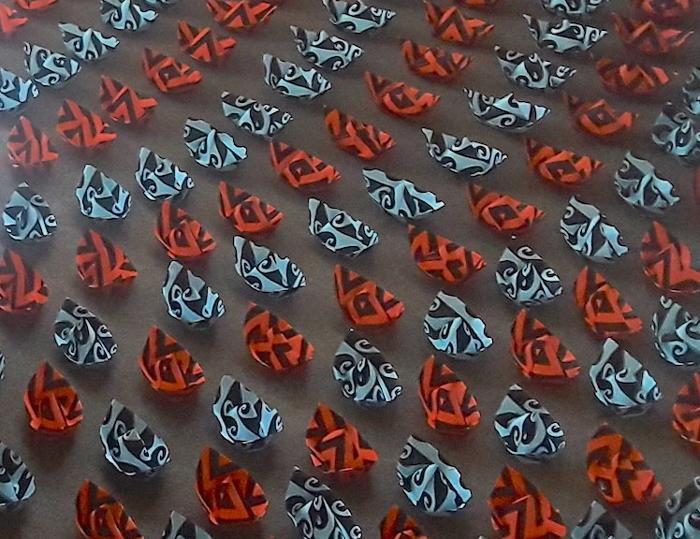 JRC is a collagist and transmedia storyteller from Burbank, California. He debuted "The Seaside Fleet" on May 4th at the 2018 Santa Fe Springs Art Festival in Santa Fe Springs, California. At that event, JRC installed the project in the various rooms and grounds of The Clarke Estate, a six-acre 1920's mansion and gardens. JRC uses subtle interventions on space to alert the viewer to pay attention to a larger story that may be unfolding.
"I work with simple items, often just folded paper and whatever space I am given, to reform and make the familiar feel new and mysterious. My hope is to create a drive to examine in the viewer; to provoke them to make sense of the changed surroundings by discovering a personal narrative they can connect it to," said JRC. "I want my art to empower the viewer to engage, and hope that they will be inspired to create and tell their own story."
At Kolaj Fest New Orleans, JRC serves a particular role in sharing the values and mission of the event. In addition to acting as a visual cue for Kolaj Fest New Orleans, JRC will engage with event attendees, teach them to make these boats, and encourage them to leave these boats at the places they visit as they make their way through New Orleans, and then take the work to their home communities.​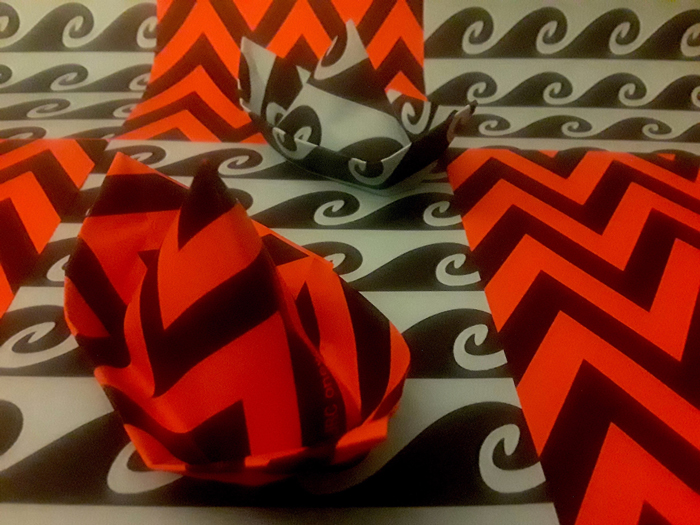 "People are attending Kolaj Fest New Orleans from across North America as well as and Europe and Latin America. We are coming together to celebrate and share ideas about collage, to shape the course of how this particular art medium is seen and understood," explained Kolaj Magazine Editor and Kolaj Fest New Orleans Producer Ric Kasini Kadour. "Our hope is that the people who attend Kolaj Fest will engage with this magical city, learn what New Orleans has to teach them, and when they leave, we hope they will take these ideas back to their community. In this sense, a fleet of collage enthusiasts are sailing into town. The Seaside Fleet (New Orleans) is the perfect metaphor for this."
Kolaj Fest New Orleans is a multi-day festival and symposium about contemporary collage and its role in art, culture, and society, July 12-15, 2018. Visit the website to learn more, see an overview of the program, and register to attend.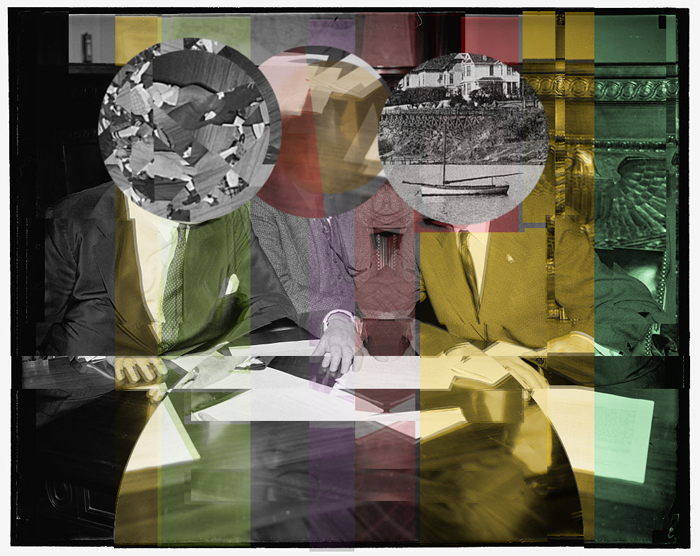 About JRC
Since 1999, JRC has installed exhibitions and installations in New York, Arizona, and California, among other places. He has also managed art festivals, created solo and group performance art pieces, and executed transmedia storytelling projects. He has published 'zines, found-sound audio collages, and regularly participates in mail art projects. JRC is also the Artist in Residence for The Dreamboat Research Project. JRC holds a degree in Fine Art from the State University of New York and currently resides in California. JRC's website is http://www.onewordlong.com.
Images (top to bottom):
samples of boats
3 Men with a Houseboat by JRC (paper and digital collage; 2018)