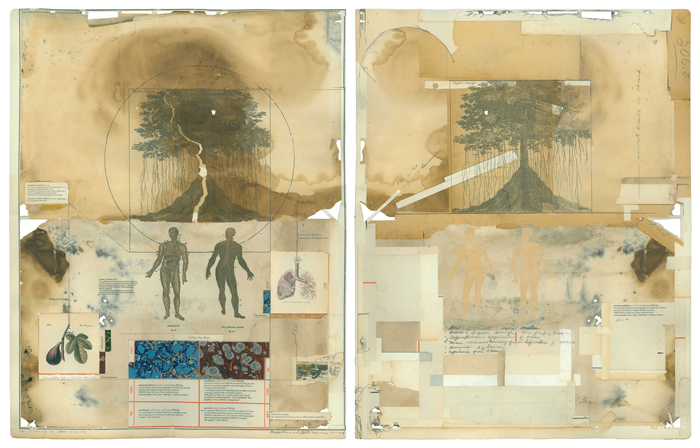 AT KOLAJ FEST NEW ORLEANS
A New Word for a Particular Set of Collage Operations
Todd Bartel is a collage-based artist. His work assumes assembled forms of painting, drawing and sculpture that examine the roles of landscape and nature in contemporary culture. Since 2002, Todd Bartel has taught drawing, painting, sculpture, installation art and conceptual art at the Cambridge School of Weston, Weston, Massachusetts. He is the founder and the Director of the School's Thompson Gallery, a teaching gallery dedicated thematic inquiry, and "IS" (Installation Space), a proposal-based installation gallery. Bartel brings decades of experience teaching and thinking about collage to Kolaj Fest New Orleans where he will moderate a two-part session on materials and sources and present on his theory of Uncollage, an analysis of how during the past hundred and fifty years, artists have used a variety of collage-like strategies to make artwork, some of which may not appear to be collages, but on closer inspection pass the test.
Bartel explains: Painting as collage? "Uncollage" may be a new word, but the idea of "uncollage" has been in existence for well over century and a half before the need for the word arose. Since the advent of photography, artists have explored many avenues of composite creativity including aleatoric practices, assemblage, bricolage, chiasmage, confrontage, crumblage, decalcomania, décollage, decoupage, digital collage, farrago, film, froissage, frottage, fumage, grattage, marouflage, montage, parsemage, prolage, reverse collage, rollage, and ventillage. Despite all these avenues of creative inquiry, certain practices have yet gone unnamed. This session explores collage practices that mask an initial collage operation in favor of creating a seamless final image, through the act of painting, and beyond. The session will briefly discuss digital collage, the analog photographs of Jerry Uelsmann, and, 19th through 21st century "uncollage" methodologies. It will focus on artists such as Thomas Eakins, Grandma Moses, James Rosenquist and Mark Tansey, among others, whose respective painting processes are dependent upon collecting images and employing collage processes that are not always visibly evident in the final result of their paintings. Artists such as these, and many more, prompt us to expand the definition of collage and divide the term to attribute some of its wider, but as of yet unnamed applications.
Bartel will present "Uncollage" at one of our Daily Collage Congresses. Each morning of Kolaj Fest New Orleans, we will come together in a morning session. We will review the day's agenda. Speakers will share ideas about the state of collage. And we will hear updates about special projects taking place during the festival. Bartel's presentation will arm us with a flurry of new ideas that will carry us throughout the day.
Kolaj Fest New Orleans is a multi-day festival and symposium about contemporary collage and its role in art, culture, and society, July 12-15, 2018. Visit the website to learn more, see an overview of the program, and register to attend.
About Todd Bartel
Todd Bartel received a BFA from Rhode Island School of Design in 1985 concluding his studies at RISD's European Honors Program in Rome, between 1984-1985. In 1990, he was a recipient of the Jacob K. Javits Fellowship (U.S. Department of Education, Washington, D.C.). He earned an MFA in Painting from Carnegie Mellon University in 1993. Bartel was awarded a Connecticut Council on the Arts Fellowship Grant in 2000 in support of his "Terra Reverentia" and "Garden Studies" series. Bartel has taught at Brown University, Manhattanville College and Carnegie Mellon University, Vermont College MFA in Visual Art, and New Hampshire Art Institute MFA in Visual Art, among others. He has been a guest critic at RISD, a visiting critic at Vermont College (since 1999) and New Hampshire Art Institute (since 2014). Bartel has lectured at the Alfred University, Western Connecticut State University, Rensselaer Polytechnic Institute, Montclair State University, and Chatham College, among others. His work has been exhibited nationally at Palo Alto Art Center, Katonah Museum, Brockton Art Museum, The Rhode Island Foundation, Zieher Smith, Mills Gallery (Boston, Massachusetts), Iona College. He is the founder and Gallery Director of the Cambridge School of Weston's Thompson Gallery, a gallery dedicated to thematic inquiry, including such exhibition series as "Sublime Climate", "Collage at 100" and "Kiss the Ground, Nowhere Everywhere, and With Eyes Open". A seasoned teacher since 1986, Bartel currently teaches drawing, painting, collage, assemblage, conceptual art and installation art at The Cambridge School of Weston.
Image:
Proportions and Table Manners by Todd Bartel
slide left: recto; slide right: verso
(26.125″x31.5″; burnished, puzzle-piece collage, 19th century papers, end pages, marbled papers, Xerographic prints on antique end pages, toner transfers on rain eroded bulletin board papers, cancelled stamp and envelope remnant, pencil, antique cellophane tape, archival document repair tape, yes glue and dictionary definitions, artist-made frame measuring 19.125″x24.5″; 2014)