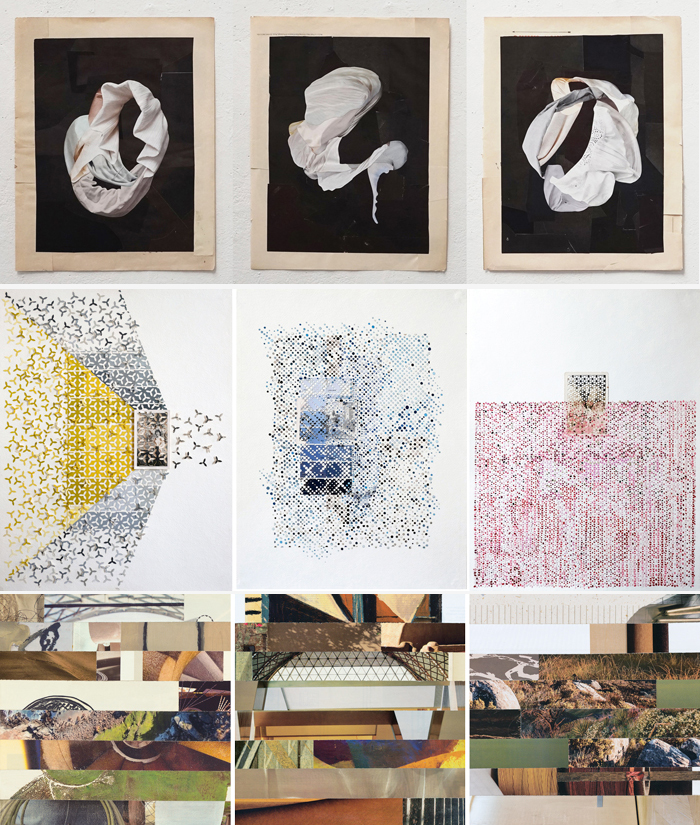 AT KOLAJ FEST NEW ORLEANS
Self-Imposed Rules and Their Creative Impact
Many artists find that self-imposed rules can be liberating and provide a roadmap for exploration, however it seems that relatively few collagists work this way. One way for an artist to build a body of work is to work in a series where multiple collages are made using shared limitations.
"Working in series has been important to my development as an artist. Working with a medium like collage, it's easy to create work as a reaction to whatever the source material provides," writes Brooklyn collagist Michael DeSutter (image above). "I'm sure many great pieces have been created this way, but for me not only do I want to create great pieces, I want them to help me express life experiences I have. If my practice is purely reactive, where is there room for expression?"
DeSutter is not alone. Denver collagist Janice McDonald (image above) has made working in series a cornerstone of her practice. "While I do the occasional one-off collage, my practice focuses on work in a series," writes McDonald. "Working in a series also helps an artist to become associated with a distinctive project, look, or style."
New Orleans collagist Jill Stoll (image above) finds working in series guides and tests her creativity. "There is comfort in repetition. I work in a series because the rules are known. I can find the limits within the structure; testing and finding the edges and returning to the core idea when I need to," said Stoll. Making collage in series benefits the viewer as well. McDonald writes, "Works in a series take viewers on a journey through the artist's thought process."
At Kolaj Fest New Orleans, three collage artists will lead a discussion about working in series: Why work this way? What are the pros and cons? How do you get an idea for a series? How does a series evolved? What has it taught you? How long will the exploration of the series continue? How do you know when the series is done? Do you work on more than one series at a time? How does this change the way you collect materials?
About Kolaj Fest New Orleans
Kolaj Fest New Orleans is a multi-day festival and symposium about contemporary collage and its role in art, culture, and society, July 10-14, 2019. Visit the website to learn more, see an overview of the program, and register to attend. Kolaj Fest New Orleans would not be possible without the support of Press Street, Ogden Museum of Southern Art, LeMieux Galleries, Mystic Krewe of Scissors and Glue, Antenna Gallery, Kolaj Magazine and Kasini House. Kolaj Fest New Orleans is made possible through a generous gift from Laurie and Doug Kanyer. WEBSITE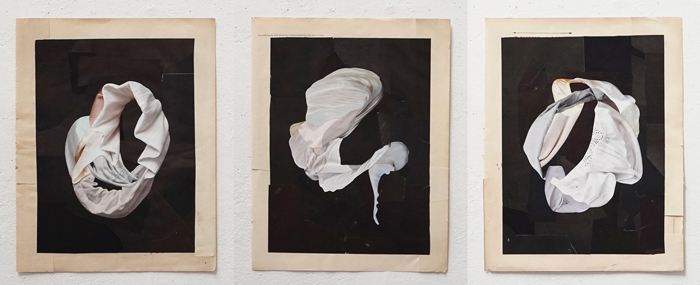 Michael DeSutter
www.michael-desutter.com
Michael DeSutter is a mixed media artist living and working in Brooklyn, New York. His hand cut collages utilize a plethora of vintage source material, varying from high fashion photography to everyday imagery. Conceptually, his body of work is concentrated around the theme of movement, both physically and metaphorically, propelling his work to evolve around this thematic common thread. DeSutter attended Purdue University where he earned a Bachelor of Science in Art Studies with a concentration in Photography. He is a former member of the Brooklyn Collage Collective. See more of his work on Instagram @royalscourge.


Janice McDonald
www.janicemcdonald.com
Janice McDonald, based in Denver, Colorado, has a background in both art and graphic design. Her collages are made with salvaged materials collected from her daily life and wanderings. Janice sees ripping as an artistic gesture and, forgoing scissors, each element is torn from its original context, then transformed as the papers meld together with new associations and meanings. Rearranged reality, assembled moments, and constructed views materialize. Her works find homes with individual collectors, in site-specific commissions, and in corporate collections. See more of her work on her Kolaj Magazine Artist Directory page and on Instagram @janicemcdonaldart.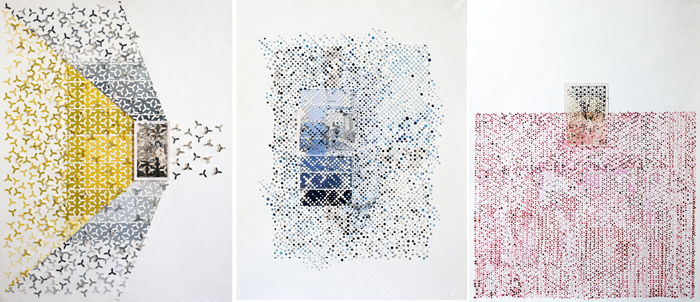 Jill Stoll
www.jillstoll.com
Jill Stoll's commitment to art and design has manifested in many creative adventures over the years, such as the time in her 20's when she designed window displays for Neiman Marcus and Bergdorf Goodman. Stoll earned a Master of Fine Art from Cranbrook Academy of Art and since then her teaching career has spanned nearly 20 years in places as diverse as New York, West Texas, Rome, and New Orleans in subjects that range from architectural design, drawing, collage, and darkroom photography. Stoll gathers what is lost and broken, be it (metaphorical) shards, sparks, husks or (physical) family snapshots, printed ephemera, hand held objects. She endeavors to repair and make them whole again in her New Orleans-based studio, where she navigates between control and release in her work. "Lost and Found" is the title of Stoll's solo show on view during Kolaj Fest at BrickRed Gallery, 3614 St Claude Avenue. Instagram @brickredgallery.