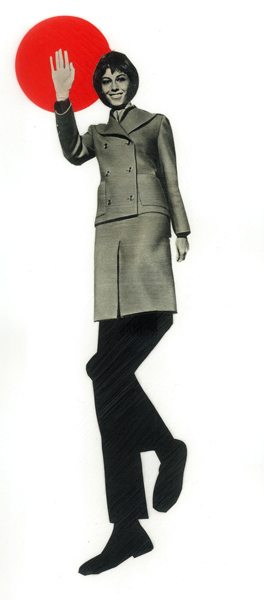 by Meaghan Thurston
Collage artists are "scopo-maniacs" – they're always scoping out the field for new images to snatch. They scrape images off walls. They squirrel away all kinds of things: trading cards, magazine advertisements, bookmarks, catalogues, letters, postcards, tickets, posters. Even airsickness bags, candy wrappers and matchbook covers make it into their collections. They file these 'visual artifacts', in some cases for years, before the thread of an idea for a particular collage may be nurtured in the artist's mind.
Then they brandish their glue stick and make something new.
The idea that collagists are obsessed with looking at images is ripped from an interview the Vancouver-born artist and collagist Roy Arden gave to Canadian Art. He describes himself as being afflicted with this particular malady and I am confident that most other collage artists are too. It gives them a special insight into the ever expanding visual cultures we live in. They know that candy wrappers, matchbook covers, or pages from ad flyers are already historical relics by the time they hit the sidewalk or take a dive into the trash can.
While not everyone collects "visual artifacts" with the intention of making a collage, most of us are collectors of the visual world by proxy. We pay money for magazines and newspapers. We get stuff in the mail that is meant to pique our visual interest. We wrap our food and bodies with graphics and logos. Then we throw most of it away.
Kolaj editor Benoit Depelteau writes that "being confronted with so many images every day makes us lose the ability to make links between them." A collage artist can be a guide of sorts to the visual mediasphere. They guide a discarded visual artifact on its way to becoming an art object. They teach us about images by tearing them apart and assembling the artifacts together in exciting, unexpected ways. They may tell a fading story, talk about social and political upheaval, or just satisfy the love we all have for images. The artist can talk about themselves, or crack visual jokes or make vulgar puns and we love them for it.
Why Collage? Why Now? Because these visual cultures we live in send many messages, opposing frequently. A collage is a laboratory where images and texts from different localities and eras come together to speak a dialect all their own.
image above: Traditional Salutation Method by JP King