FROM KOLAJ 30
Major "Painting" by Native American Artist Jaune Quick-To-See Smith Acquired by National Gallery of Art (USA)
In June 2020, when the National Gallery of Art in Washington, D.C. announced the acquisition of I See Red: Target by Jaune Quick-to-See Smith, the statement proclaimed it to be "the first painting by a Native American artist to enter the collection. Smith, an enrolled Salish member of the Confederated Salish and Kootenai Nation in Montana, is one of the most highly respected artists of the past 40 years." The Director of the National Gallery of Art, Kaywin Feldman, added, "I am thrilled to bring this exceptional work into the collection of the National Gallery of Art. I See Red: Target creates a meaningful dialogue among works in the collection to enrich our understanding of modern art. I am also delighted to add a major painting by a Native American woman artist to the Gallery's narrative of American art. Smith's painting tackles long-standing complexities of Native American identity."
Smith's I See Red: Target is not, it turns out a "painting" but a collage. In Kolaj 30, Editor Ric Kasini Kadour reflects on the National Gallery's historic acquisition, the role of museums, and how collage faciliates conversation between cultures.
Ric Kasini Kadour's editorial, "Destroy the Myth", appears in Kolaj #30. PURCHASE THE ISSUE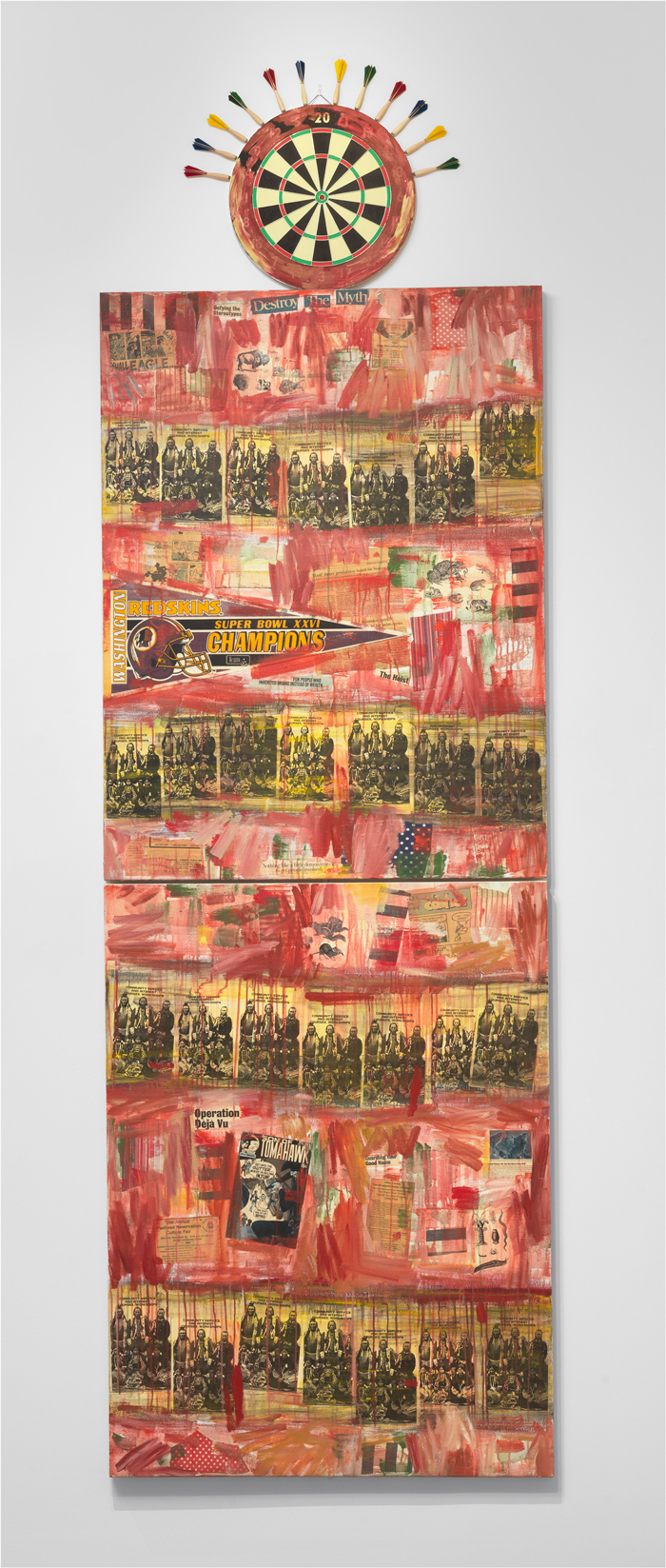 Jaune Quick-to-See Smith was born at the St. Ignatius Indian Mission in 1940. She is an enrolled Salish member of the Confederated Salish and Kootenai Nation, Montana. She holds an Associate of Arts Degree from Olympic College, a BA in Art Education from Framingham State College, and an MA in Visual Arts from the University of New Mexico. Her numerous awards include the 2005 Governor's Outstanding New Mexico Woman's Award and New Mexico Governor's Award for Excellence in the Arts, the Living Artist of Distinction Award from the Georgia O'Keeffe Museum, and four honorary doctorates. Her work is in major collections including the Museum of Modern Art, the Metropolitan Museum of Art, the Brooklyn Museum, the Whitney Museum of American Art, the Smithsonian American Art Museum, and the Museo de Arte Moderno (Quito, Ecuador). The artist lives and works in New Mexico and is represented by Garth Greenan Gallery, New York.