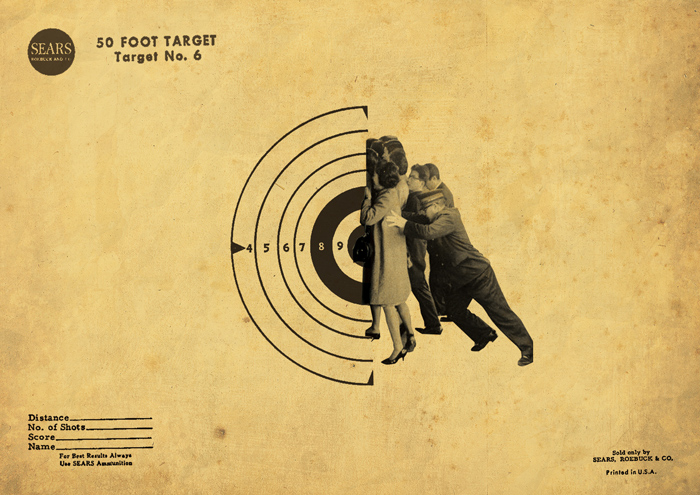 "Collaboration & Collage" by Benoit Depelteau
The notion of collaboration has always been associated with collage, if not intrinsically related to it. In recent years, we have seen collagists the world over participate in a growing number of collaborative projects that have garnered much attention from the art world. In this issue, we present collaboration in its most diverse forms to address the penchant of collage artists to constantly regroup and share their practice.
Contemporary collage was born about 100 years ago in a collaborative effort by Georges Braque and Pablo Picasso during their Cubist experimentation period. In an attempt to free their work from the tradition of perspective and anchor it in the tangible, they added the first papiers collés to their work.
The first extensive use of collage occurred a few years later, when the constellation of poets and painters known as Dada used it, this time not only pictorially, but also conceptually. Together, they established the foundations of a heterogeneous production that consisted largely of the juxtaposition of apparently unrelated ideas, aimed to depict the nonsense of the era they were living in. The practice was later taken up and redefined by the Surrealists who, along the way, established a collaborative way to create images and writing: the exquisite corpse.
In our day, the advent of social media and art websites has allowed collage artists to share and discuss their work. Taking advantage of the ease in sending original work all over the world, many networks have been formed around projects or exhibitions. At a time when collage has pretty much flown under the radar, these artist-initiated collaborations provide a visibility that would be difficult to obtain elsewhere.
But it goes further than just the opportunity to collaborate. Most collage artists work with found imagery collected from various sources. Their whole creation process is to play with these items, made by others, instead of establishing shapes and composing from scratch. Beyond these images, collagists also use the choices made by others as a base material to conceive their work. In this way, collaboration can be seen as a constituent element of the nature of collage.
That's probably the most challenging aspect of the practice and it could explain, in part, the popularity of collaborative projects. Many collagists like to exchange and respond to other artists' choices, to have fun, to question their work or to push back their limits. In the end, all these initiatives vary in form, but they all contribute to the crystallization of the global collage community.
PURCHASE ISSUE SEVEN | SUBSCRIBE | FACEBOOK
Image:
We Are All Working Toward the Same Goal
by Bolin Zhang (Taiwan)
from "The Target Practice Project"
2013
Image courtesy of the artist and Laura Tringali Holmes