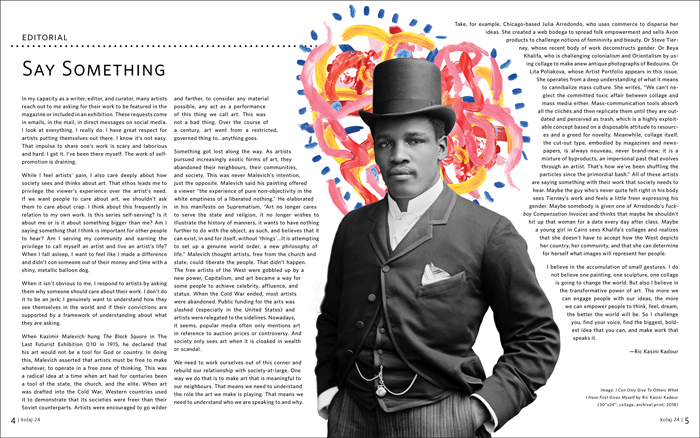 FROM KOLAJ #24
Editorial by Ric Kasini Kadour
In his editorial in Kolaj #24, Ric Kasini Kadour reflects on the historical importance of Kazimir Malevich's The Black Square and how the artist, in presenting this painting, declared that his art would not be a tool for God or country. Kadour writes, "Malevich asserted that artists must be free to make whatever, to operate in a free zone of thinking. This was a radical idea at a time when art had for centuries been a tool of the state, the church, and the elite…This was not a bad thing. Over the course of a century, art went from a restricted, governed thing to…anything goes…Something got lost along the way." You can read the full essay on Kadour's website.
"I challenge you, find your voice, find the biggest, boldest idea that you can, and make work that speaks it."
"Say Something" appears in Kolaj #24. Our goal with every issue is that Kolaj Magazine is essential reading for anyone interested in the role of contemporary collage in art, culture, and society. Visit the website to subscribe or get a copy.
Image:
Suprematist Composition: Supremus No. 55
by Kazimir Malevich
oil on canvas
1916