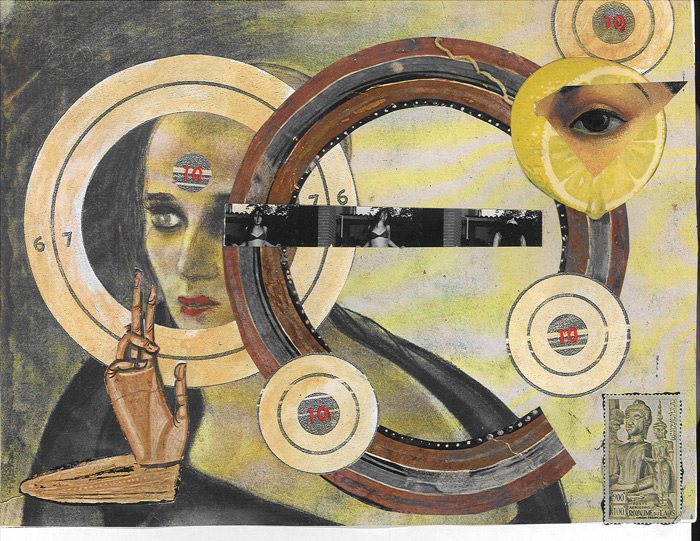 "First Person Collaborator: The Target Practice Project"
by Laura Tringali Holmes
Laura Tringali Holmes created The Target Practice Project in August 2013 as a way of dealing with pain and loss after the death of her father. It rapidly became a large-scale, global collaboration.
We asked Laura to talk about how the project started and the experience of working collaboratively with collage artists from around the world.
The Target Practice Project was born. I snapped photos of the targets, created a Facebook group, and asked artists around the world if they would like targets to collage. I wrote about what I was doing—and why—on my art blog. Word spread. Within days I mailed over 150 targets. Almost immediately, artists began posting work to the Facebook group. At last count, in November 2013, there were 116 artists from six continents who have created over 250 images. The numbers are increasing as the Project steps beyond Facebook into larger life. While the work generated is primarily collage, there's also mixed media, assemblage, and even music video: One artist posted a clip of herself singing as she collaged target fragments. Because I quickly ran out of the original targets (I initially sent them out by the fistful), I now offer a download for printout or digital manipulation. Vintage-paper purists go on a waiting list. I've issued a call in the Facebook group for artists to return targets they aren't using, but with little luck. We do what we can.
To read the entire interview see more images of his work, purchase Issue Seven or SUBSCRIBE to never miss an issue.
Image:
A Hidden Apple
by Ana Gabiño-Gabiño (Mexico)
2013
Image courtesy of The Target Practice Project, Laura Tringali Holmes