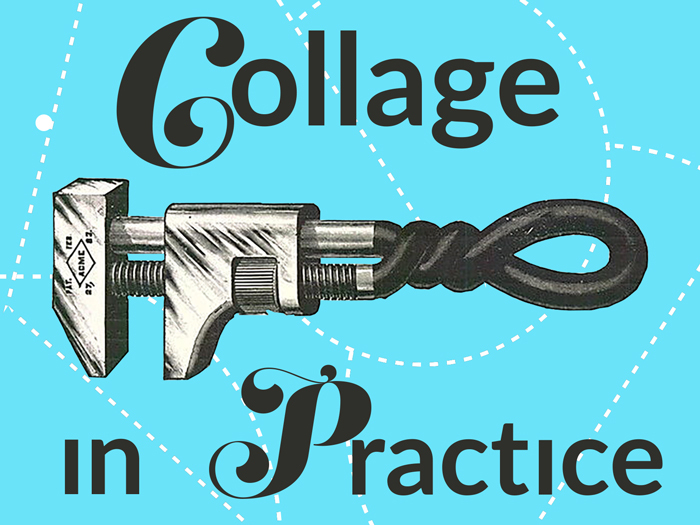 CALL TO ARTISTS
Collage in Practice
A three-week, virtual/online workshop with Kolaj Institute in July & August 2022
Deadline to apply: Sunday, July 17, 2022
The practice of collage takes on many forms. A practice will be shaped by the goals of the artist and what they want to achieve with their artwork. It will also be informed by the choice of material, scale, and subject matter. A collage practice is also informed by the history of artists who came before and how an artist chooses to be in dialogue or opposition with their creative ancestors. A working understanding of one's practice is critical to one's professional and artistic development.
Intended as a clinic for working artists at any level, participants in this workshop will explore how they go about making art and putting it out into the world. How to make a living as an artist? How to get your work seen? How to get an exhibition? How to get reviewed? How to make a life for yourself as an artist? What does that even mean? These are some of the challenges artists face when they want to take their art practice to the next level.
Participants will explore critical concepts and collage taxonomies as a way to develop and refine the language they use to talk about their own practice and to develop a broad view of the creative landscape in which they operate. How does choice of material inform how the artwork is exhibited? How does one speak about their process so that it is understood by other art professionals and the general public? How can one use art history to create a critical context for one's artwork?
Participants will finish the workshop with a deeper understanding of their practice, a strong statement of practice that can be used to communicate with curators, editors, and art professionals; a portfolio of consistent artwork (or a plan to make one); and tools for growing or developing their practice.
WHO IS THIS FOR?
Collage Artist Workshops are intended for self-motivated artists, at any stage in their career, who want to develop their practice. This workshop is particularly oriented to those who wish to make a change in their current practice. Residencies are open to any artist over the age of 21 from anywhere in the world.
COST
The cost of the workshop is $500 per artist; however, no artist will be turned away for lack of funds and the organizers will work with artists to build a financial aid package.
HOW TO APPLY
Submit your application HERE.
WORKSHOP LOGISTICS
Dates: July 25 – August 14, 2022
SESSION DATES
Tuesday, July 26, 4-5PM EDT
Wednesday, July 27, 4-6PM EDT
Tuesday, August 2, 4-6PM EDT
Wednesday, August 3, 4-6PM EDT
Wednesday, August 10, 4-6PM EDT

The workshop will begin with an invitation to join the Slack workspace on Monday, July 25th, followed by a one hour, online Meet & Greet on Tuesday, July 26th, 4-5PM EDT.
The Introduction and Orientation session will take place on Wednesday, July 27th, 4-6PM EDT.
The remaining sessions will take place on August 2nd, 3rd, and 10th, from 4-6PM EDT.
The Slack workspace will be turned off on August 14th and any future communication will be through email.
Artists are expected to attend all scheduled sessions and complete assignments. The group will finish the workshop with a strong statement of practice that can be used to communicate with curators, editors, and art professionals and a portfolio of consistent artwork (or a plan to make one). By participation in the workshop, artists grant Kolaj Institute, Kolaj Magazine, and Maison Kasini permission to publish images and text generated during the workshop in book form and in the promotion of future projects and books. Any original work made during the workshop remains the property of the individual artists with all rights retained.
APPLICATION PROCESS
The submission process asks applicants for:
• Contact information
• Artist Bio (50-250 words)
• Statement of Artist Practice (50-300 words)
• 5-7 images of artwork
• Statement of expectations
• Asks questions about your work and needs
QUESTIONS
If you have questions, send an email.
---
GUEST SPEAKER
Kerith Lisi
Kerith Lisi's collage making is in deep conversation with the materials she uses. "I am drawn to working with materials that show evidence of having a history, oftentimes discarded, which can then be used to create something new and unexpected. Whether it is old books, ephemera, or found paper, the fact that the materials are salvaged allows for a certain freedom in creating a new composition." For the past three years, Lisi has been working primarily with discarded paperback and hardcover books and the fact that the materials are salvaged allows for a certain freedom in creating a new composition. Her work has found a home in the commercial art world at SLATE Contemporary Gallery in Oakland that represents her collage to private collectors and interior designers. Lisi will speak about her experience finding a gallery, exhibiting, and taking on commissions.
Kerith Lisi is a mixed media collage artist from the San Francisco Bay Area working primarily with discarded books. Her work has been exhibited at the de Young Museum (San Francisco), SLATE contemporary (Oakland), Marin Museum of Contemporary Art (Novato, California), STUDIO Gallery (San Francisco) and included in "The Art of the Book" at Seager Gray Gallery (Mill Valley, California). Lisi was profiled in "Ephemera" in the UPPERCASE Encyclopedia of Inspiration. She is represented by Slate contemporary Art Gallery + Art Consulting in Oakland and Annie Gould Gallery in Gordonsvillle, Virginia. She recently completed an artist residency at In Cahoots (Petaluma, California). www.kerithlisi.com
FACULTY
Todd Bartel
Todd Bartel is a collage-based artist. His work assumes assembled forms of painting, drawing and Todd Bartel received a BFA in Painting from Rhode Island School of Design in 1985, concluding his studies at RISD's European Honors Program in Rome between 1984-85. In 1990, he received the Jacob K. Javits Fellowship (U.S. Department of Education, Washington, D.C.). He earned an MFA in Painting from Carnegie Mellon University in 1993. Bartel was the inaugural recipient of the Rhode Island School of Design's Art and Design Educator Award in 2019. He has taught drawing, painting, and sculpture at Brown University and Manhattanville College. He has been a guest critic at Rhode Island School of Design, Vermont College, and New Hampshire Art Institute, as well as an artist-teacher in low residency MFA programs since 1998. Bartel has lectured at Alfred University, Western Connecticut State University, Rensselaer Polytechnic Institute, Montclair State University, Chatham College, and Knoxville Museum of Art. He is the founder and Gallery Director at the Cambridge School of Weston's Thompson Gallery, a gallery dedicated to thematic inquiry, including such exhibition series as Sublime Climate, Collage at 100, Kiss the Ground, Nowhere Everywhere, With Eyes Open, and About Vulnerability. Bartel is a historian of collage and landscape and has published several articles on his neologism "uncollage." A seasoned teacher since 1986, Bartel currently teaches drawing, painting, collage, assemblage, conceptual art, and installation art at The Cambridge School of Weston, Weston, MA. www.toddbartel.com
Ric Kasini Kadour
Ric Kasini Kadour, a 2021 Andy Warhol Foundation for the Arts Curatorial Fellow, is a writer, artist, publisher, and cultural worker. Working with the Vermont Arts Council, Kadour curated four exhibits: "Connection: The Art of Coming Together" (2017) and Vermont Artists to Watch 2018, 2019 and 2020. In 2017, he curated "The Art of Winter" at S.P.A.C.E. Gallery in Burlington, Vermont. In 2018, Kadour curated "Revolutionary Paths: Critical Issues in Collage" at Antenna Gallery in New Orleans, which bought together collage artists whose work represents the potential for deeper inquiry and further curatorial exploration of the medium; followed in 2019 by "Cultural Deconstructions: Critical Issues in Collage" at LeMieux Galleries in New Orleans, which furthered the conversation. Since 2018, he has produced Kolaj Fest New Orleans, a multi-day festival & symposium about contemporary collage and its role in art, culture, and society. As Curator of Contemporary Art at Rokeby Museum in Ferrisburgh, Vermont in 2019 and 2020, he curated three exhibitions, "Rokeby Through the Lens" (May 19-June 16, 2019), "Structures" (August 24-October 27, 2019), and "Mending Fences: New Works by Carol MacDonald" (July 12-October 25, 2020). He also curated "Contemporary American Regionalism: Vermont Perspectives" (August 17-October 20, 2019) and "Where the Sun Casts No Shadow: Postcards from the Creative Crossroads of Quito, Ecuador" (November 1-30, 2019) in the Wilson Museum at the Southern Vermont Arts Center. "The Money $how", co-curated with Frank Juarez, was presented at the AIR Space Gallery at Saint Kate-The Arts Hotel in Milwaukee, Wisconsin (April 10-September 12, 2021). For the 53rd Annual Birr Vintage Week & Arts Festival in Birr, County Offaly, Ireland (August 13-20, 2021), he curated "Empty Columns Are a Place to Dream", where it won a 2021 National Heritage Award. The exhibition traveled to the Knoxville Museum of Art, January 4-February 19, 2022. With Alicia Inez Guzmán, PhD, he co-curated two exhibitions at 516 ARTS in Albuquerque: "Many Worlds Are Born" (February 19-May 14, 2022) and "Technologies of the Spirit" (June 11-September 3, 2022). In 2022, he is curating "Artists in the Archive" at the Henry Sheldon Museum of Vermont History, September 2-December 31; and "Many Americas" at the Wilson Museum at the Southern Vermont Arts Center, August 20-November 27.
Kadour is the editor and publisher of Kolaj Magazine. He has written for a number of galleries and his writing has appeared in Hyperallergic, OEI, Vermont Magazine, Seven Days, Seattle Weekly, Art New England (where he was the former Vermont editor) and many others. Kadour maintains an active art practice and his photography, collage, and sculpture have been exhibited in and are part of private collections in Australia, Europe and North America. In January-February 2020, he was artist-in-residence at MERZ Gallery in Sanquhar, Scotland. He holds a BA in Comparative Religion from the University of Vermont. Kadour splits his time between Montreal and New Orleans. www.rickasinikadour.com