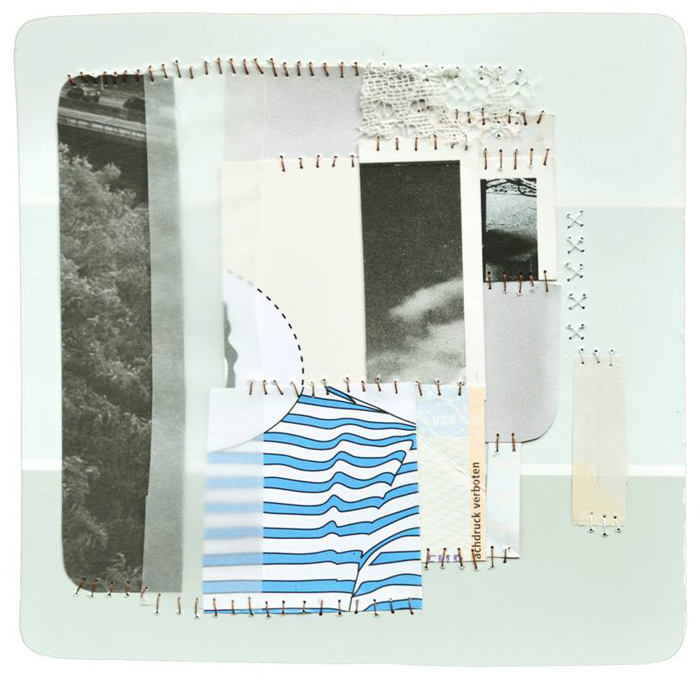 COLLAGE ARTIST TRADING CARDS SPOTLIGHT
Linden Eller
Linden Eller spent her youth in the urban Sonoran desert of Phoenix, Arizona before moving to Southern California to study drawing and painting. She's since lived and worked out of New England, Europe, India, Australia, and Samoa. Auckland, New Zealand is currently where she makes her home. An interest in place attracted her to the medium of collage which she uses to communicate the melancholy in unresolved matters, like her brother's autism, or natural losses. Traces of Rauschenberg, Andrew Wyeth, and Joe Sorren can be found in her work, which manages to materialize longing, childhood, and the memory process.
Linden Eller was featured in Collage Artist Trading Cards Pack 6. Collage Artist Trading Card packs are a tool for discovering contemporary, fine art collage. Each card is a full colour, 5.5" x 3.5" postcard with rounded corners. An example of an artist's work is on the front of the card and the artist's public contact information is on the back.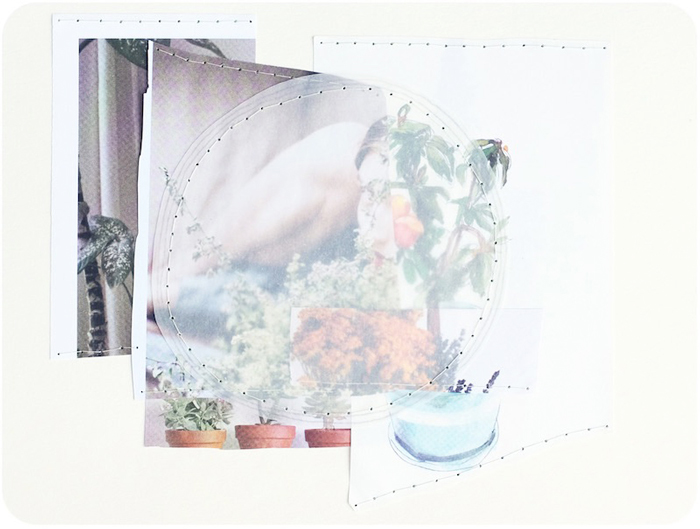 She writes, "The only way a memory can remain pure in its original state is if it is never remembered, because each time we recall something, we change it slightly. My work is about these layers of little alterations, the subject varying between being specifically personal and abstractly collective. Each comes from a strong discipline of looking back and an instinct to keep things."
We asked her some questions about her work.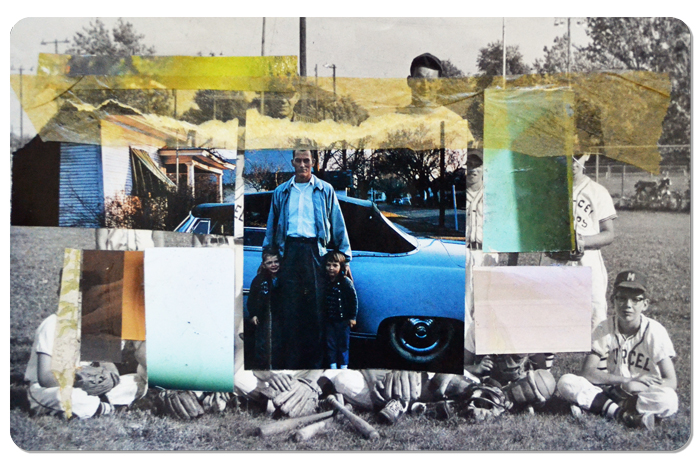 How do you describe yourself?
I am a maker, interested in themes of place and memory. For the last decade, I have been moving around quite a bit, building little nests wherever and however I can. Sometimes this is an apartment filled with quilts and records. But more often it's on a farm overseas with only my backpack and an art kit containing paper scraps, sewing supplies, and pencils. I am always curious about trying different ways to archive my experience as a narrator.
Can you explain the idea behind Baseball, the collage featured in Collage Artist Trading Cards Pack 6?
Baseball began with that old black and white photograph–it's my dad's old baseball team; he's the one in the bottom right corner. I suppose it is my own empathetic interpretation of a memory he could have possibly experienced. I also like the idea that anyone who ever played baseball as kid (or had a brother, etc. who did) could connect to this as his/her own childhood memory.
How did this particular collage come about?
I often do not have motivations to make any specific work–a genuine interest in my materials is enough to excite me and produce something. In this case, the original photograph was the initial buzz to begin the process. Baseball was made by layering remnants of paper, photographs, fabric and other pieces together with matte medium, a transparent artist glue (though lately I hand stitch them).
PURCHASE COLLAGE ARTIST TRADING CARDS
You can see more of Linden Eller's collage in the Kolaj Magazine Artist Directory and on her website: www.lindeneller.com
Image (top):
Collage by Linden Eller
Image (centre):
Houseplants
by Linden Eller
8″x6″
mixed media sewn on paper
2015
Collage Artist Trading Card image:
Baseball
by Linden Eller
8″x10″
mixed media on photograph
2013