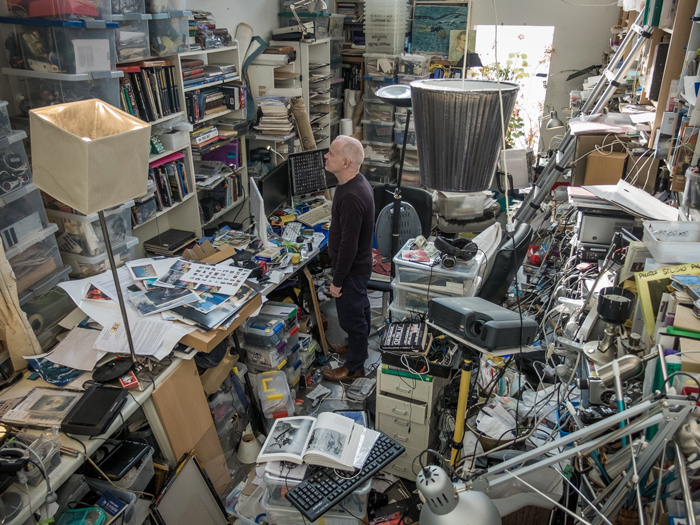 COLLAGE EVENT
Collagist Seán Hillen and the Birmingham Collage Collective at the 15th Flatpack Festival
Online: 26-29 May 2021
From 26-29 May 2021, the 15th Flatpack Festival offers on its website an 86-minute film by Gillian Marsh, Tomorrow Is Saturday, about Irish collagist Seán Hillen, followed by a recorded question and answer session by collagist and designer Mark Murphy of the Birmingham Collage Collective.
About the film, the Flatpack Festival writes, "Collage artist and photographer Seán Hillen has reached a point in his career where he finds it almost impossible to work. Trapped in a small terraced house, full to the brim with junk, unfinished art and boxes of memories, Seán embarks on a journey to declutter and make sense of his life as he awaits the arrival of Amy, an American woman with whom he communicates daily but has never met.
"This intimate and fascinating portrait of the effervescent Hillen explores what it's like to be an artist with Aspergers, having grown up through the Troubles in Northern Ireland, and how he finds inspiration, and a new lease of artistic endeavour in a chaotic world.
"You can also hear from Seán from the discussion he had with Birmingham-based collage artist and designer Mark Murphy."
The cost to view the film and question-and-answer session is £4.00 and it is available to view starting on Wednesday, 26 May 2021 at 7PM EDT (2300 UTC) through Saturday, 29 May 2021 at 6:59PM EDT (2259 UTC). Learn more at the Festival's website HERE.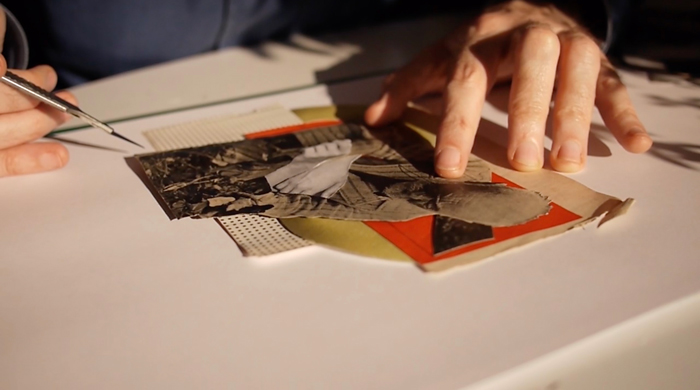 A Collective Cut & Paste: Birmingham Collage Collective
Online: Thursday, 27 May 2021, 2-4PM EDT (1800-2000 UTC)
The Birmingham Collage Collective offers a live masterclass exploring the craft of collage and the various approaches one may take to it.
The BCC writes, "Taking inspiration from the fantastic documentary Tomorrow is Saturday, this live masterclass-cum-workshop focussing on the art of collage is hosted by the Birmingham Collage Collective, a growing group of artists based all over the city. First we'll hear from a few of the members, who will delve into their approaches and show examples of their work, offering tips and advice, and then it's time to get out the scissors/scalpels and have a go yourself in an interactive workshop."
You will need: Either scissors or a scalpel (and a cutting mat if using a knife); some glue (preferably a glue stick); some magazines, newspapers, photos, pieces of paper, etc.; something to stick your cut-outs onto (i.e., some card or a sturdy piece of paper).
This is event is free, but you need to pre-register. Visit the Festival's website HERE to learn more.