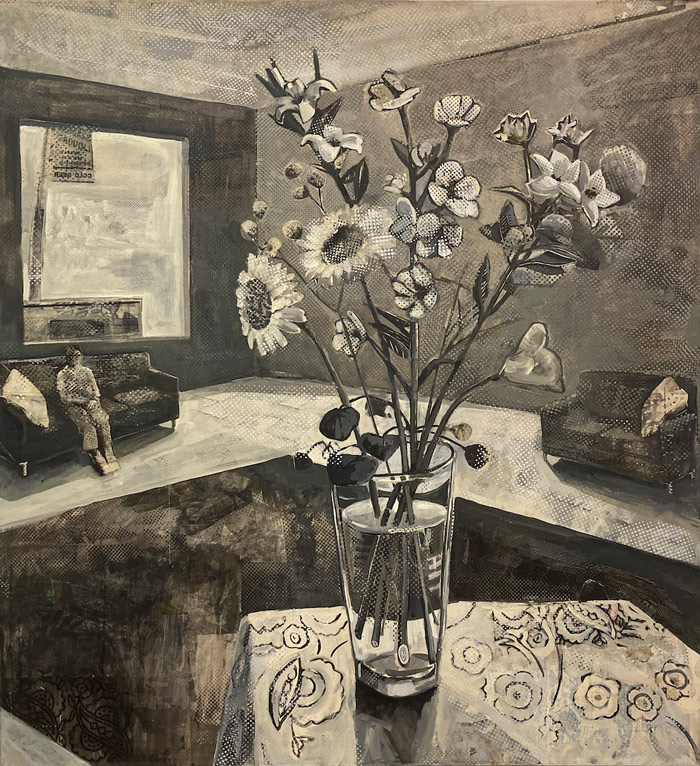 COLLAGE ON VIEW
Alcoves 20/20 #4
at the New Mexico Museum of Art in Santa Fe, New Mexico, USA
20 February-27 June 2021
"Alcoves 20/20 #4" is the last in the 20/20 series of Alcoves exhibitions. The "Alcoves" series features five, small, one-person exhibitions by contemporary artists working in New Mexico. The series highlights the wealth of artistic talent across the state. Working broadly across the fields of photography and painting, the featured artists whose work incorporates collage are Karsten Creightney, JC Gonzo, and Phillis Ideal.
Karsten Creightney's "work is as much a product of discoveries made while making it, as it is deliberate." New images and themes emerge from the past just as our future derives from our history. Creightney does not necessarily predict his final picture but rather depends upon trial and error to access alternate realities. His works are part of the permanent collections of institutions such as the Cleveland Museum of Art, the Detroit Institute of Arts, and the Nelson-Atkins Museum of Art.
JC Gonzo's cut-up methodology and collage aesthetic generate juxtapositions and elicit previously unconsidered connections and dependencies. Described by the artist as "meta-ecologies", his installations, The Land in Spirit and Until the Rio Grande Runs Dry, reflect on our connections to the land and to one another, in particular the land surrounding the border in New Mexico, Texas, and Mexico. Gonzo also writes for various publications and has worked with artists Red Cell as "The Product Division." The collaborators were artists-in-residence at the William S. Burroughs Estate in Fall of 2014. 
Phillis Ideal
Phillis Ideal's abstract collages balance shape, texture, and color to create geometries of curves, arcs, and lines. Her images are deliberately limited, yielding enlarged microscopic–like details of greater works. Close analytical views lead to explorations past the picture plane. There is much to experience through these curtailed circles and truncated trapezoids. Primary colors of reds and yellows alternate with pastels of violet and lilac. Color field smoothness contrasts with anxious brushstrokes. Her works are hybrids of collage and paint, creating expansive yet constrained spaces.
Other artists in the exhibition are photographer Cara Romero and landscape photographer Donald Woodman.
(text adapted from the museum's press materials)
---
INFORMATION
New Mexico Museum of Art
107 West Palace Avenue
Santa Fe, New Mexico 87501 USA
(505) 476-5072
Hours:
Saturday-Thursday, 10AM-5PM
Friday, 10AM-7PM