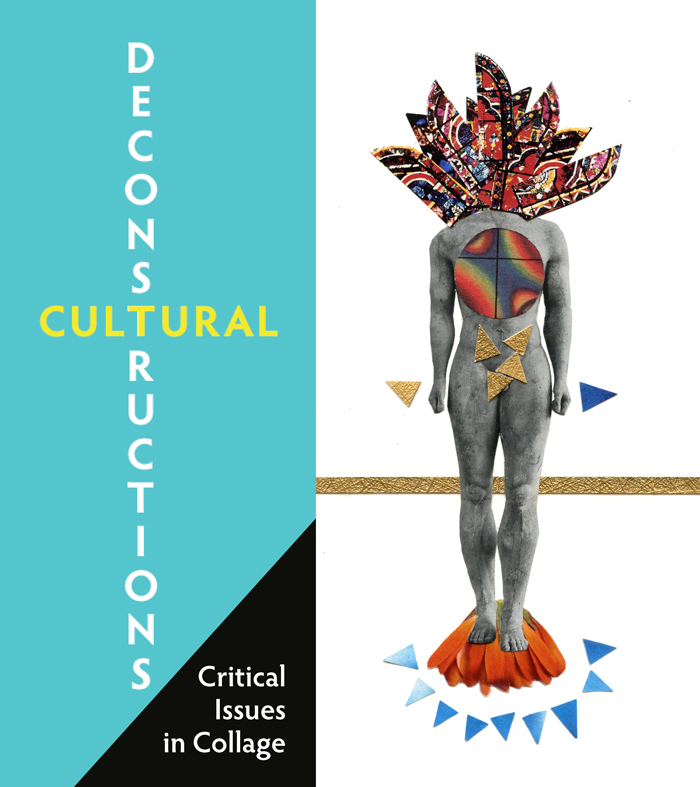 COLLAGE ON VIEW
Cultural Deconstructions: Critical Issues in Collage
Curated by Ric Kasini Kadour
at LeMieux Galleries in New Orleans, Louisiana, USA, 10-27 July 2019
Gallery Talk
Saturday, 27 July 2019, 1PM
By its nature, the creation of art is the construction of culture. In paintings, sculptures, and illustration, artists build ideas about the world around them. Photographers, through framing and composition, tell stories about the world that inform our thinking of it. Collage is unique as a medium in that it uses as its material artifacts from the world itself. To harvest those fragments, the artist must first deconstruct culture; they must select, cut, and remove the elements they do not wish to use and then reconstruct work that tells a new story.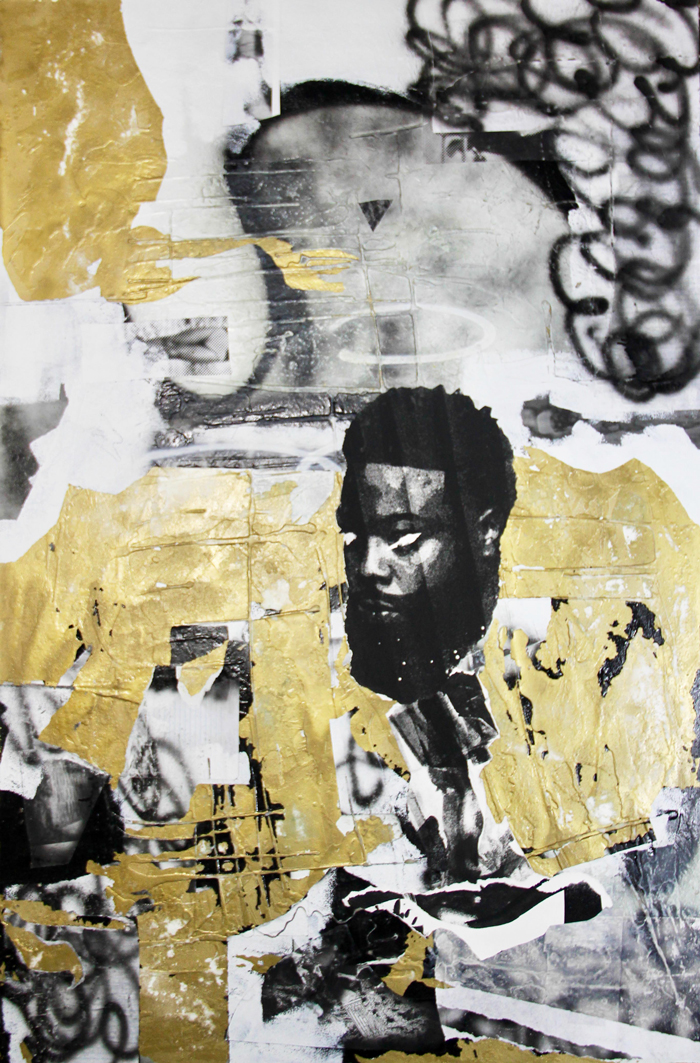 The exhibition features collage artists who are deconstructing identity as a way to critique culture. Artists are investigating the interactions between men and women in dating apps; the construction of black masculinity in barbershops; or how toxic masculinity plays out in queer space. They are reaching into history and taking inspiration from Irish literature, Etruscan maps and the imperial workshops of the Mughal Empire. They are using digital technology and traditional methods of cut and paste to make work that mimics our paraprosexic modern life or work that illustrates how memory and nostalgia impact our sense of geography. They are altering books into hyper-illuminated texts and making visual narratives that seek to reform the world using reconstituted images.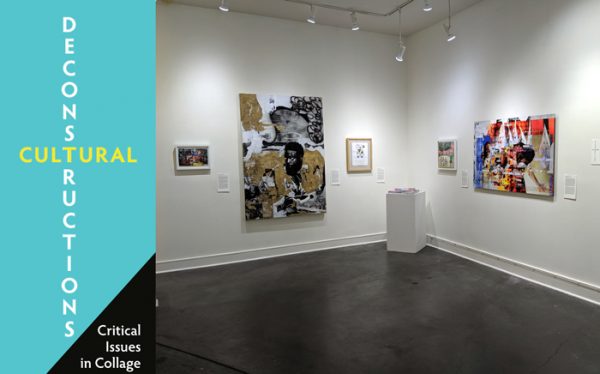 In this sense, the artwork on view is not only using deconstructed culture, it is breaking down culture in a manner that offers the viewer an opportunity to breakdown their own understanding of the world and build up a new one.
Artists on view are: John Alleyne, Baton Rouge, Louisiana; Jay Berrones, Mexico City, Mexico; Teresa Cribelli, Tuscaloosa, Alabama; Hana Kark, La Canada Flintridge, California; Heather Ryan Kelley, Lake Charles, Louisiana; William Davies King, Santa Barbara, California; Takako Konishi, Chicago, Illinois; Norah F. Lovell, New Orleans, Louisiana; Miguel Ontiveros, Cicero, Illinois; Ian Park, Baton Rouge, Louisiana; Chuck Scalin, Richmond, Virginia; Dafna Steinberg, Washington, DC
AS PART OF KOLAJ FEST NEW ORLEANS
"Cultural Deconstructions" is the main exhibition at Kolaj Fest New Orleans, a multi-day festival & symposium about contemporary collage and its role in art, culture, and society, July 10-14, 2019. Continuing a theme established in the previous year's exhibition ("Revolutionary Paths: Critical Issues in Collage" at Antenna Gallery in July 2018), the collage works on view represent a point of departure for further curatorial inquiry. The exhibition will be complemented by a discussion of curatorial issues in collage and a discussion of whether or not the book is a better means of diffusing and sharing this artwork. WEBSITE.
ABOUT LEMIEUX GALLERIES
Located at the gateway of the Arts District of New Orleans, the mission of LeMieux Galleries has been to unite seasoned collectors and new art enthusiasts with artists who are committed to their vision. Originally established in 1983, in 2015 long time employees Christy Wood and Jordan Blanton purchased the gallery. Since then they have widened the galleries' focus on art of the Southern US and expanded their roster to include more emerging artists. LeMieux Galleries is located at 332 Julia Street in New Orleans. They are open Monday through Saturday from 10AM to 5:30PM or by appointment. Closed Sundays.
ABOUT THE CURATOR
Ric Kasini Kadour is a writer, artist, publisher, and cultural worker. With his partner Christopher Byrne, Kadour operated two fine art galleries (Kasini House Gallery in Burlington, Vermont from 2006 to 2009 and Galerie Maison Kasini in Montreal, Quebec from 2009 to 2013). Over eight years, they produced dozens of exhibitions and showed hundreds of artists. Kadour started ARTSHOP in 2004 as a way of organizing, exhibiting, and sharing art products. Kadour's INSTANT ARTSHOP (2013-2015) project took a self-contained kiosk stocked with art products to public spaces (Amish farmers markets, for example) where contemporary art rarely goes. Since 2006, Kadour and Byrne have produced First Friday Art in Burlington. In 2011 and 2012, he produced Winooski Pop-up Gallery District, which converted a block of vacant retail spaces into working art galleries for six weeks in the summer. In 2011, he curated "Montreal Contemporary", a SODEC-funded exhibition at the South End Art Hop in Burlington, Vermont. In 2017, he curated "The Art of Winter" at S.P.A.C.E. Gallery in Burlington. In 2018, Kadour curated "Revolutionary Paths: Critical Issues in Collage" at Antenna Gallery in New Orleans, which bought together collage artists whose work represents the potential for deeper inquiry and further curatorial exploration of the medium. Working with the Vermont Arts Council, Kadour curated three exhibits: "Connection: The Art of Coming Together" (2017) and Vermont Artists to Watch 2018 and 2019. In 2018, Kadour created World Collage Day, an annual event that, in its first year, saw over 50 events in 26 countries.come together to celebrate collage. Since 2018, he has produced Kolaj Fest New Orleans, a multi-day festival & symposium about contemporary collage and its role in art, culture, and society. In Fall 2018, he became Curator of Contemporary Art at the Rokeby Museum in Ferrisburgh, Vermont. In August 2019, he is curating an exhibition of contemporary regionalism at the Southern Vermont Arts Center in Manchester.
Kadour is the editor and publisher of Kolaj Magazine, Vermont Art Guide, and Art Map Burlington, as well as the author of several 'zines. He has written for a number of galleries and his writing has appeared in Hyperallergic, Vermont Magazine, Seven Days, Seattle Weekly, Art New England (where he was the former Vermont editor) and many others. Kadour maintains an active art practice and his photography, collage, and sculpture have been exhibited in and are part of private collections in North America and Europe. He holds a BA in Comparative Religious Studies from the University of Vermont. Kadour splits his time between Montreal and New Orleans. Learn more at www.rickasinikadour.com.
---
INFORMATION
LeMieux Galleries
332 Julia Street
New Orleans, Louisiana 70130
(504) 522-5988
Hours:
Monday-Saturday, 10AM-5:30PM
and by appointment
Image:
Divine Yang
by Teresa Cribelli
15″x12″
vintage paper
2018
Courtesy of the artist