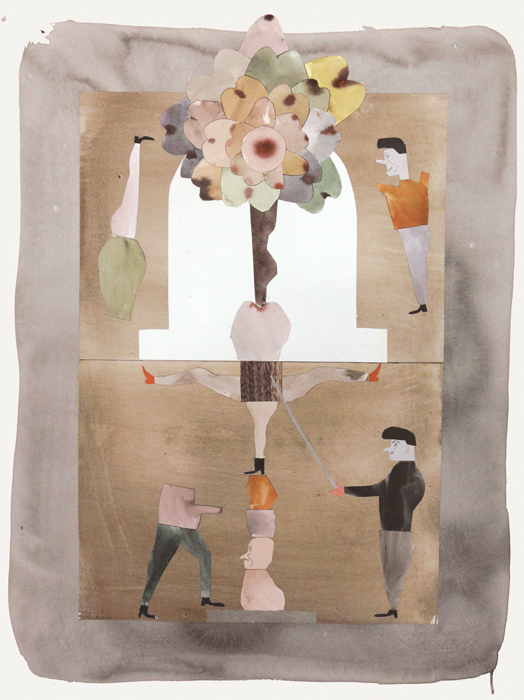 8 February-8 March 2014
David Orme: "Peripeteia"
"Peripeteia" is an exhibition of prints and collages from London-based artist David Orme. The works in this exhibition continue an oeuvre depicting awkward compositions that engender the uncanny and absurd. The title of the exhibition is taken from Aristotle's term, peripeteia, meaning a dramatic change of events or reversal of circumstances; the selected works each chronicle an ambiguous juncture.
Orme's muddled works, while alluding to allegory, are obscured by duplicity. While some pieces imply a sequence of events or suggest a theme, other works evolve into precarious, holistic arrangements, fragmented and more abstracted; this is particularly evident in Orme's collage works. The delicate process of cutting and pasting these hieroglyphic elements suggest vulnerability and a sense of transience. Orme says, "Collaged configurations emerge through an intuitive process". An idiosyncrasy is potent as elements "shuffle for position", and slowly, unstable compositions develop. The precarious nature of these collages, particularly Bouquet Garni is partly due to the elimination of perspective. This allows a visual hierarchy to arise; some elements appear grounded, solid, while others remain flimsy, weightless.
Orme makes his collages by cutting forms from a paper stock he has made, he makes his coloured papers by adding watercolour and acrylic washes to different papers and cards. Many cut elements are laid out on boards before they're selected for a collage. While the fluidity of collaging parallels the more structured printmaking methods, there are compositional similarities, as collage informs print and vice versa; aesthetics shift as different print methods are explored such as lithography, lino cut and screen printing.
David Orme was the recipient of the 2009 Villiers David Prize, awarded to an artist no older than 35, for travel abroad. Several of the works in this exhibition were made as a result of the prize.
(adapted from the gallery's press materials)
---
INFORMATION
Studio 104
104 Triq Santa Lucija
Valletta VLT1181, Malta
27280028
Hours:
Tuesday-Friday, 11AM-5PM
Saturday, 11AM-2PM
Image:
Bouquet Garni
by David Orme
19″x15″
collage
2011
Courtesy of the artist and Studio 104, Valletta