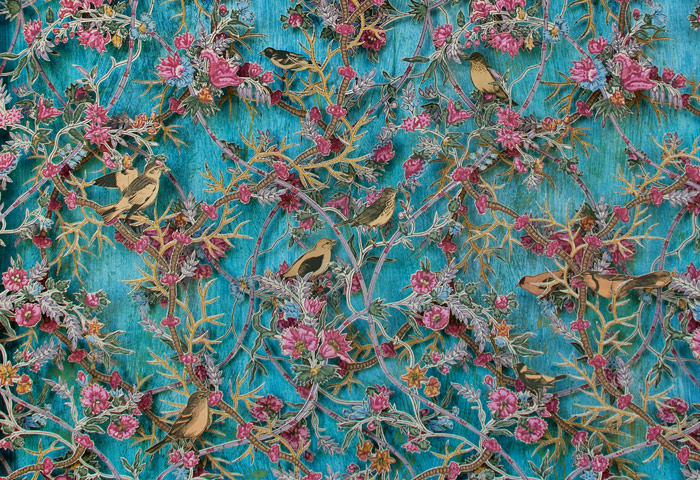 COLLAGE ON VIEW
Four of a Kind
at Foley Gallery in New York, New York, USA
20 May-28 June 2020
online at Foley Gallery's Artsy page
indefinitely
The artists in "Four of a Kind" each address the natural world and our relationship to it. The paintings, drawings, and collages ignite a vivid exploration of explosive color with expressionistic style calling us to engage with the outside world in a time when we are often kept from it.
Billy Renkl's deft cutting and collaging bring together historical ideals of nature with contemporary hindsight. Chrissy Angliker's thick painting application and melting strokes make the kindred female flesh of her subjects connect to one another and ultimately herself.  Megan Olson's exploration of both interior and exterior space taps organic shapes and forms, questioning the space between. Szilard Huszank's off-kilter color associations of the wooded landscape question what natural in nature really is.
Billy Renkl studied Visual Communications at Auburn University and Drawing at The University of South Carolina. He teaches at Austin Peay State University in Clarksville, Tennessee. Renkl first employed collage in 1985. These works were the basis for an exhibition at The Nexus Contemporary Art Center in Atlanta, followed by exhibitions in Tuscaloosa, Alabama, Lexington, Kentucky and Auburn, Alabama. A half-year residency in Basel, Switzerland allowed him to concentrate solely on collage, and resulted in exhibitions in Birmingham, Alabama, and Berlin, Germany. Collage has been the foundation for his work since then. Renkl reviewed "Max Ernst: Collages" at Kasmin Gallery in Kolaj #29.
(text adapted from the gallery's press materials)
---
INFORMATION
Foley Gallery
59 Orchard Street
New York, New York 10002 USA
(212) 244-9081
Hours:
The gallery is closed at the time of this post.
View the exhibition at their Artsy page HERE.
Selections from the exhibition are on the gallery's website HERE.