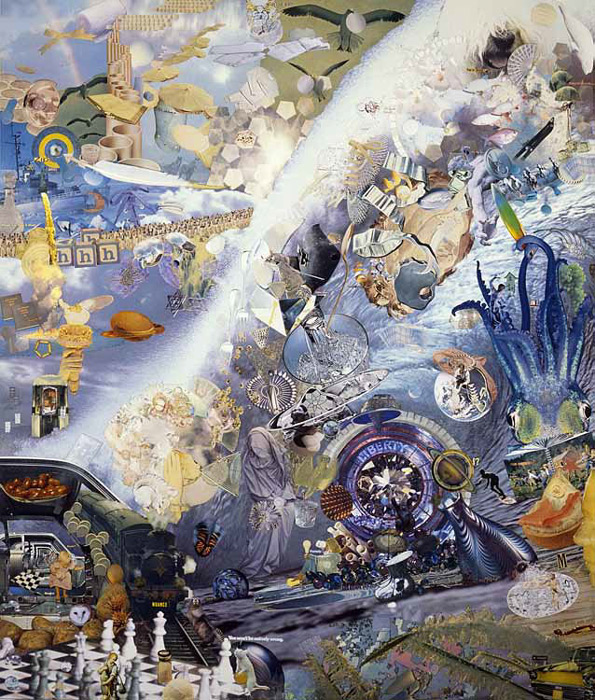 9 June-1 September 2013
"An Opening of the Field: Jess, Robert Duncan and Their Circle": Crocker Art Museum, Sacramento
"An Opening of the Field: Jess, Robert Duncan, and Their Circle" is the first exhibition to focus on the artistic production and relationship between the artist Jess, his partner Robert Duncan, and their remarkable circle of friends.
Jess Collins, known simply as Jess, and his partner, the poet Robert Duncan, were one of the most fascinating artistic couples of the 20th century. Soon after meeting in San Francisco in the early 1950s, they began both a romantic and professional partnership that lasted until Duncan's death. The domesticity that came with their relationship helped focus their creative process and they ultimately merged their personal and artistic lives by exploring their mutual interest in cultural mythologies, transformative narrative, and the appropriation of images. Jess's collages and drawings were often published to accompany Duncan's poems and essays. Duncan's writings and ideas in turn made their way into Jess's dense and allusive works. Visionaries in their own right, the couple heavily influenced an entire generation of poets and painters who would gather at their San Francisco home, which served as a salon and gallery space for their artist friends.
Through more than 140 individual and collaborative works of art and personal letters that have been drawn from private and public collections, this exhibition looks at their influence and unique position as precursors of Postmodernism. "An Opening of the Field" presents works by the couple, along with a selection of works by artists such as R. B. Kitaj, Edward Corbett, Wallace Berman, Lawrence Jordan, and George Herms, as well as the poets Jack Spicer, Robin Blaser, and Michael McClure. The exhibition also includes a group of posters Jess made for the Berkeley Cinema Guild run in the late 1950s and early 1960s by the young Pauline Kael.
The exhibition is accompanied by a 250-page catalogue, which includes essays by guest curators Michael Duncan and Christopher Wagstaff, as well as James Maynard, associate curator of the Poetry Collection at the University of Buffalo, and coordinating curator for the exhibition William Breazeale, Ph.D., curator at the Crocker Art Museum.
After its presentation at the Crocker Art Museum, the exhibition travels to the Grey Art Gallery at New York University, Katzen Arts Center at American University, and Pasadena Museum of California Art.
(adapted from the museum's press materials)
---
INFORMATION
Crocker Art Museum
216 O Street
Sacramento, California 95814 USA
(916) 808-7000
Hours:
Tuesday-Sunday, 10AM-5PM (Thursday until 9PM)
Closed Monday (except Presidents' Day, Memorial Day, and Labor Day), Thanksgiving, Christmas, and New Year's Day
Image:
Sent On The VIIth Wave
by Jess
39″x33″
collage and mixed media
1979
The Buck Collection, Laguna Beach, California, USA