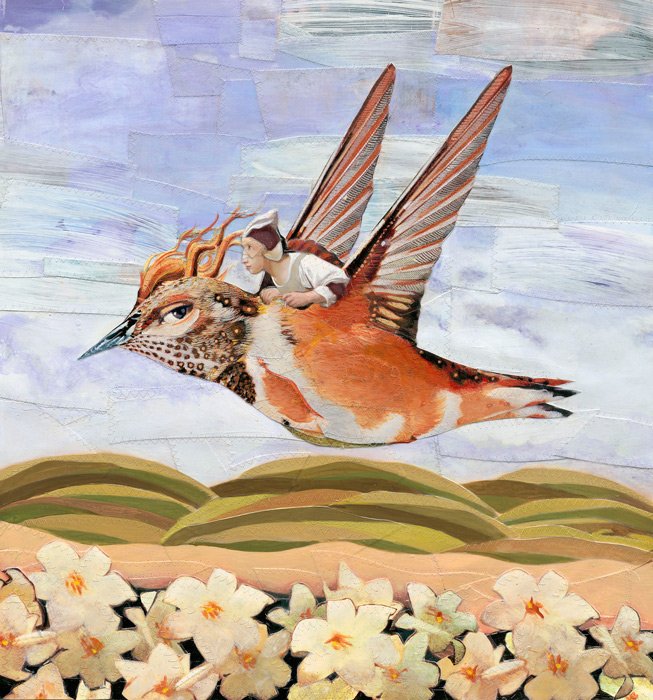 22 February-29 March 2014
Artist Reception: Saturday, 22 February, 6-8PM
Michael Madzo: "Curious Arrangements"
The hallmark of Michael Madzo's work is the collage painting, created by appropriating printed material which he cuts up, reassembles to produce yet other images, and then paints over and stitches together to create wholly new original work.
Madzo's "Curious Arrangements" are collage paintings made from many pieces of paper, usually cut from book plates, and assembled to create a visual tapestry upon which he applies acrylic paint to further alter and obscure the original printed material. Finally, each piece is stitched together with thread, giving the work permanence as well as adding an unexpected texture.
In these new works, Madzo shifts his focus slightly towards the painted surface and renders the collage arrangement as a means of "drawing" on which to build his capricious compositions. The curious and often surreal themes suggest references from folklore to frescos, arrived at through an intuitive sense of form and colour.
Michael Madzo has exhibited throughout the United States as well as in France and Mexico. His work is found in public and corporate collections including ICC, Los Angeles; Saatchi & Saatchi, London; Vendôme Investissement, Paris; and Searle Drugs, Skokie, Illinois.
(adapted from the gallery's press materials)
---
INFORMATION
Couturier Gallery
166 North La Brea Avenue
Los Angeles, California 90036 USA
(323) 933-5557
Hours:
Tuesday-Saturday, 11AM-5PM
Image:
Beyond Reproach
by Michael Madzo
29″x31″
paper, acrylic, cotton thread
2013
Courtesy of the artist and Couturier Gallery, Los Angeles