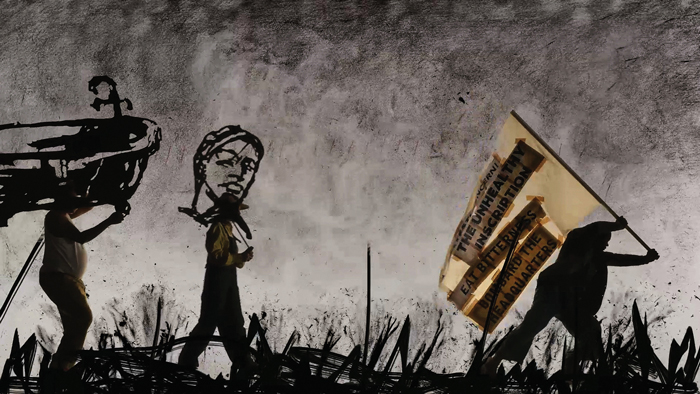 COLLAGE ON LINE
William Kentridge: More Sweetly Play the Dance
at Musée d'Art Moderne Grand-Duc Jean (Mudam) in Luxembourg
13 February-30 August 2021
Over the past four decades, William Kentridge has created a major oeuvre across various artistic disciplines including performance, theatre and opera. This exhibition conceived for Mudam as part of Luxembourg's red bridge project presents new and recent works including drawings, works on paper, sculptures, new films, and sound and video installations.
Known for his animated films that employ charcoal drawings and a distinctive process of erasure and recovery, Kentridge's expansive oeuvre is resolutely narrative in its treatment of themes intimately connected to history and the phenomena of memory and forgetfulness. Kentridge addresses these subjects through the lens of his native South Africa and his own persona as an artist engaged in the process of making images. The artist's films, performances, works for the stage and his drawings and collages, avoid what he describes as "the ideology of grand narratives", favouring an aesthetic of fragmentation, non-completion and uncertainty.
This exhibition was curated by Suzanne Cotter, assisted by Christophe Gallois and Nelly Taravel. The exhibition was designed by Sabine Theunissen, assisted by Julie Vandendael.
(text adapted from the museum's press materials)
---
INFORMATION
Mudam Luxembourg
Musée d'Art Moderne Grand-Duc Jean
3 Park Dräi Eechelen
1499 Luxembourg-Kirchberg, Luxembourg
+352 453785-1
Hours:
Monday, 10AM-6PM
Wednesday, 10AM-9PM
Thursday-Sunday, 10AM-6PM