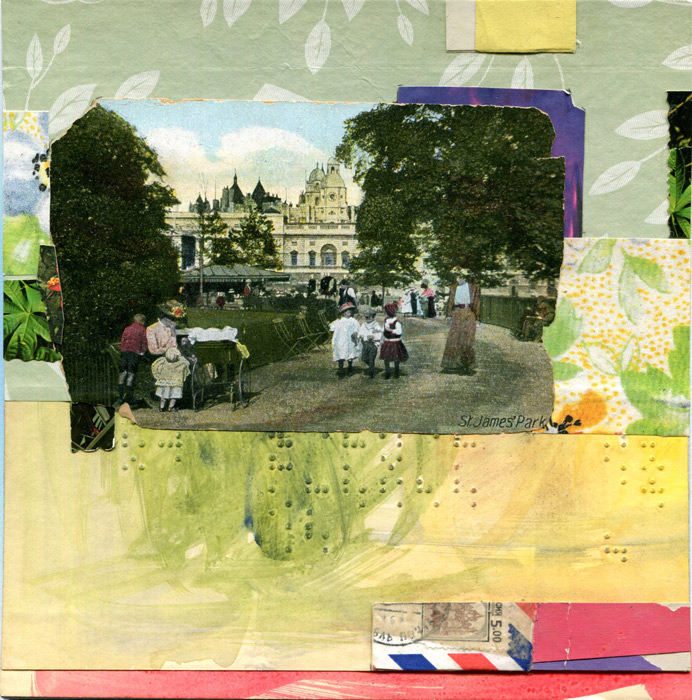 6-28 August 2015
"Reconstructed Landscapes": Cheryl Dawdy
Award-winning collage artist Cheryl Dawdy presents 20 collages at Middletown Framing in Middletown, Connecticut, USA.
The artist says about the work in this show: "This collection of collages showcases the various methods and techniques I've been experimenting with in my work over the past several years. It reflects the transition from an earlier use of primarily pre-printed papers to a more varied assortment of materials and approaches including image transfers, layering with tissue paper, "faux" encaustics, and inventing my own "imagery" through painting on Braille paper, wallpaper scraps, and deli paper."
Well-known in the US Midwest, where she lives, Dawdy won 1st Place in the National 2011 Postcard Art Competition & Exhibition sponsored bi-annually by the Lake County Discovery Museum, Wauconda, Illinois.
Since 2013, Dawdy's work has been shown in juried shows in six galleries in New York and Connecticut: Brooklyn's WAH Gallery; the Upstream Gallery in Hastings-on-Hudson, New York; the Main Street Arts Gallery in Clifton Springs, New York; the Shirt Factory Gallery in Glen Falls, New York; and Celebrations Gallery in Promfret Center, Connecticut. Her work has also been shown in Florida and Michigan.
(adapted from the artist's press materials)
---
INFORMATION
Middletown Framing
502 Main Street
Middletown, Connecticut 06457 USA
(860) 347-0064
Hours:
Tuesday-Friday, 10AM-6PM
Saturday, 10AM-3PM
Sunday-Monday, by appointment
Image:
St. James Park
by Cheryl Dawdy
collage: acrylic paint, transferred images, translucent papers and transparencies, Braille, tissue paper
Image courtesy of the artist