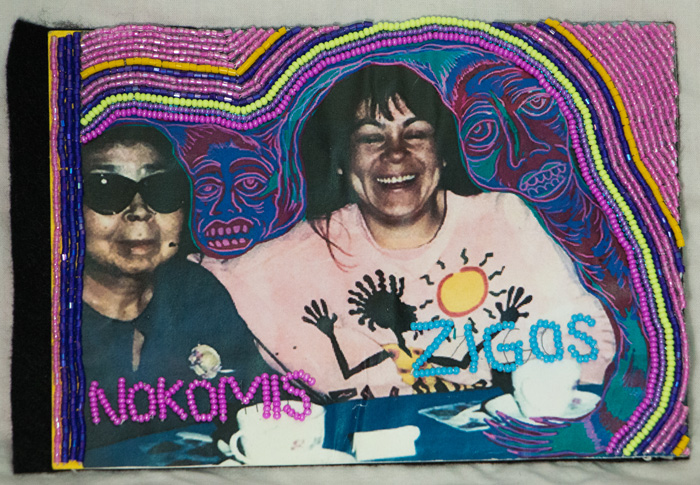 COLLAGE ON VIEW
Résurgences/Reclaiming My Place
at the Centre d'exposition Lethbridge in Saint-Laurent, Quebec, Canada
1 April-30 May 2021
"Résurgences/Reclaiming My Place" presents the work of three women artists from the BIPOC (Black, Indigenous and People of Colour) community: Sharon Norwood, Cedar Eve and Shanna Strauss. The exhibition is curated by Cécilia Bracmort.
Cedar Eve incorporates beadwork into her personal archives to honour her family members who have passed away. Sharon Norwood uses line in various mediums to transform our representations of race, gender and beauty. Through various techniques, Shanna Strauss uses found objects, a variety of print artwork as well as painting in order to present diasporic identity and belonging—two themes close to her heart. The practices of these three artists push the limits of representation and decompartmentalize the imaginary.
Combining resistance with resilience, they reinterpret the messages of their ancestors to better convey them to future generations. Thus freed from the crushing Eurocentric gaze, Sharon Norwood, Cedar Eve and Shanna Strauss put the injustices of the past behind them and, in so doing, renew and ensure the continuity of their histories, like a river cleared of the dams that gradually resumes its course.
(Text adapted from materials submitted by the curator.)
---
INFORMATION
Centre d'exposition Lethbridge
2727 Thimens Boulevard
Saint-Laurent, Quebec H4R 1T4 Canada
(514) 855-6130
Hours:
Tuesday-Sunday, 11AM-5PM