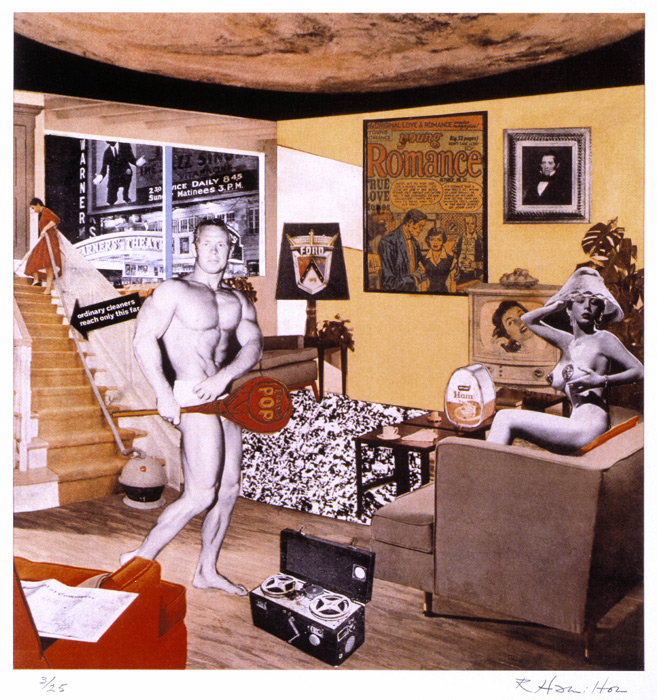 13 February–26 May 2014
Richard Hamilton
One of the most influential British artists of the 20th century, Richard Hamilton (1922–2011) is widely regarded as a founding figure of Pop art, who continued to experiment and innovate over a career of 60 years. This exhibition is the first retrospective to encompass the full scope of Hamilton's work, from his early exhibition designs of the 1950s to his final paintings of 2011, as well as exploring his relationship to design, painting, photography and television, and his engagement and collaborations with other artists.
Hamilton is best known for his pivotal role in the birth of Pop art, including the groundbreaking installation Fun House (1956). A centrepiece of the exhibition, the immersive room combines images from movie-posters, magazines and art history, and is shown alongside a print of the era-defining Just what is it that makes today's homes so different, so appealing?.
The exhibition also includes examples of his design work and his exhibition designs and installations, as well as a survey of his collaborative work with artists such as Marcel Duchamp, Francis Bacon, Andy Warhol, and Roy Lichtenstein.
Richard Hamilton was born in London in 1922. He studied at the Royal Academy Schools and Slade School of Art, and went on to teach at the London Central School of Arts and Crafts and the University of Newcastle upon Tyne. Hamilton was also a key member of the Independent Group, who met at the ICA in the 1950s. He represented Britain in the 1993 Venice Biennale and his work is held in major public and private collections around the world.
Richard Hamilton is curated at Tate Modern by Mark Godfrey, Curator of International Art, with Hannah Dewar, Assistant Curator. The exhibition was initiated by Vicente Todolí and Paul Schimmel and organised by the Museo Nacional Centro de Arte Reina Sofía, Madrid in collaboration with Tate Modern. It goes to Madrid from June to October 2014.
(adapted from the gallery's press materials)
---
INFORMATION
Tate Modern
Bankside
London SE1 9TG United Kingdom
(020) 7887 8888
Hours:
Sunday-Thursday, 10AM-6PM
Friday-Saturday, 10AM-10PM
Image:
Just what was it that made yesterday's homes so different, so appealing?
by Richard Hamilton
10″x10″ on 16.5″x12″ support
inkjet print on paper
1992
Edition 3 of 25
© Richard Hamilton 2005. All rights reserved, DACS (Design & Artists Copyright Society)
Courtesy of Tate Modern, London