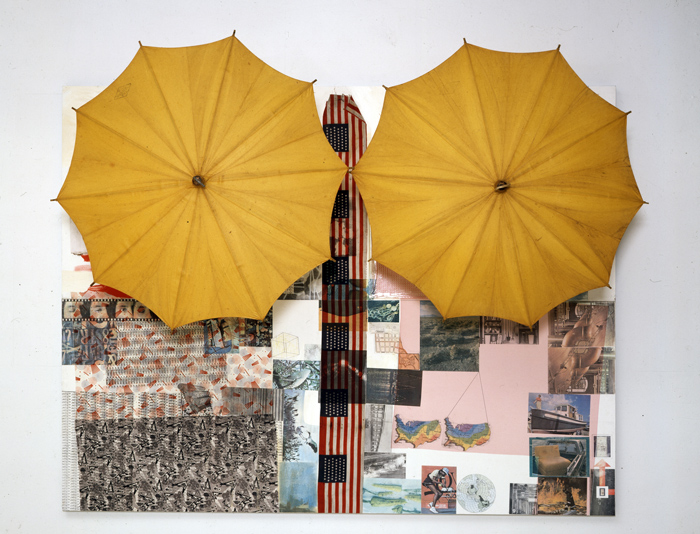 Robert Rauschenberg
1 December 2016-2 April 2017
Tate Modern's major exhibition of the work of Robert Rauschenberg (1925-2008), organised in collaboration with The Museum of Modern Art in New York, is the first posthumous retrospective and the most comprehensive survey of the artist's work for 20 years.
From his early engagement with pop to his works produced at the dawn of the twenty-first century, Robert Rauschenberg blazed a new trail for art. Moving between painting, sculpture, photography, print-making, technology, stage design and performance, he refused to accept conventional boundaries in art and in life. The first US artist to win the Golden Lion for painting at the Venice Biennale in 1963, Rauschenberg's quest for innovation was fired by his openness to the world, his enthusiasm for collaboration and his passion for travel.
Each chapter of Rauschenberg's six-decade career is represented by major international loans that rarely travel. Among these is a selection of his iconic Combines, hybrids between painting and sculpture, which include Monogram (1955-59), travelling to the UK for the first time in over half a century, and Bed (1955). Tate Modern is also showing the signature silkscreen paintings that signalled Rauschenberg's attempt to bring politics, mass media imagery and street scenes into his work, including Retroactive II (1964), which portrays John F. Kennedy, who had recently been assassinated.
"Robert Rauschenberg" is organised by Tate Modern and The Museum of Modern Art, New York. It is curated by Achim Borchardt-Hume, Director of Exhibitions, Tate Modern; and Leah Dickerman, The Marlene Hess Curator of Painting and Sculpture, The Museum of Modern Art, New York; with Catherine Wood, Senior Curator, International Art (Performance), Tate Modern; and Fiontán Moran and Juliette Rizzi, Assistant Curators, Tate Modern. The exhibition will travel to The Museum of Modern Art in New York and the San Francisco Museum of Modern Art in 2017.
(adapted from the gallery's press materials)
This exhibition announcement first appeared as a News & Notes item in Kolaj #18. To read more News & Notes from the world of collage, SUBSCRIBE to Kolaj Magazine or Get a Copy of the Issue.
---
INFORMATION
Tate Modern
Bankside
London SE1 9TG United Kingdom
(020) 7887 8888
Hours:
Sunday-Thursday, 10AM-6PM
Friday-Saturday, 10AM-10PM
Image:
untitled (Spread)
by Robert Rauschenberg
74.25″x97″x35
solvent transfer and acrylic on wood panel, with umbrellas
1983
© Robert Rauschenberg Foundation, New York
Courtesy of Tate Modern, London