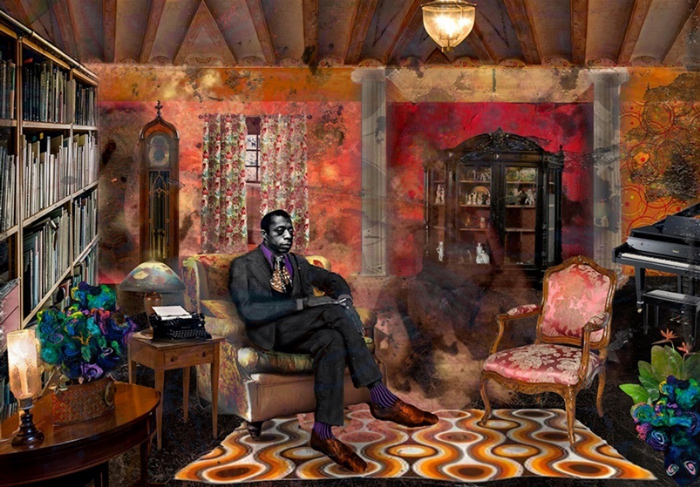 COLLAGE ON VIEW
Najee Dorsey: Southern Crossroads
at the Museum of Art – DeLand Downtown Gallery in DeLand, Florida, USA
7 October-23 December 2022
Najee Dorsey's work is mixed media and photo montage, centered around African American culture and folklore. Most of his images depict stories of individuals who have triumphed over their circumstances. Dorsey salvages images and materials from thrift stores and antique shops, and combines them with historical portraits and photographs. He adds depth and dimension by adding layers of text, paint, paper, and found objects. Many of his images depict historical icons, and refer to social and political events that still resonate today.
While many of his compositions depict the trials and tribulations of the Black experience in America, Dorsey's art also celebrates the pleasures of human existence. Other images depict people who have inspired him as an artist—like This Is My Baldwin, a portrait of James Baldwin, the writer and activist he calls a hero. While he creates, Dorsey imagines himself alongside his subjects.
Najee Dorsey is well known as an "artrepreneur," a term coined in 2012 by BlackEnterprise.com. He's a prolific artist, founder, and CEO of Black Art in America, a print publication and online media platform for African American artists, collectors, art enthusiasts, and arts professionals. He and his wife Seteria also run the Black Art in America gallery and sculpture gardens in Atlanta.
Najee Dorsey was raised in Arkansas, by a father from New Orleans and a mother from rural Arkansas. He says he can't imagine living anywhere but the South.
(text adapted from materials provided by the museum)
---
INFORMATION
Museum of Art-DeLand Downtown Gallery
100 North Woodland Boulevard
DeLand, Florida 32720 USA
(386) 279-7534
Hours:
Sunday, 11AM-4PM
Tuesday-Saturday 10AM-4PM