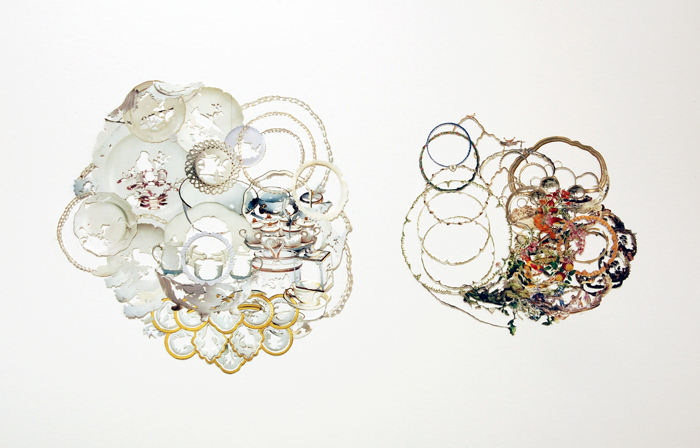 COLLAGE ON VIEW
Sum of Its Parts: Contemporary Collage
at High Five Arts in Lowell, Massachusetts, USA
12 May-9 June 2018
It is not surprising that in our current moment, when shifting notions of identity are reshaping how we see ourselves, social media platforms are redefining the notion of mass-produced imagery, and our country is at odds with itself politically and economically, that a medium like collage should re-emerge with particular vitality and urgency. "Sum of Its Parts" presents the work of six contemporary artists who consider the legacy of collage and expand it in entirely new directions. In their work, they often extract elements from various sources and combine them into a new, unified whole. Rather than attempting to resolve conflict, however, their work acknowledges contradiction and fragmentation as defining characteristics of our time and, in some cases, embraces it.
Elizabeth Alexander's work similarly explores how material possessions become signals of personal success, particularly within the domestic sphere. In An Illustrated Guide to Tableware (image above: 16″x29.5″; collaged pages from The Bulfinch Anatomy of Antique China & Silver; 2017. Courtesy of the artist), she transforms images of porcelain plates, cups, and platters cut from the pages of a collector's guide to antique china into abstract compositions. The larger collage is a diptych of intricately layered webs of paper; on one side, rings of white porcelain—their decorative patterning removed—blossom outwards, while the other presents a dense network composed exclusively of ornate florals and trim. Deconstructing these antiquated status symbols, Alexander addresses what she refers to as "the tragic, comic, ephemeral, and irrational characteristics of a self-conscious society."
Brian Christopher Glaser's sculptural collages push the medium into the three-dimensional realm. Sourcing his images from contemporary magazine advertisements, in which bodies are strategically marketed as "objects of desire," Glaser removes small details and combines them to transform what is originally presented as normal, desirable, and attainable into the absurd. Veronica is a digital collage of rippling human hair taken from shampoo advertisements and printed onto a shimmering curtain, while Gun Tower serves as a totem to unrealistic standards for the male body.
Jack Arbaugh seeks out more dated source material, collecting imagery from vintage travel books and decades-old magazines. Often his manipulation of these scenes is quite simple, yet the results are surreal and disorienting, to the extent that the original content is almost unidentifiable. In his black-and-white collages, lush rain forests and ancient architectures appear altered by digital glitches, while Something (2016) presents an impossible landscape composed entirely of mountain ranges. Blending nostalgia with a touch of the bizarre, Arbaugh's collages reveal how "memories are malleable, and as such, all past experience–personally witnessed or not–is subject to subconscious alteration."
In Theresa Ganz's digital collages, pastel-hued and richly gilded interiors collapse into flat, fragmented tableaux. She created these works using Google's Museum View tool, a device that allowed her to transcend place and time, making virtual visits to European palaces like the Château de Fontainebleau and Versailles from her desktop computer. A glitch in the software caused certain areas of the rooms to appear strangely fractured. The opulent spaces allude to the systems of wealth and power that constructed them, within which Ganz has located fissures of instability.
Using scraps of paper and other found items, Michael Terrell Aghahowa's work blends formal elements of early twentieth-century collage with contemporary materials and color. Deceptively simple, their bold hues and subtle textures have a powerful visual impact. He states that his work "aims to bridge the gap between my experiences and the viewer," and he often incorporates an arch or fragment of a circle into his collages as a symbol of connection.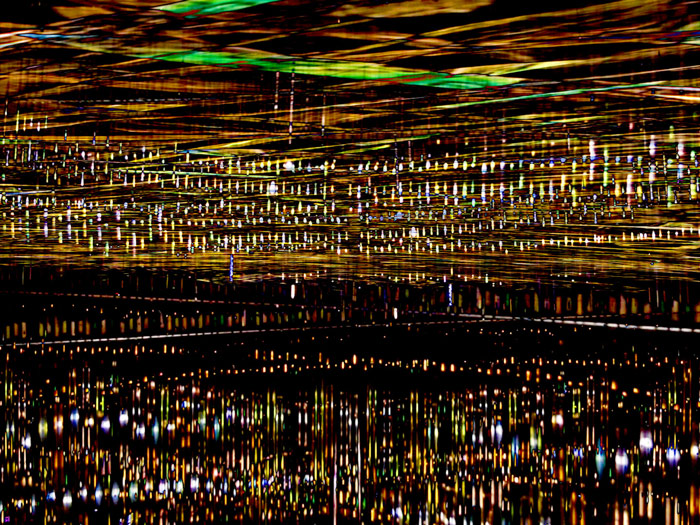 Layering moving images, still photography, paintings, and digital animation, Youjin Moon creates kaleidoscopic video collages set to ambient scores. In Callisto (image above: video; sound; 2014. Courtesy of the artist), scenes from her native South Korea and her current residence of Boston, Massachusetts, merge and collapse into each other, often overlaid with abstract patterns of light, color, and texture. She describes Callisto as "a journey to a microcosmic world." In early philosophy, the term microcosm, or "small world," often referred to human beings as miniatures of the world at large, "with all its variety and contradiction." Moon's video similarly encompasses qualities both fluid and static, analog and digital, abstract and representative, to create a shifting and expanded notion of identity.
This exhibition is supported in part by a grant from the Lowell Cultural Council, a local agency which is supported by the Massachusetts Cultural Council, a state agency.
(adapted from the venue's press materials)
---
INFORMATION
High Five Arts
Mill No. 5, 5th Floor
250 Jackson Street
Lowell, Massachusetts 01852 USA
Hours:
Saturday, Noon-4PM