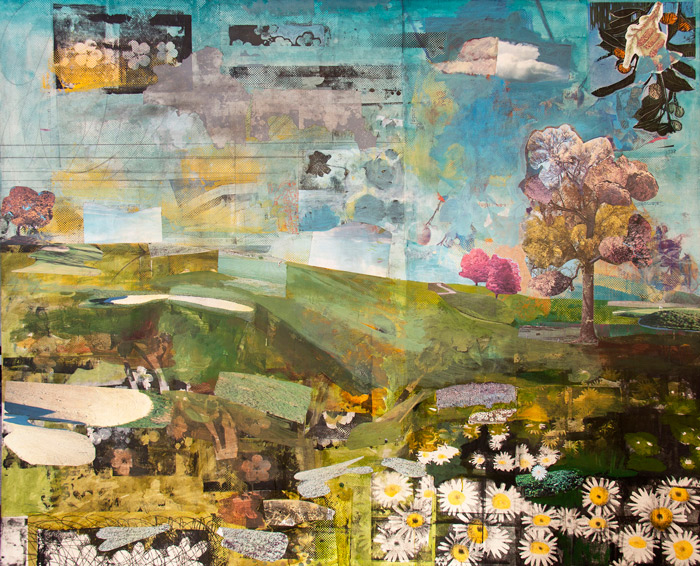 COLLAGE ON VIEW
Technologies of the Spirit
at 516 ARTS in Albuquerque, New Mexico, USA
11 June-3 September 2022
"Technologies of the Spirit" is the second of two exhibitions that look at how the divergent histories of race, conflict, and colonialism in New Mexico inform how we imagine our futures. The first exhibition, "Many Worlds Are Born" ran from 19 February-14 May 2022. Both exhibitions are curated by Ric Kasini Kadour and Alicia Inez Guzmán, PhD, and are accompanied by a series of public conversations and activities that bring together historic content and contemporary art.
As we move into the middle of the 21st century, how will we reconcile the past and forge a new future? Each of the artists in "Technologies of the Spirit" weaves elements of 20th century art and culture into contemporary artworks that invite the viewer to contemplate their place in the landscape and their role in society. At the heart of each work is a rethinking of old ways of making one's way through the world.
In the 21st century, we think of technology as machines, software, and algorithms, but on its most fundamental level, technology is the application of human knowledge. The idea of technology is as applicable to what we eat and how we prepare it as it is to how we work the land, build our homes, and go about our work. On a personal level, technology is how we use our knowledge of the world around us–people, places, and things–to make sense of our place in that world. In this sense, resilience, prayer, ritual, coping, self-care, etc can be considered technologies of the spirit. Each of the artists in this exhibition is using their knowledge and understanding of the world to create artwork that speaks to one's place in it.
Collage and assemblage in this exhibition includes work by Karsten Creightney (above), Paola de la Calle, Jackie Mitchell Edwards, Josh T. Franco, and a collage animation, The Hand, by Laurie O'Brien.
To develop the projects on view, many of the artists engaged with the Albuquerque Museum's Photography Archives, and took part in Artist Lab: Art Meets History in New Mexico, presented by Kasini House's Art Meets History initiative and Kolaj Institute, in which participating artists were asked to examine personal and collective histories in New Mexico and the Southwest. The resulting artworks acknowledge centuries of conflict, assimilation and erasure, but also resilience, innovation and the power of memory to transform the present and future. In addition to the artists' projects and installations across many mediums and contemporary art practices, a selection of the historic reference photographs from the Albuquerque Museum Photo Archives are on view.
The artists in the exhibition are: Karsten Creightney, Paola de la Calle, Jackie Mitchell Edwards, Josh T. Franco, Moira Garcia, Laurie O'Brien, Eric-Paul Riege (Diné/Navajo), and Marcus Zúñiga.
---
INFORMATION
516 ARTS
516 Central Avenue SW
Albuquerque, New Mexico 87102 USA
(505) 241-1445
Hours:
Tuesday-Saturday, Noon-5PM